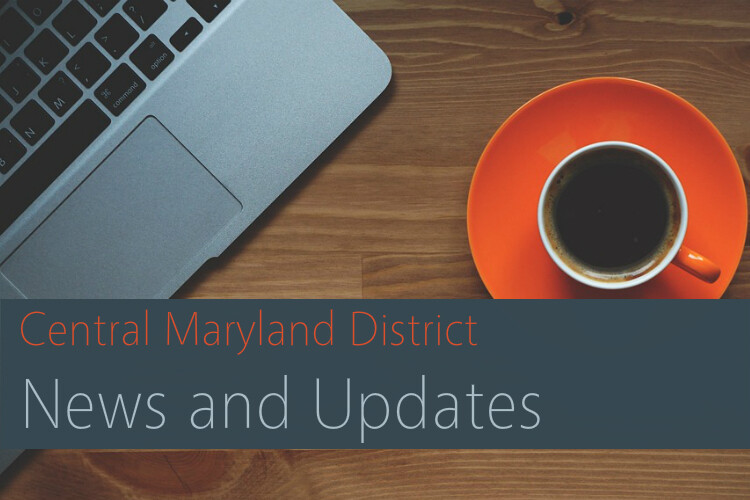 CM District News, Events and Updates ~ March 1, 2022
Posted by Sophie Amer on
ANNOUNCEMENTS



238th Session of Baltimore-Washington Conference
Registration is open for the 238th Session of BWC. Click here to register. Clergy and lay members will meet virtually June 1-3 for this time of holy conferencing. There will be no registration fee this year. The conference will also be live-streamed for non-voting members who wish to watch the plenary sessions and worship services. The theme of this year's session is "Persevere: in Hope, Faith & Joy" and the guiding Scripture passage is Hebrews 12:1-3. Six resolutions and the proposed budget for Annual Conference can be found here -- https://www.bwcumc.org/events/2022-annual-conference/.



Resilience in the Wilderness: Breathing, Chanting, Persevering
It has been a difficult past two years. As we enter the season of Lent on Wednesday, March 2, many pastors are seeking a moment of soulful solace to replenish and restore their spirits. To respond to this need, Bishop LaTrelle Easterling and leaders in the Baltimore-Washington and Peninsula-Delaware Conferences have created a mini-retreat, shared on video and titled "Resilience in the Wilderness: Breathing, Chanting, Persevering." Designed to stand in place of the clergy Lenten Day Apart held in past years, this two-hour video offers insights, lessons, tools and inspiration for church leaders. You're invited to find a quiet, comfortable space where you can be uninterrupted for two hours, turning off phones and computers to fully give yourself time for reflection, meditation, and prayer as you enter into the Lenten season. A companion web piece, with even more resources, is available to assist you in finding strength and hope on the Lenten journey. See the Resilience in the Wilderness webpage.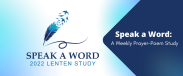 Speak a Word – 2022 Lenten Study
Speak a word of faith as you enter into a weekly study for Lent featuring prayer-poems by Bishop LaTrelle Easterling. This six-week small group study delves deeply into reflections, for individuals or groups, on truth, of trust, healing, hope, love, of humility, journey, joy, service and more. See the study.

Calvary UMC -- PT Organist/Pianist
Calvary UMC (403 S Main St., Mt Airy) is seeking a salaried, part-time organist/pianist, to plan and perform during the regular Sunday service, occasional services (weddings and memorial services), to rehearse with, and accompany, the choir and other musicians for special music, attend music and worship planning meetings as needed. To apply, submit a cover letter and resume to .

Covenant UMC -- PT Church Office Manager
Covenant UMC (20301 Pleasant Ridge Drive, Montgomery Village) is seeking a part-time Church Office Manager. View the full job announcement HERE. Qualified applicants must have a strong office background with good organizational skills, be proficient using Microsoft Office; and be able to learn new applications quickly. Qualified applicant must be a team player who can work effectively with a wide variety of people, as well as manage tasks independently. Prior background (paid or volunteer) working in the church is a plus. Inquiries and resumes with a cover letter may be sent via email to . Responses will be reviewed as received and interviews will be scheduled beginning February 21st with start dates as early as March 14, 2022.

---
EventS


MARCH EVENTS

March 4 (deadline) -- Racial/Ethnic Local Church Grant
Racial/Ethnic Local Church Grants are provided to assist local congregations with projects and programs focusing on Leadership Development, Church Growth and Development, Ministry with the Poor, and Health Ministries. Racial/Ethnic Local Church grant recipients can receive up to $10,000 for programmatic grants, and up to $10,000 for one-year salary support. For questions, please contact Dana Lyles at , view and download the application (PDF)

March 4 (deadline) – Five Multiethnic Ministries Grants
Multiethnic grants can be applied for by conference staff only, not local churches. Multiethnic Ministries Grants up to $10,000 are provided to assist annual conferences with programs focusing on racial/ethnic leadership development and racial/ethnic church growth and development. For questions, please contact Dana Lyles at , click here to view and download the application (PDF)

March 5 -- Confirmation Retreat
Camp Pecometh is offering a day retreat designed for confirmation classes, with COVID-19 safety protocols in place. You bring your youth and chaperones, and they'll supply the program. Participants will come together for a day of worship, fellowship, and exploring our faith through experiential learning. $25/student, $19/adult. Register -- https://www.pecometh.org/confirmation-retreat
March 10 & March 24 -- First Aid for Mental Health
One in five Americans experience mental illness each year. A 2021 Clergy Well-Being Survey found that United Methodist clergy are increasingly struggling with mental health. To address some of the issues and stigmas around this issue, Wespath is offering first aid training for mental health. See the toolkit with details on the First Aid for Mental Health event page. This training is offered to all United Methodist Church clergy and their spouses, Church leaders, staff and congregation members – at no cost. Spots are limited, register now.

March 12, 19 & 26 (11am) -- Lenten Study: Learning Sign Language as a Spiritual Discipline
Participants are invited to register for a virtual sign language class via Zoom to further their spiritual growth during Lent. This introduction to sign language will be held on 3 Saturdays. Contact Rev. Leo Yates at to request accommodations or for questions. Children are welcome to join with an adult. Click here to register.

March 18 (1:30pm & 6pm) -- A Small Membership Churches Forum
The Small Membership Church Forum, designed for congregations who have fewer than 100 people in worship, is a place where people come together to talk and learn from each other. Questions? Contact Rev. Rick Oursler, Convener, Small Membership Local Churches, or Rev. Neal Christie, Executive Minister of Connected Engagement, at 202-285-4544. Register at https://arenaweb.bwcumc.org/default.aspx?page=3439&eventID=6086
March 18 -- License to Preach School
This is a foundational learning experience for preparation to become an appointed Licensed Local Pastor in the BWC. Over the course of six weeks, students will engage in facilitated learning on topics such as worship, preaching, mission, evangelism, pastoral care, administration and more. A candidate for ministry must be approved by their District Superintendent to attend Local Pastor Licensing School. Please contact your District Office ( ) for more information on how to apply, learn more about the License to Preach School (https://www.bwcumc.org/ministries/license-to-preach-school/). Registration deadline is March 11.

March 19 (11am) -- A Day with the DS
The youth of the Central Maryland District are invited to join DS Dawn Hand for a virtual gathering. This event offers our youth an opportunity to get to know DS Hand and to talk about the challenges of staying connected to God, church, friends, and family during the pandemic. The first 30 youth to registered will receive a free gift card to purchase lunch. During our time together, youth will enjoy a meal, breakout for on-line games, chat and win prizes. Clergy and church leaders please help us extend this invitation to the youth in your church. Please share the information flyer and this registration link with your middle and high school students -- https://www.eventbrite.com/e/central-maryland-a-day-with-the-ds-tickets-259957749627.

March 20 (deadline) -- Congregational Development Online Grant Application
The Baltimore-Washington Conference Congregational Development Grants, offered through the Unified Funding Task Force (UFT), can assist congregations with grants for launching new ministry initiatives, new or renewed congregation development, leader development and reaching new people. Learn more -- https://www.bwcumc.org/administration/local-church-resources/congregational-development-grants

March 21 (deadline) -- Internship Opportunity
The Board of Church and Society is recruiting for Ethnic Young Adult interns to work at the D.C. agency, June 5 to July 30, learning about the work of justice, peace and advocacy. Applicants must be United Methodists between the ages of 18 and 22. Learn more -- https://www.umcjustice.org/what-you-can-do/internships/

March 24 -- BWC College Scholarship Application Period is Open
Students who are currently enrolled in college or who are seniors in high school are encouraged to apply. There are several different scholarships sponsored by the BWC. Find out more information and apply online by March 24.




APRIL EVENTS

April 1 (deadline) -- Annual Conference Awards
The Annual Conference Awards are a great opportunity to recognize and celebrate churches doing good work and, it can inspire others by hearing the awardees' success stories! Please take some time to read the different categories of awards and think about who you could nominate. All the information can be found on the BWC website at https://www.bwcumc.org/annual-conference-awards/.

April 2 (9am) -- Appointment Transition Workshop
All clergy who are retiring or transitioning to new appointments are requested to attend a virtual workshop on Saturday, April 2 from 9 am to 12 pm. At this workshop, our District Superintendents will walk clergy through some of the essential parts of transitioning to a new context. Our keynote speaker will be Rev. Jack Shitama, the Director of the Center for Vital Leadership, who will share about Leaving Well and Preparing the Way. The deadline is April 1 (noon). To register, please contact your District Office.
April 1-3 -- Spirituality of Justice Retreat for Youth at The West River Center
Often when we talk about justice or spirituality, we speak about them as separate entities without much overlap. This retreat for youth will make bridges between the two so that the connection between justice work and spiritual work is gone. Young people will explore different types of spiritual practices, hear from justice work leaders working in the Conference, and talk through what they're learning in small groups. This retreat is open to youth groups or individuals between the ages of 12-18. The cost is $52 per person. Youth will need a Safe Sanctuary chaperone with them and churches are encouraged to pay for the chaperone's costs as well as supporting the youth attending. Questions? Contact Rev. Jenna Johnson ( ) or Rev. Neal Christie ( ). Learn more here.

April 18 (application deadline) -- IDEA Corp Summer Internship
The IDEA Corp is a new six-week internship (June 6-July 15, 2022) offered by the Baltimore-Washington Conference. The IDEA stands for Inclusion, Diversity, Equity and Antiracism. These practices define our holistic commitment to social transformation of the world and personal spiritual growth through creative, professional, and direct action in communities. The internship is open to students ages 18-23 who are enrolled and attending college, university or technical school, active participants in a United Methodist church or campus ministry, demonstrate leadership and passion in the church and community and involvement in social justice activities. Learn more and apply online.




JUNE EVENTS

June 1-3 -- The 238th Session of Baltimore-Washington Conference
The 238th Session will be held at the Baltimore Waterfront Marriott Waterfront Hotel. An online Pre-Conference Briefing will be held April 30 from 9:30 a.m. to noon. Registration opens this month, learn more here -- https://www.bwcumc.org/events/2022-annual-conference/

June 30 (Deadline) -- Fund Balance Report
This form must be completed through Arena by the Chairperson of the Finance Committee, Treasurer, or Pastor by June 30, 2022. We did not include this report with Charge Conference material so that it could cover the fiscal year of January 1 – December 31. If you need further assistance, contact your district office. Visit the Finance resource webpage for additional information -- https://www.bwcumc.org/administration/finance/forms-and-reports/
---
RESOURCES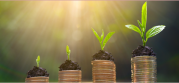 BWC Ministries Grants & Awards
BWC Ministries provides mission and ministry-related grants and awards to BWC churches, organizations, and/or related agencies. These grants are solely for the use of ministries based in the BWC of the UMC and are made possible through apportionment giving, individual giving, grants partnerships and some Sunday offerings. Visit the grants webpage to view application requirements, the next deadline is April 1. Visit https://www.bwcumc.org/resources/grants-and-awards/



General Board of Higher Education Ministry Scholarships
The General Board of Higher Education scholarship application opens in January of each year. College students in the Baltimore Washington Conference are encouraged to apply for these scholarships. You can only submit one application per year where it will be screened for all possible eligible programs. You may indicate on the first page of the scholarship application which of the below listed programs you would most like to be considered for. Award amounts below are a general estimate of awards given. Scholarship programs are divided into three categories: General Scholarships, Racial-Ethnic Scholarships, and Ministry as a Career Scholarships.

#BeUMC Toolkit for Local Churches
A new #BeUMC online toolkit has launched to assist church leaders in creating engagement in their church communities. Resources include inspiring ideas and practical suggestions, worship and preaching aids, communication tools, informative research and more. The campaign focuses on disciple-making; belonging and inclusion; influence, connection and impact; and experiencing God through the UMC. Churches may access tools and details at Resource UMC.org/BeUMC.

Elinor Thompson/ African American Cemetery Funding
Elinor Thompson works with the State of Maryland and wants to notify the BWC and its African American churches about grant funding that is available to African American cemeteries. She also wants to notify us that there is legislation coming up this session that will provide an additional $5 million for African American cemeteries in Maryland and wants our assistance with a survey they're conducting. View the survey. Ms. Thompson has worked closely with Sharp Street and Lovely Lane in the past.

Free COVID At Home Tests
If you haven't already ordered your free at home COVID tests from the government, visit https://www.covidtests.gov/.

Advocacy and Action, 2022 Mission Statement
Read the Advocacy and Action Mission Statement for the 2022 New Year, which outlines what we must do to continue our great work as Disciples of Jesus Christ, as well as ways for you to get involved in our work this year.

Training Tuesdays Archive – Learn at Your Own Pace
Training Tuesdays is an online training experience designed to inspire and equip local church leaders to connect more people with Jesus. Learn from experts from across the United Methodist denomination and come away with strategies to help you in your ministry work and to help your local church thrive. Learn at your own pace and use the recordings for leadership training, on-boarding, and ministry development.
• Visit and bookmark the Training Tuesdays webpage to see what's planned for 2022 -- https://www.bwcumc.org/events/training-tuesdays/
• Peruse the Training Tuesdays' playlist, choose from 41 recordings -- https://tinyurl.com/ycybyt6h
• Replay the December SPRC webinar
• Next week, play-back the One Board presentation, the recording will be posted on the Training Tuesday webpage

Unified Funding Task Force
The UFT can assist congregations with grants for new ministry, new or renewed congregation development, and leader development. Visit the UFT webpage to learn what grants are available and how to apply -- https://www.bwcumc.org/administration/local-church-resources/unified-funding-task-force/

Serve as a Vaccine Location
The Maryland Governor's Vaccine Equity Task Force and the Maryland Department of Health are seeking help from communities of faith to ensure vaccine access to all people. Chaplain (Capt.) Amor Woolsey, of the Vaccine Equity Task Force, invites churches to offer up a space in their buildings for clinics to ensure those who want a vaccine can get one. The state will provide all three vaccines, including boosters; they also have pediatric vaccines available for those ages 5-11. For more information, contact Chaplain Woolsey at 808-218-3115 or

Subscribe to the E-Connection
Stay connected and subscribe to the BWC weekly newsletter -- https://www.bwcumc.org/news/submit-and-subscribe/

Free Downloads from Discipleship Ministries-Crash Course in Youth Ministry!
Congregations will want to look at the new Crash Courses in Youth Ministry. Each is loaded with practical tips and basic wisdom that you can read today and put into practice tomorrow. If you are a part-time or no-time (amazing volunteer!) youth worker, these crash courses are especially for you. Also, if you are a pastoral leader and find yourself leading youth ministry for the first time in a while, these crash courses are excellent refreshers and guides to help you recognize how the game has changed. Each Crash Courses in Youth Ministry eBook is between 3,000-6,000 words, meaning that you should be able to read and process the resource in just an hour or two. Each topic is approached with accessibility for the youth workers in mind, no matter if they are paid or volunteer. The materials are topically focused, and where possible includes a good dose of humor. These eBooks are free to download. Just click the link and provide contact information so that Discipleship Ministries can continue to share resources and opportunities to support the youth ministry that you are called to lead. Topics include Recruiting Volunteers, Keeping Volunteers, Fundraising, Methodist Heritage and Beliefs, Trips and Retreats, and more. Questions on how to use these resources? Contact Rev. Neal Christie at
Zimbabwe Mission & Ministry Grants
The Baltimore-Washington Conference started its partnership and ZimVIM in 1997. With natural disasters and COVID-19 interrupting the Pastor's School rhythm, we have re-directed the mission share allocation toward disaster response and now toward local congregation grants. If your local church has a record of building relationships, mission and ministry in Zimbabwe, then you are eligible to apply. Visit the Zimbabwe Global Partnership for more details.
Bible Study for Dementia Caregivers and Fellow Church Members
This Bible study written for dementia caregivers and their fellow church members is presented by author Elizabeth Shulman, D.Min., and Certified Nursing Assistant with over 30 years of experience in both parish and healthcare ministry. This study has been endorsed by retired United Methodist Bishop Kenneth Carder and recently listed as a #1 New Release on Amazon, Finding Sanctuary in the Midst of Alzheimer's (Morgan James Publishing, 2021) provides a valuable tool for churches seeking to provide support to caregivers in their congregations. Finding Sanctuary in the Midst of Alzheimer's: A Spiritual Guide for Families Facing Dementia: Shulman, Elizabeth: 9781631954634: Amazon.com: Books


Sickle Cell Awareness
Sickle Cell affects more than 100,000 Americans, most of African ancestry. Project SPIRIT Sickle Cell (PSSC) is a new, virtual community-based ministry founded by Rev. R. Lorraine Brown of Simpson UMC in Mt. Airy. The ministry offers one-on-one and group, non-denominational chaplain-led services at no cost to assist and support young adults who are in transition from pediatric to adult healthcare, discovering their personal sense of spirituality and navigating life challenges with sickle cell disease. For more information contact Rev. Brown at 240-780-8986 and visit https://youtu.be/jDJ2qq4UK-Q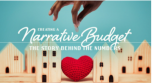 Creating a Narrative Budget: The Story Behind the Numbers
The Wellness & Missions Board is pleased to share Discipleship Ministries' launch of a new self-paced course for local church leaders: Creating a Narrative Budget: The Story Behind the Numbers. Through eight self-paced sessions, participants will learn the nuts and bolts of constructing a narrative budget. Visit the registration page for more information.



Access the Church's Stats via Arena
Statistical data submitted via EZRA, the data collection system of the United Methodist Church, can now be viewed in Arena. And, Arena users can view 2017-2020 reports for their church if they serve in one or more of the following roles:
• Chair or President of a local church, district or conference committee
• Church Pastor
• Church Administrator



100 Man Mission to Support the NEJ United Methodist Men
Men's Ministry Specialists will lead this effort and be supported by Conference Men who have a love for God and their fellow men. To do this 100 GENEROUS Men are needed to pledge to the NEJ, fifty cents per day, or $15.00 a month for 12 months, or a total of $180.00 per year. These men pledge to send their contribution MONTHLY to their UMM conference treasurer, who will forward one-half of these funds to the Northeastern Jurisdiction Treasurer, Mr. John Conklin. The conference will retain the other half for their expenses and to purchase education materials to support the NEJ efforts. Learn more here -- https://www.bwcumm.org/100man-prayerwalk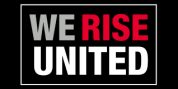 BWC's Racial Justice Committee has been committed to shining a light on systemic racism within our churches and within our society at large. We Rise United Bi-Weekly Prayer Call – We all must look to God for help, guidance, and support during this time and as we journey forward towards reaching the goal of being an antiracist Church, let's lift our voices and be heard so that together, We Rise United. To join the prayer call and for more information, visit https://www.bwcumc.org/event/1946656-2021-02-03-we-rise-united-prayer-call/. The prayer call is held the first and third Wednesday every month until December 21, 2022.

Prayer in a Time of National Crisis – In this prayer from The United Methodist Church's Book of Worship, 517, we seek God's direction and enlightenment for our nation as it experiences turmoil and conflict. Take a moment to say and reflect upon the prayer, and then share it with your congregation -- https://www.umc.org/en/content/prayer-in-time-of-national-crisis?utm_source=thesource&utm_medium=email&utm_campaign=resourceumc&utm_content=01/26/21paid

New Certified Lay Minister
Class applications are now being accepted: Applications for the next class of Certified Lay Ministers, the Baltimore-Washington Conference Class of 2021-2023, are now being accepted. Visit the BWC website to learn more about the pre-requisite requirements. (Click "Learn More" under "Certified Lay Minister" for information and application package, as well as a pastor information package.) Prospective CLM students must currently be a Certified Lay Servant or Certified Lay Speaker. The application process includes meeting with one's pastor, church Staff-Parish Relations Committee, and the district superintendent before the July 1 deadline. The next class will start in September and is a two-year commitment. Questions can be directed to Linda Flanagan ( ), the Conference Director of Lay Servant Ministries.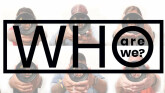 Who Are We? An 18-week small group journey from head to heart explores our identity as children of God, United Methodists, and the people of the Baltimore-Washington Conference. This study is an outstanding resource for churches seeking to grow deeper in their understanding of identity, faith, and discipleship. See the Study and begin your exploration of "Who Are We?" -- https://www.bwcumc.org/resources/who-are-we/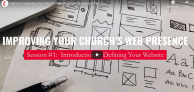 Improving Your Church's Web Presence
Sometimes we're overwhelmed by all that's involved in (re)building or maintaining a church website. Because a site requires a mix of time and skills, it's hard to know
where to begin. In part one of three screencast sessions, you'll learn how to improve your web presence by identifying the ministry needs and the multiple audiences
served by your church's website. Take the first step -- https://www.resourceumc.org/en/content/improving-your-churchs-web-presence-part-1
BWC News
• Find current BWC news and share your stories at https://www.bwcumc.org/news/

Church Resources
• Where do you go to get a grant or loan for your church? There are resources to help you and your church. Visit https://www.bwcumc.org/administration/local-church-resources/

Coronavirus Resources
• A number of resources are available to assist local churches in their response to the Coronavirus—https://www.bwcumc.org/article/coronavirus-resources/