Apportionment Giving
The connectional system and apportionments are two of the defining traits of United Methodism. They allow local churches to reach beyond their walls and be in ministry in significant ways in their backyards and across the globe.
For the past 20 years straight, the Baltimore-Washington Conference has contributed 100 percent of its General Church apportionments. In addition, in 2016, the 640+ churches of the Baltimore-Washington Conference contributed 92.08 percent of their apportionment asking, the highest percentage since 2001. Thank you for your generous support and witness!
About 11 cents of every dollar put in the local church collection plate support General Church and Conference apportionments. Together, these pennies are transforming the world.
Additional Resources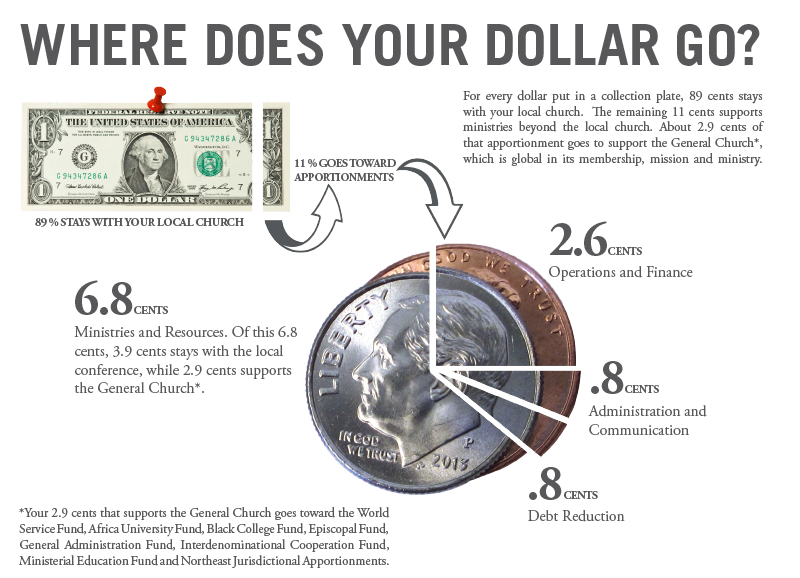 All of this – and so much more – is possible because when we take vows to become members of The United Methodist Church, we promise faithfully to participate in its ministries through our prayers, presence, gifts, service and witness. By paying ALL of our apportionments at 100 percent, and giving faithfully to the six church-wide Special Sundays, we become a part of something bigger than ourselves and accomplish wonderful things in Jesus' name. Read "A Theology of United Methodist Giving: Apportionments"
General Church and Conference apportionments are broken down into various groups. These groups are: