History
The word of the Lord that came to Joel, son of Pethuel:
Hear this, O elders, give ear, all inhabitants of the land!
Has such a thing happened in your days, or in the days of your ancestors?
Tell your children of it, and let your children tell their children, and their children another generation. (Joel 1:1-3)
Click the graphic below for more details about our Pilgrimage Week.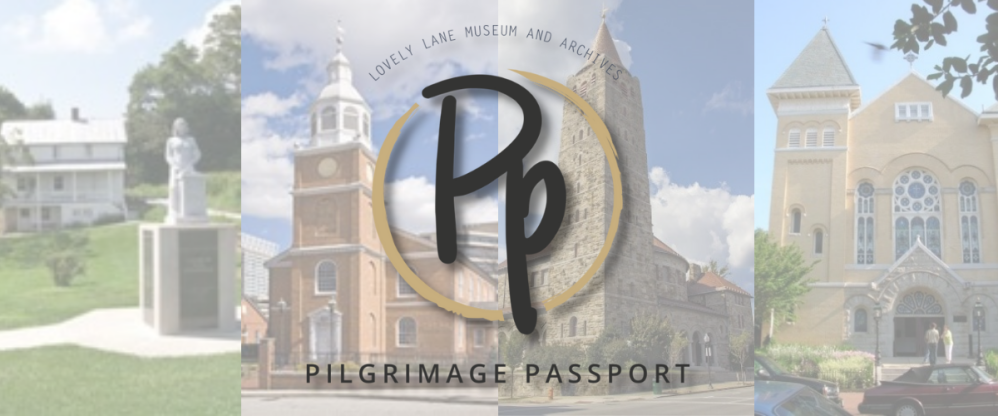 What's in a story? What's in your story? How do you connect with the stories of your ancestors? What story are you writing for future generations?
Our history shapes us; we are molded by the faith of our ancestors. The actions of a cloud of witnesses who built the tiny family chapels and grand city cathedrals spread across the landscape of the Baltimore-Washington Conference call us into a deep relationship with God that never stops growing. We are a storied people, and those stories are lived out in sacred spaces and places that warrant our attention.
Traveling preachers utilized kitchen tables, open air pulpits, schools, and other locations to spread the Gospel message before and after the denomination was officially created. Baltimore was the birthplace of The United Methodist Church in the New World. Methodism officially began in America in 1784, on Christmas Eve, when Bishops Francis Asbury and Thomas Coke "called all the preachers together" and 60 pastors met at Lovely Lane Meeting House in Baltimore to organize a church that would shape the identity of a new nation.
Over the years the church has grown, divided, and reunited. Our faith has been expressed in multiple languages and traditions, including: Methodist Episcopal; Evangelical; United Brethren in Christ; Evangelical United Brethren; Methodist Protestant; and Methodist Episcopal Church, South. Persons of African descent launched the African Methodist Episcopal; African Methodist Episcopal Zion; and Christian Methodist churches out of Methodist roots, either set free with intention (CME) or divided when the white churches wouldn't allow blacks to worship with them (AME, AMEZ).
In 1939, the Methodist Episcopal; Methodist Episcopal Church, South; and Methodist Protestant traditions reunited to form The Methodist Church. In 1946, the Evangelical Association and The United Brethren in Christ churches merged to form The Evangelical United Brethren Church. In 1968, The Methodist Church and the Evangelical United Brethren Church merged to form what is now The United Methodist Church.
In 1966, preparing for the uniting merger that would come two years later, the church met again in Baltimore under the theme "Forever Beginning." Today, that theme still applies as the church begins afresh each Sunday – combing social holiness and vital piety to give birth to a future rich in possibility.
Every United Methodist is encouraged to discover their place in our exciting, life-transforming story. How does your life story intersect with our story? What story are you writing for future generations? You belong here. Join us on the journey as we write the story anew for all disciples and pilgrims.