Resources for United Methodists Discerning their Future
During this liminal time in the church, many individuals and churches are seeking to renew their vision as United Methodists, focusing on vitality as they make disciples of Jesus Christ for the transformation of the world. Others are exploring a different future and may be considering withdrawing their membership or leaving the denomination.
For individuals and churches discerning their future, the conference has provided several resources. (See below.) For more specific information, please contact your district superintendent.
It should be noted that only churches who are seeking to leave the denomination need to review the details of disaffiliation. Congregations who remain a part of The United Methodist Church will continue our Wesleyan connection, united in doing mission and ministry as we move forward, persevering in hope, joy and faith.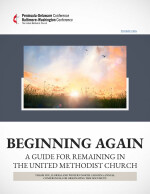 If your church has wrestled with and decided to disaffiliate from The United Methodist Church, you may choose to remain. The 'Beginning Again' guide is offered to help you remain United Methodist, and do so with purpose, meaning, and joy. You are not alone as you and your friends begin again.
Coverage from Disaffiliation Vote at Annual Conference Session
On May 11, Bishop LaTrelle Easterling released a video with comprehensive information designed to answer all your questions about disaffiliation.
Updated FAQ on Disaffiliation (May 22, 2023)
DISAFFILIATION DISCERNMENT PROCESS FAQ on Disaffiliation
Wespath video and FAQ on Disaffiliation and the Unfunded Withdrawal Liability
Wespath guide to Clergy Withdrawals – Impact on Benefits when Surrendering Credentials