BWC encounters love and loss
Posted by on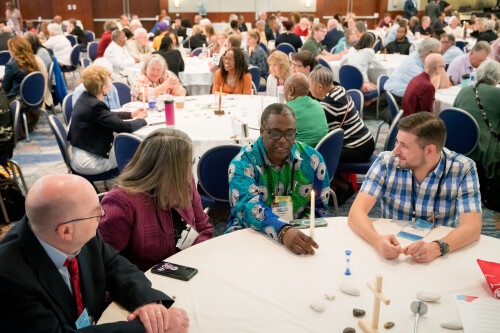 By Melissa Lauber
Photos by Alison Burdett & Tony Richards
The people of the Baltimore-Washington Conference greeted the second day of Annual Conference with a special challenge from Bishop Peter D. Weaver: "be perpetual Pentecost people."
Throughout the session, members experienced the moving of the Holy Spirit differently as 23 churches disaffiliated from the denomination, Circles of Love created beloved community around 92 tables, and saints who died during the past year were remembered. And throughout it all, it was "All about Love."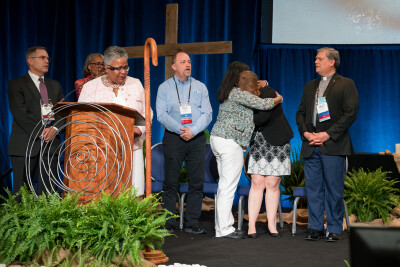 In an emotion-laden vote, members voted to approve the disaffiliation of 23 churches, that sought to leave the denomination because of disagreements over the manner the church addresses the practice of homosexuality and the ordination and marriage of self-avowed practicing homosexuals.
To disaffiliate, the churches went through a process outlined by Para. 2553 of the Book of Discipline and the Conference Board of Trustees, which required a two-thirds vote of their members at a special Church Conference.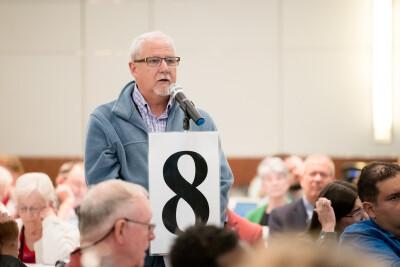 Para. 2553, which passed at the 2019 Special Session of the General Conference, provides a limited opportunity, within the context of the trust clause, where disaffiliation payments can be made in exchange for the Conference relinquishing the trust clause claims on church property. Congregations were asked to pay an additional 12 months of mission shares, the church's pro-rata share of the unfunded pension obligation, and fifty percent of the assessed value of the church property.
As a benediction and blessing to the disaffiliating churches, Bishop LaTrelle Easterling prayed to God, "whose power is one of healing and wholeness, of love, even in the difficult places, of understanding and grace. … May we go with the peace of the living Lord ringing in our ears," she said. "May we go in love, not acrimony; in faith not doubt; in hope, not resignation; may we go in joy, even in the midst of our despair, and may we go in peace to love and serve the Lord."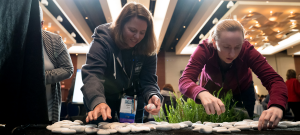 Even as some churches set off on a different path, others focused on the church's future of creating justice and relationship in a "living worship" experience called Circles of Love. At more than 90 tables, members joined in a two-hour conversation on Jesus' Great Commandment that explored how faith connects us to do justice, love kindness and journey humbly with God.
The experience, led by table hosts, were based on James Baldwin's understanding that "not everything that is faced can be changed, but nothing can be changed until it is faced." They drew on recent research in social sciences that showed "the most powerful way to build knowledge, awareness, and empathy, and ultimately make progress toward equitable, just and sustaining change is conversation," said the Rev. Stacey Cole Wilson, the BWC's Executive Minister of Beloved Community.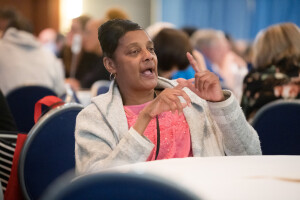 The members entered into transformative, co-creating conversation about three questions:
All persons are created in the image of God. Yet not all of us look, think, move, dream, love, live and/or experience God alike. With this in mind, how has God's love guided you to love others?
With our commonalities and differences, what is a gift of our God-given diversity and what is a challenge?
What am I doing to create an environment where othering or hate is never taught and always challenged?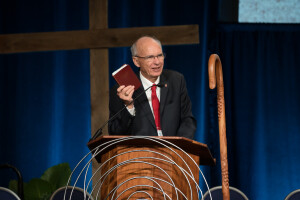 Prior to the circles, Bishop Peter D. Weaver led the session in a Bible study on Pentecost and being Spirit-filled and Spirit-led. He recounted a litany of challenges facing the world today and how people – filled with the Holy Spirit – are called to be present in "these deep days. … We need to be perpetually Pentecost people," Weaver said.
"The power of love, doesn't come because we have meetings and manufacture it," Weaver said. "When we are open, the Spirit moves in and through us so that we become love, become truth, become reconciliation, become justice, become hope, become faith, become love."
He encouraged people to adopt Spirit-filled practices to become a Spirit-filled presence, lifting up the steps outlined in 1 Thessalonians 5:16-19. "Rejoice always, pray without ceasing, give thanks in all circumstances for this is the will of God in Christ Jesus. Do not quench the spirit."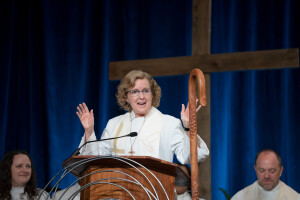 The Rev. Linda Motter, of Calvary UMC in Annapolis, preached at the Memorial Service, sharing how growing up in Tennessee in a family of faith, shaped her ideas about God and the value and joy of life and how the legacies of her loved ones live in her heart today. Clergy, clergy spouses, lay members and loved ones who died during the past year were honored with white origami doves that bore their names.
During the service, all those present were given the opportunity to write love letters to those they lost. The Rev. Scott Shumaker, of Mt. Carmel UMC, rose and spoke the name of his 27-year-old son, Joshua Scott Shumaker, who died in March.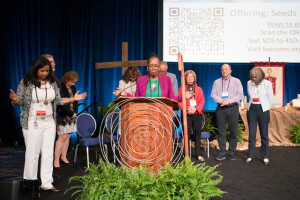 In other business during the day, members:
Built upon the $6,300 raised in an offering yesterday for Seeds of Security, spontaneously pledging funds to bring the total to $16,203 to assist victims of domestic violence;
Learned about the Pilgrimage to the Holy Land in January 2024;
Passed a protocol and policy that addresses providing paid bereavement leave for clergy;
Supported steps to ensure the best alternative use of available church properties for missional purposes;
Voted to identify and oppose apartheid in the Holy Land;
Supported two weeks of paid maternity and paternity leave for clergy foster/resource parents;
Affirmed the Queer Delegates' Call to Center Justice and Empowerment for LGBTQIA+ People in the UMC;
Opposed a resolution to request district superintendents aspire to preside at each local church conference;
Moved to table indefinitely a resolution that asks that those seeking to leave the denomination not serve in positions of leadership in the conference, districts and local churches; and
Voted to support the creation of a U.S. Regional Conference.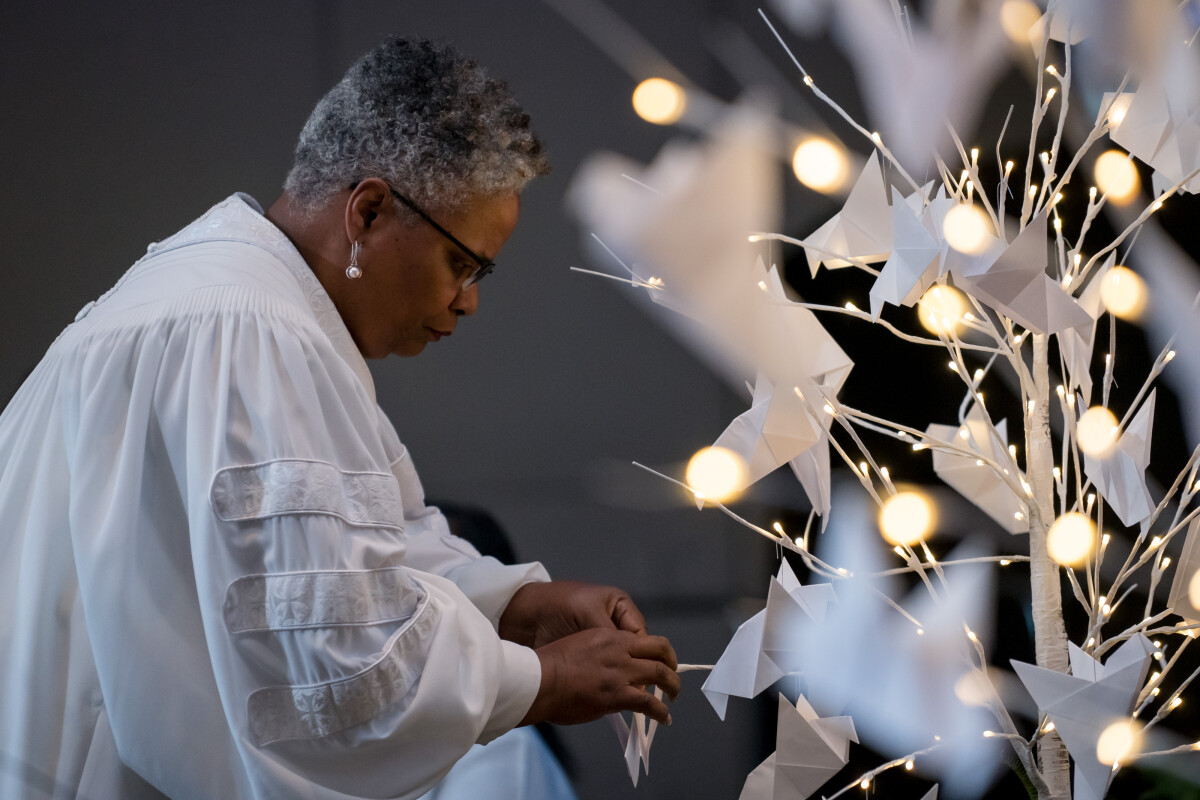 After the Circles of Love conversations, these words were on the hearts of the people at the Annual Conference Session:
Accept 2
Acceptance 11
Accepting
Accountability
Acts of Love
Affirmation
Agape 2
Anguish
Assurance
Attentive
Authentic
Authenticity
Awareness 2
Be
Be hope
Belief
Believe
Belonging
Be loved
Blessed
Blessings
Broken 2
Brotherhood
Call in Love
Calm
Care 2
Caring
Challenge 3
Co-exist
Comfort
Commitment
Community 2
Compass
Compassion 10
Communication
Community
Confront in love
Connect 2
Connectedness
Connection 2
Conversation
Courage 3
Covenant
Create
Curiosity 2
De-Center
Deeply
Determines
Each Other
Ebenezer
Embrace
Empathy 1
Encourage 3
Encouragement
Enculturation
Endurance 2
Engage 2
Engagement 2
Enlightening
Equal
Equality
Equity
Experience
Faith 4
Faithful
Faithfulness 3
Family
Fellowship
Filled
Flexible
Flourish
Forgiven 2
Forgiveness 3
Freedom 2
Friend
Fruitful
Gentleness
Giving
Go
Goodness
Grace 16
Grateful 2
Grow
Growth 3
Heal
Hear
Heart
Help
Help someone
Holiness 2
Honor 2
Hope 28
Hopeful 2
Hosanna
Humility 6
Inclusion
Inclusiveness
Inexhaustible
Intention 3
Intentional
Intentional Joy 2
Intentionally Love
Interconnected
Intersectionality
Invite
Invitation
Invite
Involvement
Jesus 3
Journey 2
Joy 6
Joyfulness
Justice 5
Keep Open to God's Change
Kind
Kindness 8
Kindred
Knowledge
Learn 2
Legislate
Life
Listen 13
Listening 4
Live by listening
Love 60
Loved
Love one another 2
Make Peace from Violence
Mentor
Mercy 2
Model
Next
Nonjudgmental 2
Offer
One
Open 9
Open now
Openness 8
Oriented
Patience 4
Paz
Peace 19
Persevere
Perseverance
Persist
Persistence 2
Pivot
Ponder
Positive expectations
Praise
Prayer 2
Presence 3
Present
Protect
Push
Radical
Radical Love
Reach
Receive
Refrain
Rejoice
Relationship 2
Releasing
Repentance 2
Respect 8
Risk-taking
Sacrifice 2
See 2
Seeing
Seek
Seeking to Understand
Speak Up
Self Acceptance
Serve 2
Service 2
Share 2
Similar
Sit
Share
Show up
Smile
Solid 2
Speak 2
Spirit 2
Spirit-filled
Spirit of love
Stand 2
Stories 2
Stretch Your Mind
Support
Suspend
Table
Teach 2
Teaching
Tears
Thankful
Think
Time
The Word
Together 2
Togetherness 2
Tolerance
Transform
Transformation
Transformational
Transformed
True
Trust 26
Truth telling
Truth 3
Ubuntu
Understanding 5
United 2
Unity 3
Understanding
Value
Vessel
Vulnerable
Vulnerability 2
Welcome
Well
Willing Heart
Whole
Work