In historic service, ordinands called to 'lift, liberate, and love'
Posted by Melissa Lauber on
By Melissa Lauber
The 2020 class of ordinands, provisional members, deaconesses, and home-missioners made history Sept. 12 as pioneers in a new age of ministry — brought about in part by the social distancing caused by the coronavirus pandemic.

This is the year "where in the blink of an eye everything that we called routine, and normal, and familiar was stripped away," said Bishop LaTrelle Easterling to the class. But, "you have answered the call. You have set your hand on the Gospel plow. You have committed your entire selves to the work of set-aside ministry. You have launched into the deep. You have committed to give yourselves away. You have chosen the way that leads to the cross."
Three men and five women were ordained as Elders in The United Methodist Church. Two people were commissioned as provisional Deacons, and six people were commissioned as provisional Elders.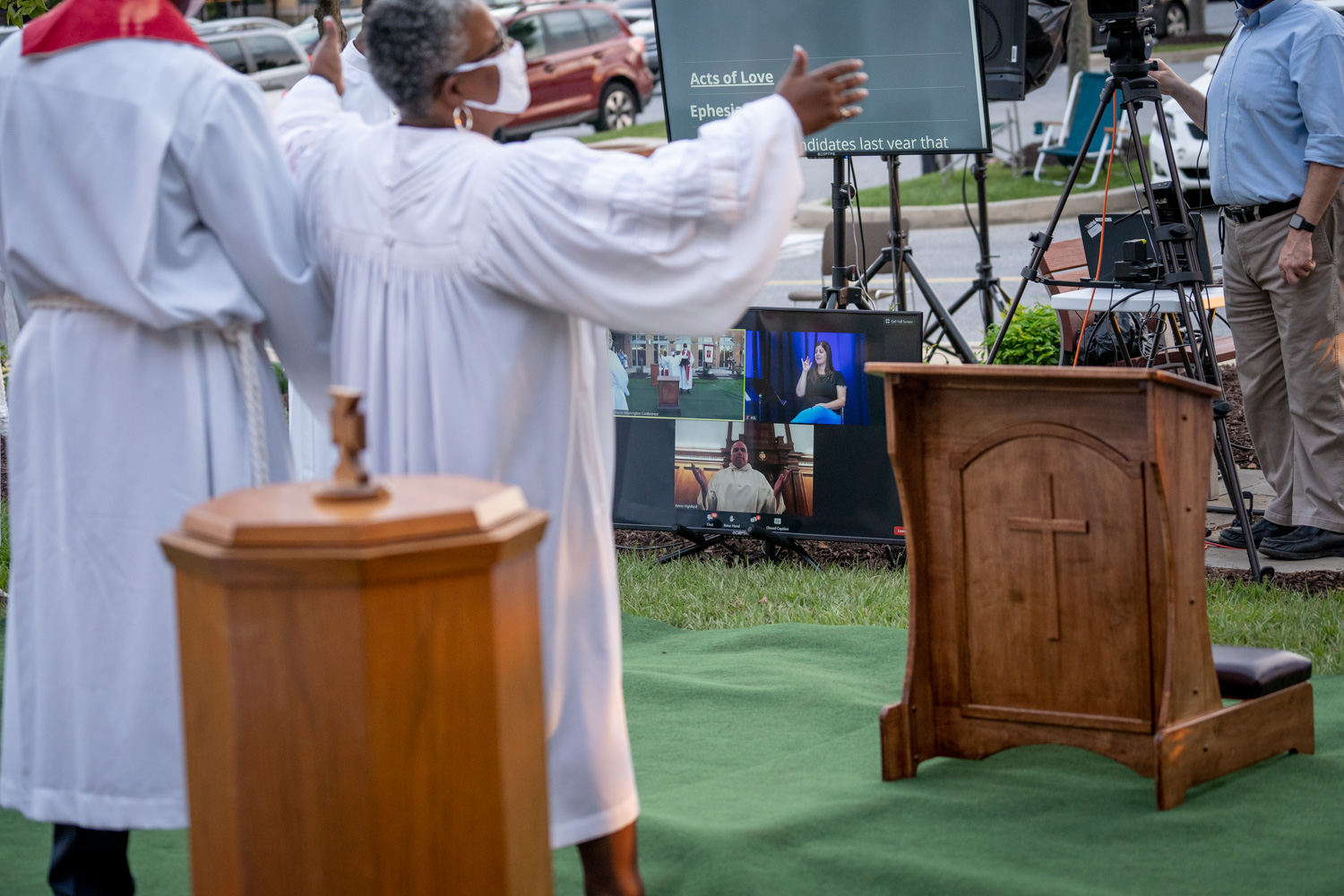 In a move of technological wonder, the Rev. David Highfield was commissioned by the bishop in Fulton, Md., while he bowed his head in England.
Aldrina Ezra Cabrera, Clarissa Evangelista were also commissioned remotely as deaconesses, and David Kennedy as a home missioner.
Female deaconnesses and male home missioners respond to "a vocational call to be Christ in the world through consecration for lifetime servant ministries of love, justice, and service."
In a sermon at the Service of Ordination and Commissioning, held on the front lawn of the Conference Mission Center and livestreamed, Bishop Easterling stressed the need for the church to claim the Gospel.
"Hear me clearly as I say this," Bishop Easterling said. "We can continue to have services of repentance and lament as a denomination — they have their place. And we can continue to amass large sums of money to spearhead major initiatives, which in our capitalistic culture is often confused with tangible change.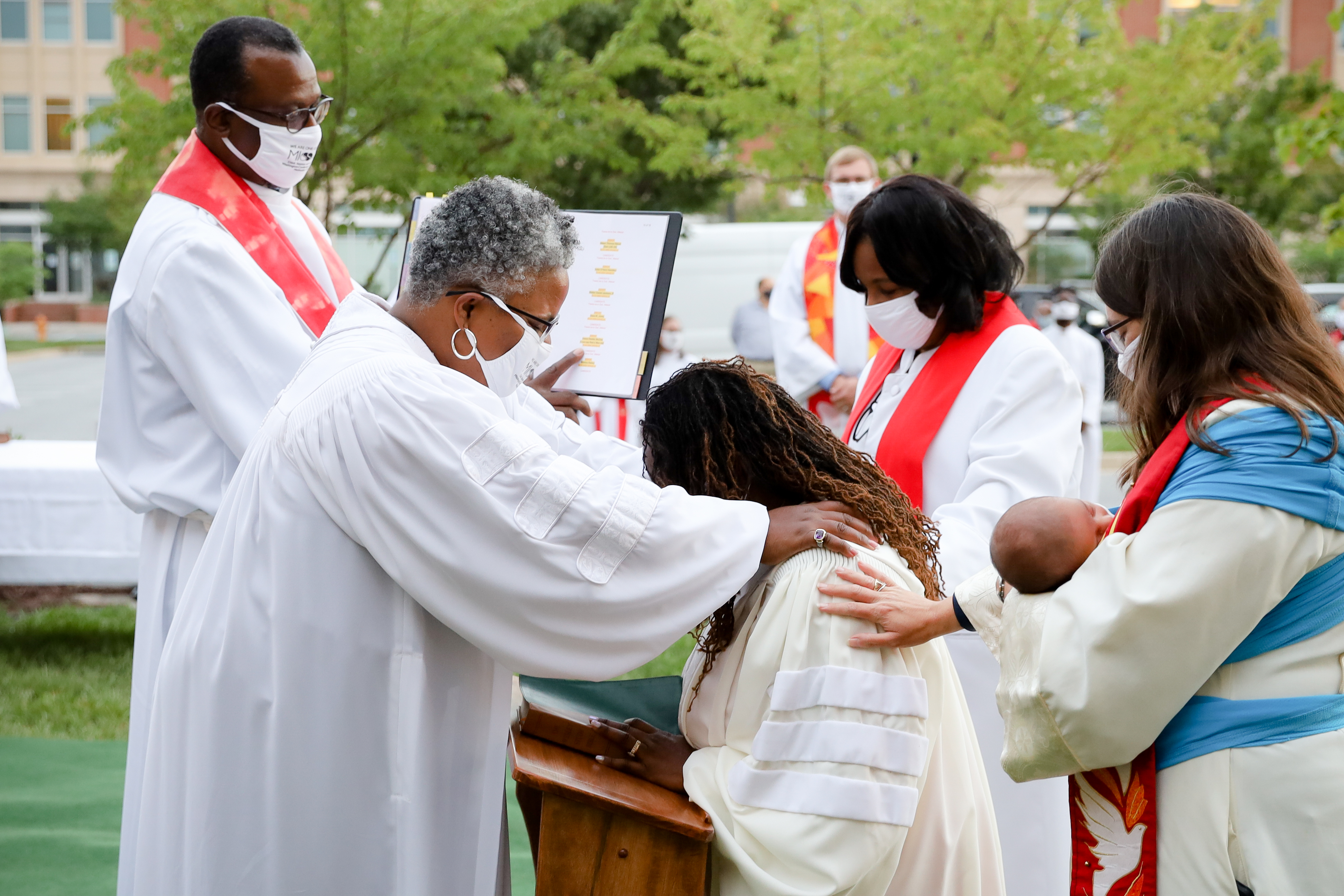 "But real transformation takes place when the head and the heart grasp the central message of the cross," she continued, "that God created all beings, all beings are created equal, and, as reconciled beings, we are called to work together to lift, liberate, and love!"
Noting that the pandemic has brought people out of their churches to minister in new ways, the bishop urged church leaders "to remain in the streets and on the sidewalks and in the parking lots and the parks. If possible, only return to your buildings to restock your supplies and make sure the faucet isn't leaking or the stove hasn't been left on. When the virus is in our rear-view mirrors, and we have a vaccine, and we could retreat to safety of our sanctuaries; I pray we don't."
Instead, she called on United Methodist to be outside building relationships with people and practicing acts of love.
"Relationships are the currency of the kingdom," Easterling said.
So, "baptize infants and teenagers and Gen-Xers and Boomers into the faith, modeling for them what it means to be a broken people, welcoming broken people, into an imperfect community, serving a perfect God. Acts of love," the bishop said.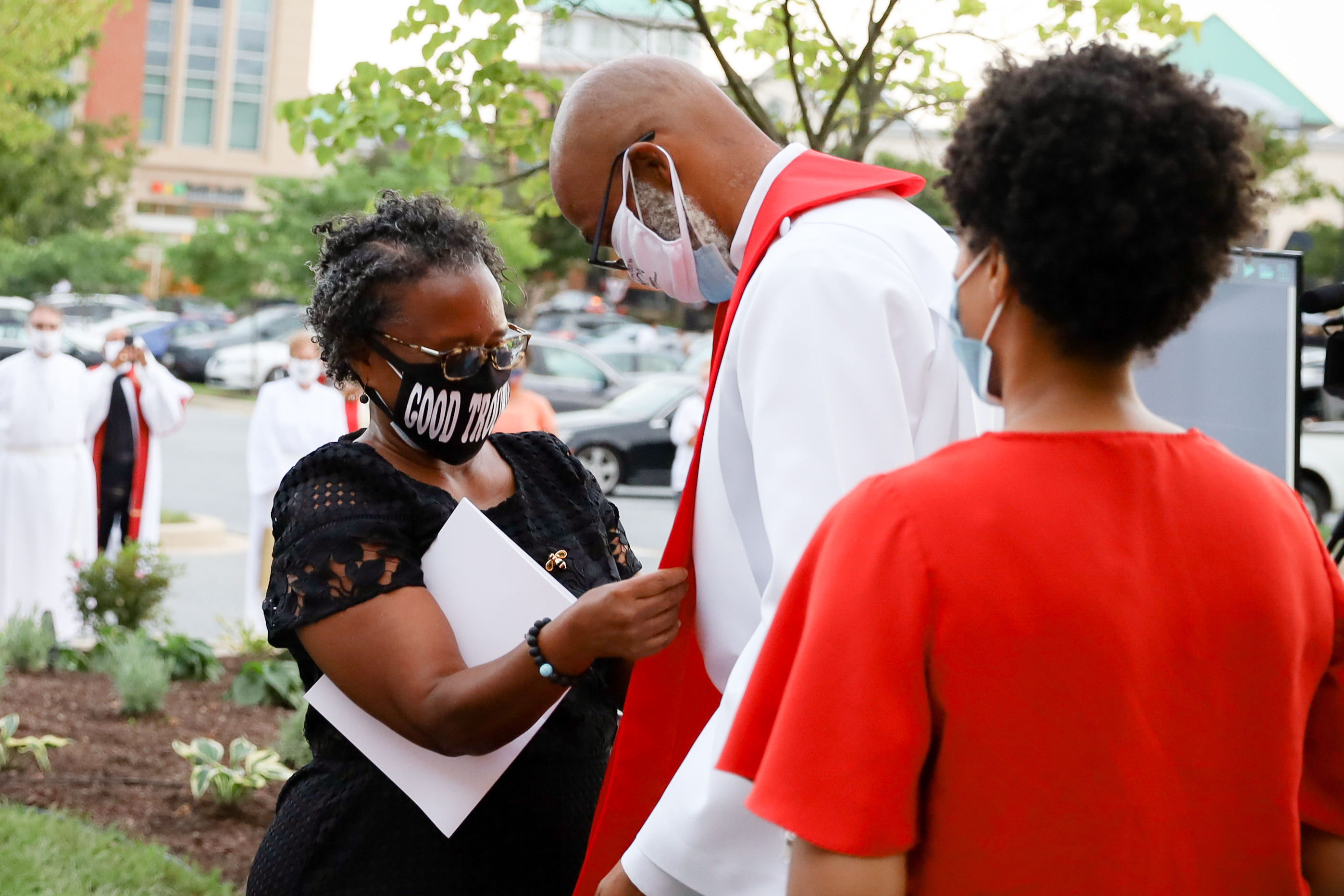 "Get in some trouble — some good and necessary trouble," Bishop Easterling said, echoing the famous words of the late Congressman, John Lewis. "Trouble that stands at the margins with the oppressed; trouble that marches with those who are being unjustly profiled and murdered and jailed and separated and beaten and neglected and abused."
She urged church leaders to model the crux of the cross, "to give sight, heal, welcome the vulnerable and offer acts of love."
As an act of love, Bishop Easterling baptized Kaylan Deneen Michelle, the child of the Rev. Darius and Jennifer Butler.
She also shared how she gets down on her knees before God and asks that the people of the Baltimore-Washington Conference be strengthened by God's spirit —not a brute strength, but a glorious, inner strength.
These are unprecedented, and often difficult times we are living in, said the bishop.
"Your leadership will be questioned and challenged, your resolve will be tested, loved ones will suffer, the denomination may schism or splinter or create new streams.
"The storms will come," Bishop Easterling said. "Stay anchored. Stay anchored in the solid rock! His name is Jesus. … My soul is anchored in the Lord; I pray yours is, too."
2020 Class of Ordained Elders:
Daniel Breidenbaugh
Lorraine Brown (Cross)
Alison Thomas DeLeo
Katie O'Hern Hamilton
Walter Daniel Jackson, III
Dana M. Jones
Irance Reddix McCray
Monica Raines
2020 Class of Provisional Members
Deacons:
Helen Ballew
William Raymond Carpenter, Jr.
Elders:
Michael Anthony Carrington, Jr
Kevin Highfield
David G. Norton
Emily Elizabeth Bostic Skorupinski
Melaina Trice
Samuel Tryon
Home Missioner
David Kennedy, of Capitol Hill UMC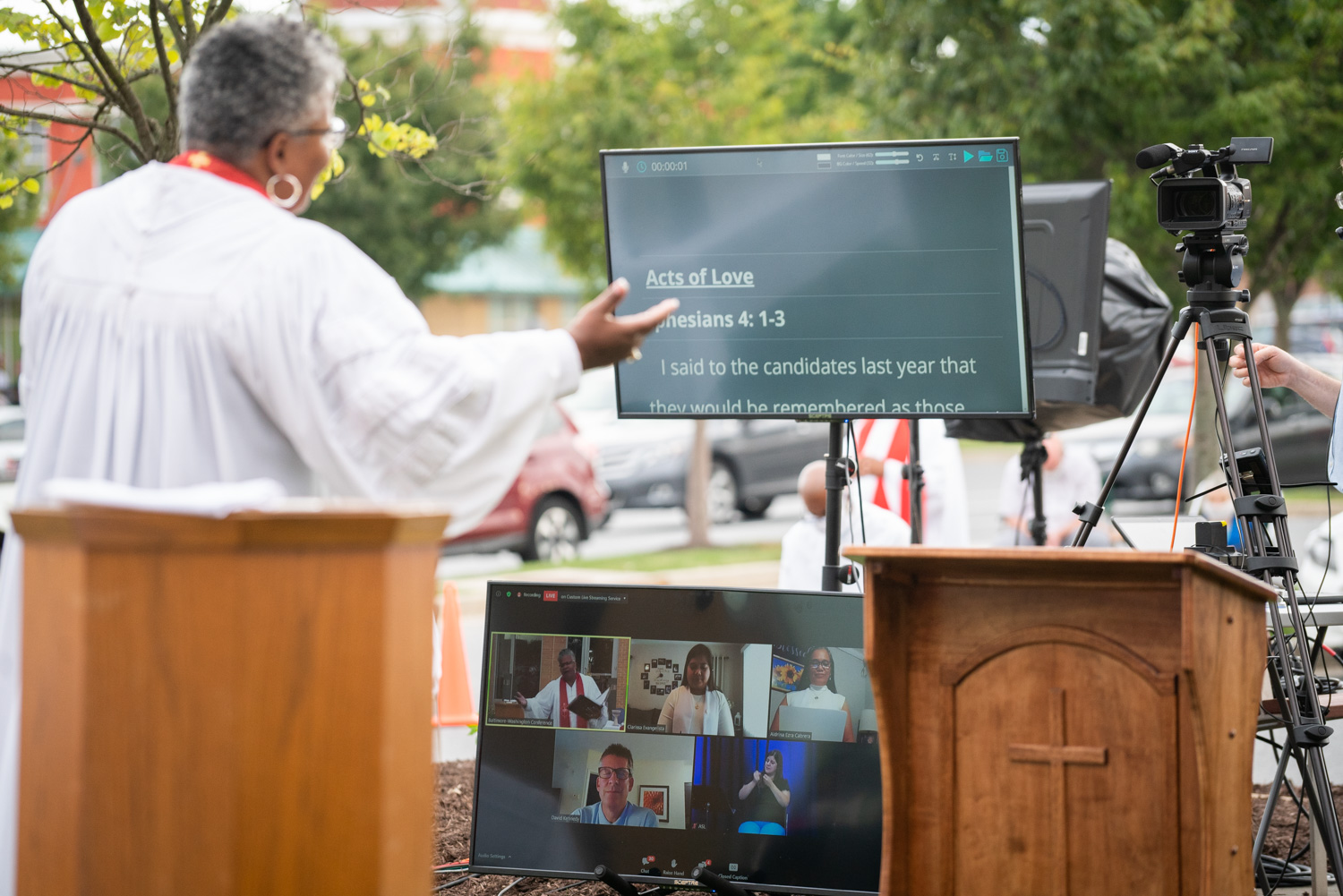 Deaconesses
Aldrina Ezra Cabrera
Clarissa Evangelista