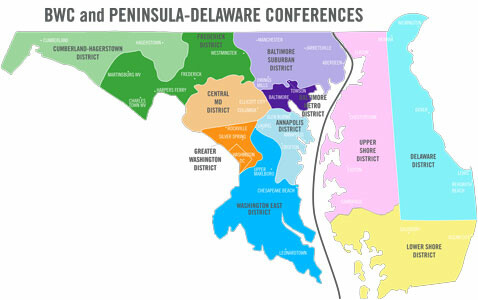 03.30.21

|

Communications
Plans have recently been announced by the Northeastern Jurisdiction College of Bishops to affiliate the Peninsula-Delaware and Baltimore-Washington Annual Conferences of The United Methodist Church. With the affiliation, which becomes official on Sept. 1, the two conferences will be led by Bishop LaTrelle Easterling.
On March 29, 2021, the Northeastern Jurisdiction College of Bishops announced the plan for coverage of Episcopal Areas in the Northeastern Jurisdiction. This included the announcement that Bishop LaTrelle Easterling would provide episcopal leadership and coverage for the Baltimore-Washington Conference and the Peninsula Delaware Conference. The College of Bishops made this decision after consulting with the Northeastern Jurisdiction (NEJ) Episcopacy Committee and individual bishops, and after prayer and meeting several times about coverage during this interim period which begins on September 1, 2021 and ends on December 31, 2022.
What is an annual conference?
The annual (sometimes referred to as "regional") conference is described by the church's Constitution and other parts of the Book of Discipline as the "basic unit" of the church. Supervised by a bishop, the annual conference has a central office and professional staff that coordinate and conduct ministry and the business of the conference. It likely has a director of connectional ministries, treasurer, directors of program areas (such as camping), communications director, and other staff as deemed appropriate for the annual conference and as required by the Book of Discipline. Clergy and laity also serve on conference boards, commissions, and committees. The clergy and an equal number of laity gather each year for an Annual Conference Session, presided over by the bishop appointed to lead that conference.
What comprises the Peninsula-Delaware Conference?
The Peninsula-Delaware Conference of The United Methodist Church has 416 churches, with approximately 81,100 members, in Delaware and the Eastern Shore of Maryland. Its office is in Dover, Delaware. Peninsula-Delaware Conference's vision statement is "Connected Christians offering the Hope of Jesus Christ in today's world." Learn more on its website at http://www.pen-del.org.
What comprises the Baltimore-Washington Conference?
The Baltimore-Washington Conference of The United Methodist Church has 615 churches with approximately 150,000 members in Washington, D.C., parts of Maryland, the eastern panhandle of West Virginia, and Bermuda. Bishop LaTrelle Easterling was elected as a bishop in July 2016 and began serving the BWC on Sept. 1, 2016. Its mission statement is "Inspiring and equipping local faith communities to develop disciples of Jesus Christ for the transformation of the world." Learn more on its website at www.bwcumc.org.
Why didn't our annual conference get to vote on this?
Just like a church conference doesn't vote on appointments of clergy to local churches, annual conferences don't vote on assignments of bishops nor interim coverage plans.
Why was it necessary for the NEJ College of Bishops to act? And do they have the authority?
The pandemic has presented unprecedented challenges in the life of the church. One challenging area has been our ability to conference together in the General and Jurisdictional Conferences. General Conference sets the policies for the church, elects new general agency leadership, and sets the global direction and budget for the church. The Jurisdictional Conference elects new bishops and assigns bishops to episcopal areas.
Due to the 2020 General Conference being postponed a second time, it has meant the continual postponement of the Northeastern Jurisdictional Conference. Two of the Northeastern Jurisdiction bishops, Bishops Peggy Johnson and Jeremiah Park, have requested and been granted voluntary retirement starting September 1, 2021, under paragraph 408.2 (b) of The Book of Discipline.
The 2020 postponed General Conference is scheduled to gather in person August 29 through September 6, 2022, in Minneapolis, Minn., followed by U.S. Jurisdictional Conferences to be held November 2-4, 2022 for the election and assignment of bishops.
As of September 1, 2021, two bishops will retire which leaves seven active bishops to lead 10 annual conferences. The Book of Discipline authorizes the College of Bishops to provide coverage of open episcopal areas until new bishops are elected and assigned by the Jurisdictional Conference. This coverage will be for 16 months from September 1, 2021, through December 31, 2022.
Which NEJ annual conferences are impacted by the College of Bishops plan for coverage?
In a letter on March 29, the College of Bishops unveiled the following configuration for coverage:
Episcopal Areas: West Virginia Area (West Virginia Conference), Pittsburgh Area (Western Pennsylvania Conference). and Harrisburg Area (Susquehanna Conference) – Bishop Cynthia Moore-Koikoi and Bishop Sandra Steiner Ball.

Episcopal Areas: Washington Area (Baltimore-Washington Conference) and Philadelphia Area (Peninsula Delaware Conference) – Bishop LaTrelle Easterling.

Episcopal Areas: New Jersey Area (Greater New Jersey Conference) and Philadelphia Area (Eastern Pennsylvania Conference) – Bishop John Schol.

Upper New York Area (Upper New York Conference) – Bishop Mark Webb.

Boston Area (New England Conference) – Bishop Sudarshana Devadhar.

New York Area (New York Conference) – Bishop Thomas Bickerton.
This is an interim plan, intended to run from Sept. 1, 2021, through Dec. 31, 2022. The next Jurisdictional Conference will set the episcopal areas and assignments of bishops for the next quadrennium.
Is affiliation a fancy word for merger?
No. Leaders in both conferences and the jurisdiction have emphasized that both the Peninsula-Delaware and Baltimore-Washington conferences will maintain as separate organizations with independent operations, structure, and finances while partnering in training and ministry.
Our two conferences were part of the same episcopal area and shared a bishop in the past. How will that experience inform this affiliation?
Conference and jurisdictional leaders are taking great care to ensure that this affiliation is a new thing, not bound by any tradition or historic expectations. The newness with which the affiliation is being approached is expected to lead to innovative thinking and creative approaches to ministry and stewardship.
What can local churches expect?
With the affiliation, very little of the day-to-day operations of the local church will change. However, leaders from both conferences have begun working together to determine how they might best share programs and resources to better equip local churches in their discipleship. Initially, some of the areas in which both conferences have strengths – like young people's ministries and antiracism ministries -- might begin to work together. In addition, training opportunities on a number of topics will be offered to members of both conferences.
How and when will this become official?
The affiliation begins Sept. 1, 2021.
What if I have additional questions?
Contact information for the leadership of each conference can be found at https://www.bwcumc.org/staff-directory and on the staff page at https://www.pen-del.org.