Congregational Development
God calls on God's people to make disciples. Discipleship Ministries oversees and nurtures new faith expressions in creating new places for new people and assists in the renewal and revitalizing of faith communities.
By being relevant and vital, United Methodists will touch more lives and draw more people to Christ. Our primary purpose is not to help churches grow, but rather we seek to help them reach more people with the good news of the Gospel, to grow more people as gifted and called disciples of Jesus, and to send more people into the world to love and serve God and their neighbors in all they do. We provide tools, resources, workshops, events and training to help leaders and congregations more effectively make disciples for the transformation of the world.
Congregational Vitality Pathways Overview
The framework of our Congregational Vitality Pathways mirrors a trend reported by the Texas Methodist Foundation within United Methodist Congregations from across the country. TMF learned that 10-20% are thriving and showing signs of vitality. Approximately 55-65% of congregations are in the middle. These congregations can be further subdivided into two sub-groups. The first sub-group is more or less ready to make a change, and under the correct circumstances, they could become thriving. The other sub-group is moving toward the dying category. Which leads us to the final grouping. Roughly 30-40% of congregations are dying and need specific conversations.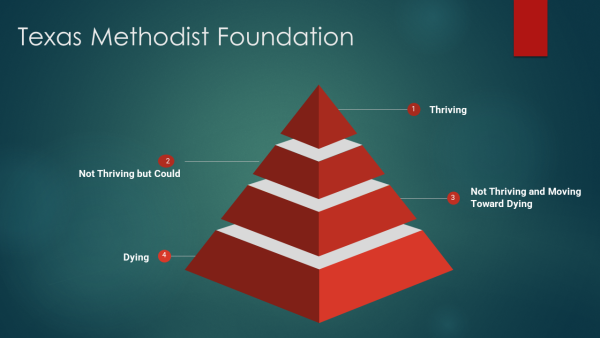 The above framework of readiness informs the four Congregational Vitality Pathways. Each cohort-based training opportunity is specifically designed with a particular congregational readiness factor in mind. Each Initiative provides the opportunity for training and conversation to help congregations discern and take their next faith step in ministry.
Participation in a particular pathway is not based on a congregation's numeric metrics, like worship attendance and financial stability, even as those factors likely play a role in a congregation's discernment process. Placement will be largely based on your unique Readiness360 score (www.readiness360.org). This web-based tool provides a 360-degree assessment, completed by members and invested people within your congregation. This tool measures congregational strength in four areas:
Spiritual Intensity, which measures a Congregation's deep love and passion for God.
Missional Alignment, which measures a Congregation's ability to prioritize their investment of resources (time, talent, treasure) according to a biblical vision and mission.
Dynamic Relationships, which measures a Congregation's relationships with new people and among leaders and congregants.
Cultural Openness, which measures a Congregation's capacity to welcome people who are different, newer or younger than them, particularly those who may have different experiences, perspectives and stories.
Congregational Vitality Pathway Descriptions
The Launch Initiative. This pathway is designed for congregations who are currently thriving, showing signs of vitality and ready to multiply their impact. This journey will equip and train your congregation to develop and form Fresh Expressions as a method to reach new people and engage your community. This resource will help you find creative ways to move "from the seats to the streets" and connect with people outside the four walls of your building. This nonlinear journey is based upon a proven pattern of movement from listen, love, community, share Jesus, develop church and repeat. Each congregational team will be assigned to a cohort facilitated by a Field Guide. The foundation of these cohorts include: a team focus; a commitment to four values of being missional, contextual, formational and ecclesial; five constituent elements - a shared focus (based on the loving-first cycle), use of Godsend App (developed by Fresh Expressions UK), planning and discovery in communities of practice, mutual support and coaching as needed.
The Catalyst Initiative. This pathway is designed for congregations who may not be thriving, but are ready and willing to make a change. The Catalyst Initiative provides a year-long congregational cohort process of discovery, exploration, and renewal. It empowers a church to initiate a Spirit-led vision and understanding of its community; ignite faith into action, and invigorate people to claim God's vision for your lives and community. Participants will learn to more deeply and intentionally cultivate discipleship, to discern and experiment, to build better relationships with one another and those in the community, to evaluate and design ministry for the most meaningful impact, to identify and leverage assets and to create alignment and systems that sustain ministry into the future. As a result, congregations will increase their skills, confidence and resilience so that more transformed lives transform lives. Congregations are placed into cohorts guided by a Synergist who journeys with them. >>Learn more
The Readiness Initiative. This pathway is designed for those congregations who are not thriving and moving in the direction of dying. This pathway is based on a congregation's unique Readiness360 report. Each church will be placed in a cohort with a Readiness Guide. Together a congregational team will develop 90 day plans and goals to use their strengths in a given 360 area to address one thing that is limiting their ability to thrive. Along the way, participants will learn from content experts from each of the 4 Readiness 360 areas. The goal of this pathway is to help a congregation strengthen its readiness to do the next God thing. While designed as an annual pathway, congregations may stay in the Readiness Initiative two years before moving to either the Catalyst Initiative or Legacy Initiative.
The Legacy Church Conversation Initiative. Churches of all shapes and sizes are going through challenging times. Your church may fall into this category. The once lively and vibrant building you call your church home seems more like a museum. Your church may even be wrestling with the idea of closing its doors. You may be asking yourself: What can we do? Where can we find answers? Is there any hope? This Pathway is designed with these churches in mind. This 10-month Cohort will help you have these difficult conversations, discover your current reality, and perhaps have a Pentecost moment. Teams will work with a Conversation Guide as they work together through the Legacy Churches Workbook.
Assembling the Team
Assembling your team is an important step in the journey. The content you will receive is critical to the pathway you are traveling, but just as important are your traveling companions. Prayerfully and thoughtfully invite prospective members to the team. Here are some tips and considerations for assembling your team:
Avoid the temptation of:

Assigning this work to an already existing team or committee within your church. Many of our committees and teams are bogged down with the current operation of the church that little space is left for innovation.
Having too many paid staff members populate the team. This is your opportunity to create something new and encourage participation from beyond the current structure.
Asking people based on position rather than passion or giftedness.

Identify people who are respected in the congregation and can influence momentum. There needs to be at least one person on the team who others will listen to and truly hear what is being offered through the congregational vitality journey.
Be mindful to invite people who represent the diversity of the congregation and the neighborhood in which your church exists. Remember, not everyone on the team needs to be a member of the congregation.
Ensure that each team member has the desire, ability, and the commitment to engage in this process. The Catalyst Initiative is at times a fast-paced process and has approximately the same time commitment as the Disciple 1 Bible Study. Therefore, your team members can expect to spend an average of 10 hours per month for learning and implementing. Be upfront about expectations and responsibilities of team members so they are not surprised later on in the journey.
Consider inviting people who are newer to the church. These people are more likely to bring a new set of eyes and a different perspective to conversations and learning as the church navigates reaching the unchurched in its community.
Consider inviting people who are experiencing a season of "holy disruption," sensing or desiring something new or different for the church, and more importantly, for those in the community that are unchurched.
Make sure that each team member has internet access and a basic knowledge of computer etiquette. Or have a team member who is willing to work with members who are enthusiastic about the work, but may need some guidance.
Once your congregation has received an invitation to a particular pathway, make sure that each team member is available for the orientation retreat (May 14, 2022) and other dates given per pathway.
January 3, 2022

Application Opens

January 4

Feb 7

Readiness 360 link request deadline

March 1

Application Closes

Mar-Apr

Time of Discernment

April 15

Decisions announced

May 14

Orientation for all pathways