Glen Mar's Day of Service reaches thousands
Posted by Erik Alsgaard on
By Erik Alsgaard
"Look at this," said the Rev. Rod Miller, hands outstretched. "Look at this! This is how it's supposed to be!"
Miller, the interim senior pastor at Glen Mar UMC in Ellicott City, was standing just outside the church's Spirit Center as hundreds of volunteers prepared ready-to-heat and eat meals inside. "This is what Christ would want us to do," Miller said, "loving our neighbors."
People of all ages and walks of life were gathered around tables, pouring into plastic bags measured portions of rice, textured vegetable protein, powdered vitamins and spices. The bags were then heat-sealed and placed 36 in a box, to be used by Terps Against Hunger in their mission to end hunger.
The Day of Service was started four years ago by the laity of Glen Mar, Miller said. Today, working In partnership with Ames UMC in Baltimore and St. John Baptist Church in Columbia, the number of volunteers has grown by more than 150 each year since the start.
"Martin Luther King wanted a beloved community, composed of all different races and nationalities, to serve," said the Rev. Rodney Hudson, pastor at Ames UMC in the Sandtown neighborhood of Baltimore. "We're commemorating his death by serving humanity."
He said it was great to see members of his church giving back to the community.
"Coming here, it gives you hope, that there's hope for America," Hudson said. "In light of all the negativity that we see every day, to come to a place like Glen Mar and you see people of different hues, colors and nationalities who come together for one common cause – to serve humanity – it gives us hope that America is that kind of place and that we're moving closer and closer each day to what Martin Luther King declared as 'The Beloved Community.'"
Terps Against Hunger is a student-run organization at the University of Maryland that organizes and conducts food-packing events with student groups and community organizations. Its current president is Chetveer Singh.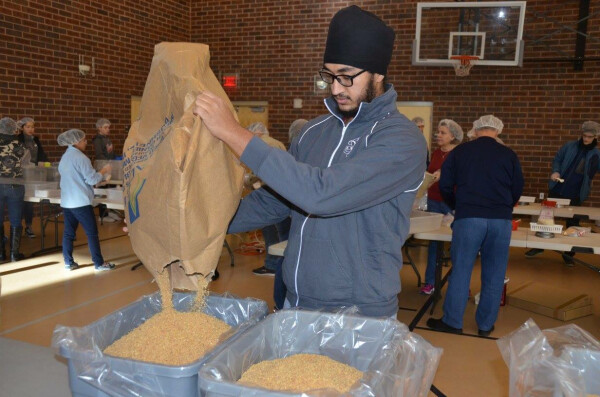 Cheetveer Singh, president of Terps Against Hunger, unloads textured vegetable protein into a bin at Glen Mar UMC's Day of Service.
"We were founded in 2013," Singh said. "Since then, we have packaged just over 2 million meals, and this school year we are attempting to package 750,000 alone."
The idea behind the packaged meals, Singh said, is that anyone can make one using only hot water and a bowl.
"They're not bad," Singh said, who admitted that he's tried a few. "They basically taste like casserole. I like adding paprika. It tastes pretty good."
The board overseeing Terps Against Hunger is made up of 12 University of Maryland students. Singh, a junior, has been president since last December. He said that Target and Toyota are two corporate sponsors who help fund the work.
D.C. Veale, Minister of Missions at Glen Mar, was overseeing the Day of Service. Clad in a hunter orange vest and a dreaded Pittsburgh Penguins cap, Veale had spent countless hours preparing for the onslaught of volunteers.
"I'm the chief cat-herder today," he joked. "I'm the guy trying to answer all the questions."
This fourth annual Day of Service, he said, was an effort to serve around the corner and around the world.
"Glen Mar's mission statement is 'Praising God, Growing Disciples, and Serving the World,'" he said. "This is the day where we take the opportunity to do the best we can to serve the world."
The goal of packaging 90,000 meals on one day was audacious, Veale said. It was double what they did last year. Over the course of the day, which ran from 8:30 a.m. to 4:30 p.m., more than a thousand volunteers – many from outside the church – would help.
(UPDATE, Jan. 16: According to the Veale, 98,064 meals were packaged, 42 blankets made, 206 pairs of shoes collected, 655 letters written, 260 cards drawn, 95 pillow cases sown, 211 jump ropes made, 3,200 spiritual bracelets made, 290 fishing kits made, 41 people health screened, 42 dozen cookies decorated, a 100-foot ramp built for a recovering person, about 700 Tic-Tac-Toe kits made, over 500 bead kits made, 480 Teddy bear patterns cut, 11 children watched over, 900 pounds of food, over 75 sets of coats, gloves, hats, blankets collected, 260 hygiene kits made, 144 health kits assembled, over a thousand donations sorted at the Salvation Army. "Thousands of lives were transformed by serving others and all for the glory of God," he said.)
"We actually have a couple of goals with this event," Veale said. "One, we want to engage the community; we don't want it to be just Glen Mar. The other thing: families want to volunteer together, and they are not able to find those opportunities in the community. We try to provide opportunities that are appropriate for people 5-years-old to 105-years-old."
Several politicians took the opportunity of the Day of Service to pitch in. Howard County Executive Allan Kittleman said he came to Glen Mar to celebrate the life of Martin Luther King Jr., and his call for service.
"To hear that there are a thousand people here today is amazing," he said, "and to be able to do such a variety of things really warms the heart on such a cold day."
Kittleman said he's tried to visit different service agencies of MLK Day over the years, but came to Glen Mar this year because of the diverse community members present.
"Thinking about Dr. Martin Luther King, and this year will be the 50th year since his untimely and tragic passing, let's just continue to honor him by serving."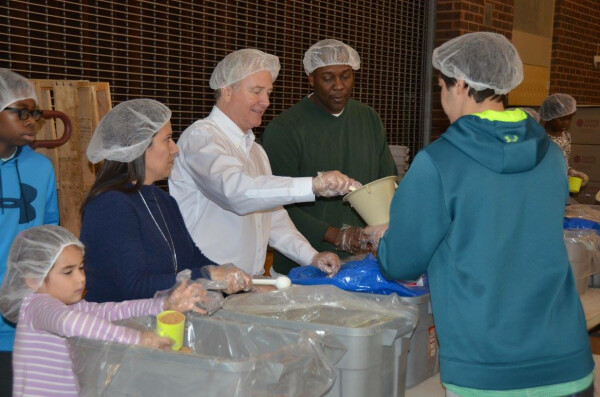 U.S. Senator Chris Van Hollen, second from right, helps package one of 96,000 meals made at Glen Mar UMC's Day of Service Jan. 15. With him are (left to right): Kylie LeFevre, who celebrated her 6th birthday Jan. 15; her mom, Nichole Velasquez; and Howard County District 2 Commissioner, Calvin Ball.
"It's great to be here with people of all ages, all races, working together to put faith into action," said Senator Chris Van Hollen (D – Md.), who toured the church before preparing meals. "This is what Dr. King would want us to do. He had a great dream, but he was a person of action, translating the idea of building a better world and better society."
The way to do that, Van Hollen said, is to have people come together and work in the community.
"Dr. King put his dream into action," the senator said. "People have to join hands to make a more beloved community."
Councilman Calvin Ball, representing District 2 in Howard County, also came to help.
"I'm here not only because it is important to celebrate the life and legacy of Dr. King, but also to live it and to serve," Ball said. "This needed to not only be a day off, but a day on."
Ball said that many people's perception of Howard County is that it is affluent and lacking in any needs. That's not the case, he said.
"There are a lot of people fighting homelessness and food insecurity," Ball said. "So many of our churches, like Glen Mar, are partnering to do what they can. Us coming together and serving our brothers and sisters is really what Dr. King would have wanted and what this day is all about."
More photos of the Day of Service at Glen Mar are on the BWC's Facebook page, https://www.facebook.com/BWCUMC/