Give Ye Them To Eat Christmas 2019 update
Posted by Guest Author on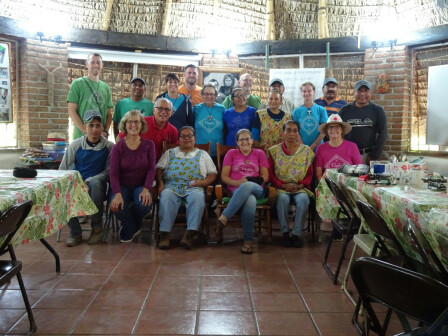 We at GYTTE want to wish you a wonderful Christmas full of love and giving of yourselves to build The Kindom of God here on earth!
We give thanks for all of you and know that you pray for us regularly. We had a wonderful experience with a group from Camp Hill UMC, PA. This is the first of Nan and Miguel's Covenant churches to come to Mexico. They had a 50-year age range and were open, loving and anxious to learn and share.
They worked on the home of Antonio who hauls material from the river with his burro and mule to make a living. He lost his little adobe home in the 2017 earthquake. They also helped build new troughs for the goats and sheep. And they sewed much-needed aprons. They participated in a dental hygiene work-shop with pre-schoolers and parents.
The first week of December we are looking forward to a group of 11 who come from four places – Spokane, WA, Pasadena, CA, Pennsylvania and Chapelwood, TX. We have two who have been here before and 9 for the first time. They will be doing much the same work as Camp Hill did.
We have lots of new baby goats and sheep. One was born with a deformity on its face so we have had to bottle-feed Lucky – named by Ashley from Camp Hill. Lucky is full of life! We have all enjoyed these babies SO much! They are darling! We also have a few baby chicks!
We also are anxious to host our friends from Virginia and Pennsylvania in January and February! In March we have the second course with Health Promotors. We could host a group of about six who would get to enjoy these wonderful women!
In getting to know the sheep and goats many Bible passages mean more now: 8 And there were shepherds living out in the fields nearby, keeping watch over their flocks ... 9 An angel of God appeared to them, and the glory of God shone around them…. 10 But the angel said to them, "Do not be afraid. I bring you good news that will cause great joy for all the people. 11 Today in the town of David a Savior has been born to you; he is the Messiah. 12 This will be a sign to you: You will find a baby wrapped in cloths and lying in a manger."
May you find surprise and joy this Christmas!
Nan, Miguel, Clara, Cata and the GYTTE staff