Asbury UMC extends love in wave of baptisms
Posted by on
By Melissa Lauber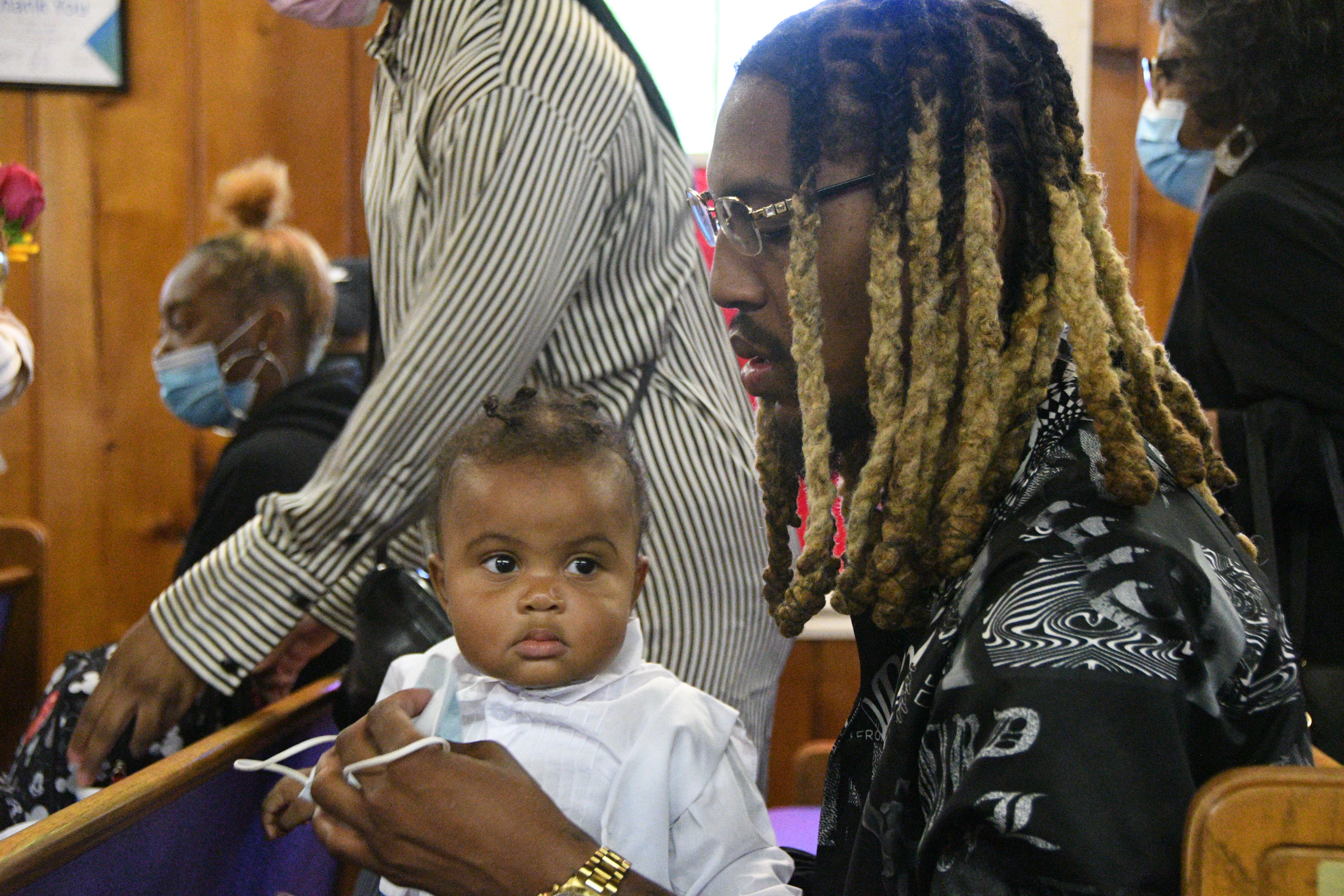 Baptism is an outward expression of an inward commitment to God. When the church baptizes children, they welcome them into the family of God, claiming their lives as blessed by Christ, vowing to watch over them as they grow in faith.
At Asbury UMC in Jessup, the members take the act of baptism to heart. Earlier this fall, its pastor, the Rev. Gay Green-Carden, denied the obstacles of the COVID pandemic, and created a time and space for eight babies to come to the altar rail for baptism and blessing.
Asbury has a very active young adult group at their church, the pastor said. "Over the past 19 months, we've had a lot of babies born into our congregation. Many of the young adults reached out, wanting me to bless their babies."
She and some of the church's lay leadership made that happen. On Oct. 23, the entire day was set apart and divided into intervals for various families to come to worship and have their babies baptized. In between the baptisms, vigorous cleaning was done to protect the children, who had not been vaccinated against the coronavirus.
At the final session, two families with members representing five generations came forward to present children for baptism. There were the babies, their parents, grandparents, great-grandparents and their great-great grandmother.
The pandemic brought illness and death. "But life was also born in the pandemic," Green-Carden said. "We wanted to honor that God still brings life."
It was a testimony of faith and "a witness to love in action," said Lesa Lindsay, the church's lay leader, who participated in the baptismal liturgy.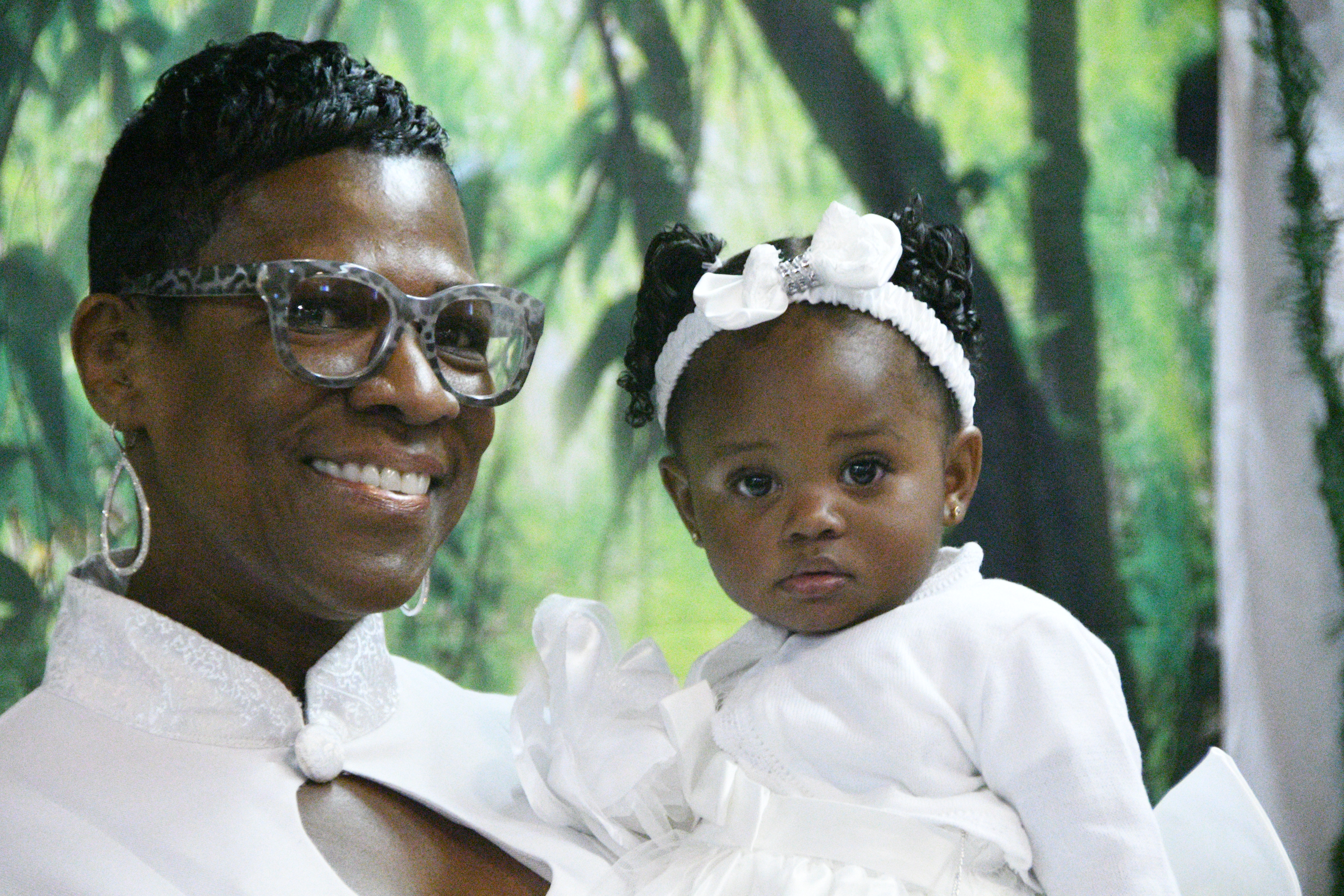 Standing at the altar rail, Lindsay and Green-Cardin prayed over the children: Davyne Lyric Wiggins, Lyric Elena Sanchez, Logan Legaci Johnson, Rylei Tres' Price, Devyn Syklar Price, Mila True Johnson, Aryn Dallas Johnson, and Onyx Amir Anderson.
Each of the children who were baptized received gifts from the church. The girls were given dolls, whose elaborate white dresses were hand-sewn by a church member, Virgie Garnett.
Garnett, who said her self-taught sewing talents were enriched by her skills as an architect, wanted to present the girls with a keepsake that was made with love. One of the dolls even wore an outfit she made that was modeled after a dress that Green-Carden wore to a church celebration.
Green-Carden is excited that these new members of Asbury UMC will grow up in the faith of their parents and grandparents. So far, she admits, holding weekly worship and Bible study on YouTube has drawn more people into the church.
She and Lindsay's sons record the preaching and leading the liturgy, others provide music they record from their homes. Green-Carden sees each of these locations where God is worshipped as a sanctuary.
"We're birthing all these sanctuaries," she said. And then she pauses, considering that all the children she baptized that day and their families may grow to be living sanctuaries. "It's an outward sign of something very, very holy. Praise God."