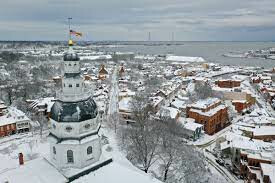 AN District News......UMC Buzz....March 10, 2023
Posted by Willine Kamara on
DISTRICT NEWS



The West River Center is looking to partner with local church leaders for some of our busiest days! In May, every 5th grader from Calvert County Public Schools comes for a day at West River which gets really busy. We'd love for local leaders to get trained in how to lead the rock wall and giant swing to help out on a couple of those days. Since you'll be trained, you can then bring your own youth group (or other group) to camp and lead those activities for your own group for free. The training is May 20th and there is a school here almost every Monday-Friday after that until June 2nd that you can come out for. If you're interested in this opportunity, please email Jenna at
2023 Upcoming Events & Deadlines
OTHER NEWS

Thursdays at the Table
Bishop LaTrelle Easterling invites United Methodists to draw up a seat at the proverbial kitchen table as she engages difference-makers in insightful conversations about topics that matter. In the sharing of our stories, we rediscover the sacred and what makes us vital – living into the fullness of all that God calls us to be. Truth be told, these are conversations you won't want to miss. Listen to the podcast.
Recognition of Women's History Month
Women's History Month is a celebration of the role women play in our history, culture and society. Visit Resources UMC and The General Commission on Religion and Race for resources to share.
Support the Expansion of Mental Health Services to the Families of Crime Victims
The BWC is called to advocate for the full human dignity and human dignity of all persons including persons who are or have been perpetrators and survivors of crime. We ask that you support House Bill 801, new legislation which alters which individuals are eligible to receive mental health counseling paid for by the Criminal Injuries Compensation Fund. Learn more and contact your state representatives here.

Deceased Lay Member to Annual Conference
In preparation for the Service of Remembrance at the 2023 Annual Conference, the district office needs your help identifying Lay Members to Annual Conference who died after the 2022 Annual Conference. Please send their full name and dates of birth and death to .