Call to Action on Racial Justice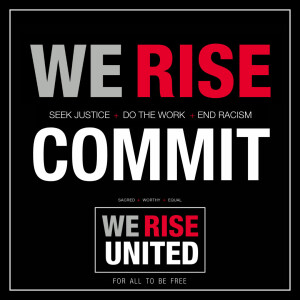 The Discipleship Council of the Baltimore-Washington Conference has issued an opportunity for you and your congregation to make a Commitment to Becoming an Anti-Racist Church. Learn more.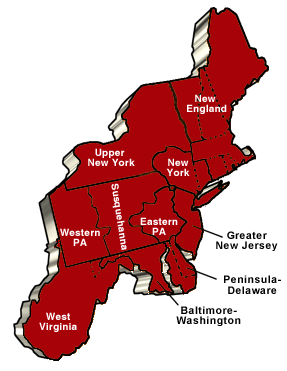 Northeastern Jurisdiction Call to Action Report
What is the NEJ Call to Action? What is BWC's Approach and Progress?
What can you do? Share your story
What is the NEJ Call to Action?
The NEJ Call to Action is a resolution passed in July 2016 by the Northeastern Jurisdiction (NEJ) authored by Tracy Bass, Joseph Daniels, William Meekins, Derrick Porter, Denise Smartt Sears, Lillian Smith, and Varlyna Wright. The resolution calls for "an effort to address, confront, and otherwise demand systemic fundamental and institutional change both within the church and the world..."
What is BWC's Approach and Progress?
The Baltimore-Washington Conference (BWC) approach to the NEJ Call to Action (CTA)
Is rooted in building relationships and creating a culture that allows all persons and cultures to feel safe in having needed conversations and confronting racism;
Embeds cultural competency and anti-bias work throughout BWC's existing networks, trainings and gatherings;
Engages and uplifts grassroots action;
Invites faith communities to engage in conversations and experiences that help them take the next faithful step toward becoming racial justice change agents;
Optimizes existing opportunities to include training and conversations;
Incorporates better assessment and accountability into our systems; and
Builds a racial justice infrastructure for sustainable action.
so that racism is dismantled and multiculturalism enabled. Read our complete NEJ Call to Action Report.
Our 2020 goals as related to items in the NEJ Call to Action include:
1. To confront y/our racism and affirm that Black lives and all lives of color really do matter. Including District Superintendents and AC staff. We seek to inspire participation in personal and interpersonal transformation through encountering leaders who model that Black lives and all lives of color really do matter and an invitation for people to engage with this in ways that respect the fact that we all enter this work in different places. 2020 Goal: 2020 persons are on a pathway to naming and addressing racism when they witness it and working toward being a racial justice change agent who "acts as a role model, takes action when appropriate, and addresses others behaviors when necessary. Results as of 1/1/2020: 750 covenant commitments with more than a quarter continuing to take deeper action.
4. To initiate ongoing internal and external conversations on white privilege, white supremacy, racism and oppression, including internalized oppression on every district, sub-district and within each local church. We seek to build bridges that take personal and interpersonal transformation experiences to the street and begin impacting institutional and cultural practices so that environments of radical hospitality for all are felt and contextualized solutions that promote racial equity in the church, wider community and the region are created. 2020 Goal: Each local church reports on its progress as related to the CTA and reports on its internal and external conversations annually at church/charge conference. Results as of 1/1/2020: Out of 542 pastoral reports received, 192 have demonstrated commitment to and work toward Call to Action goals.
5. To initiate training and transformative conversation in areas of racism, white privilege, white supremacy and racial equity for the District Superintendents, AC staff and lay leadership including VIM, ACLL, YACs and CCYMs. We seek to develop culturally agile leaders throughout the many layers and levels of the BWC who are able to authentically engage in multicultural ministry and who name and address racism when they witness it and who exemplify behaviors of a racial justice change agent. 2020 Goal: The onboarding and development of leaders and clergy consistently includes the Intercultural Development Inventory (IDI) and core competencies. Results as of 1/1/2020: Cabinet, staff (including retreat and camping staff), Board of Ordained Ministry have all taken the IDI, engaged in a one day workshop and have been debriefed. Intercultural Proficiency goals are a part of all Executive Staff performance reviews, including the cabinet.
[ back to top ]
What can you do?
Get to know someone who doesn't look or think like you. Download this resource sheet for help with that.
Be aware of your own implicit biases. You can start by taking the Implicit Association Test on race. Learn more.
Name and address racism when you witness it and work toward being a level-4 racial justice change agent! (see diagram below)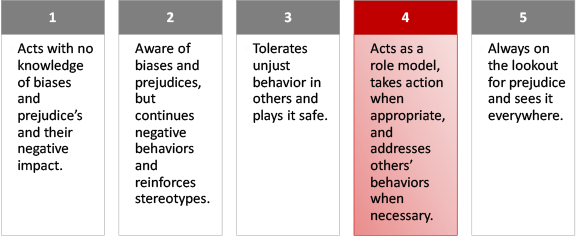 Have a conversation during your leadership meeting about our United Methodist Preamble and Social Principles as they relate to race and the Gospel.
Invite your leadership team to take the online Implicit Association Test on race and use the Implicit Bias Workbook to discuss the results as a team, and then follow-up with relevant actions.
Host or participate in Vital Conversations with your congregation and/or explore additional UM resources --including the racial justice reading list.
Become a Beloved Community Hub which includes a training component, a six-month journey of vital conversations in cross-racial and/or cross-cultural groups followed by a discerned collective action in the wider community.
Be a part of the BWC Racial Justice team which helps resource and implement various aspects of BWC's response to the NEJ Call to Action along with its advocacy and action work.