Judicial Council to decide fate of lesbian bishop
Posted by Erik Alsgaard on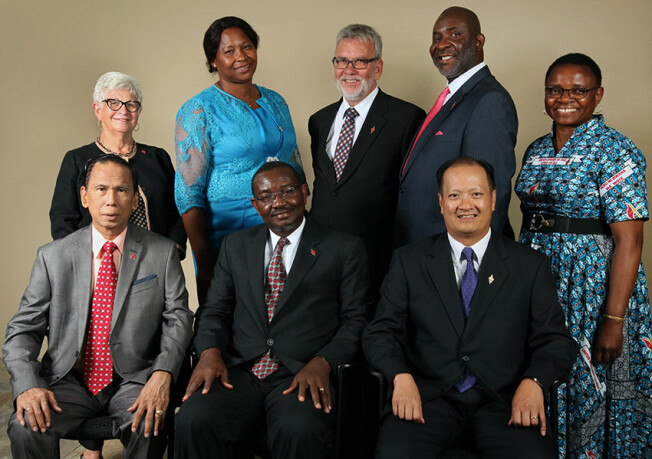 Members of the 2016-2020 Judicial Council. (From left) Front: Ruben T. Reyes, N. Oswald Tweh Sr.,
the Rev. Luan-Vu Tran. Back row: Deanell Reece Tacha, Lídia Romão Gulele, the Rev.Øyvind Helliesen,
the Rev. Dennis Blackwell, and the Rev. J. Kabamba Kiboko. (Not pictured, Beth Capen.)
Photo by Kathleen Barry, United Methodist Communications.
By Erik Alsgaard
UMConnection Staff
This article was edited April 18, 2017 at 10:15 a.m. to include the statement from the Council of Bishops.
The United Methodist Church's top court, the Judicial Council, will meet at the end of April for what is likely to be one of the most-watched decisions in recent memory.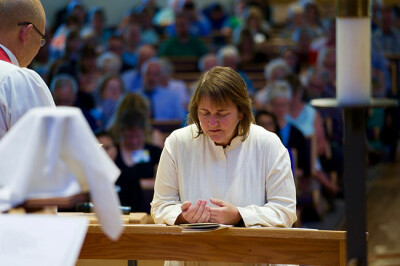 Bishop Karen Oliveto, the first openly gay bishop in The United Methodist Church, kneels during the consecration service held on July 16, 2016, at Paradise Valley United Methodist Church in Scottsdale, Arizona. Photo by Patrick Scriven, Pacific-Northwest Conference.
Before the nine-member court is the request by the South Central Jurisdiction on the legality of the election of the Rev. Karen Oliveto as a bishop in the Western Jurisdiction last summer. Oliveto, a married lesbian, began serving the Mountain Sky Area on Sept. 1, 2016.
The United Methodist Church's Book of Discipline prohibits "self-avowed, practicing homosexuals" from being "certified as candidates, ordained as ministers, or appointed to serve" (Discipline, ¶304.3), and considers homosexuality "incompatible with Christian teaching." (Discipline, ¶161.G)
According to United Methodist News Service, the petition asks the Judicial Council whether "the nomination, election, consecration, and/or assignment as a bishop of The United Methodist Church of a person who claims to be a 'self-avowed practicing homosexual' or is a spouse in a same-sex marriage" is lawful under The Book of Discipline.
UMNS reported that the petition also asks whether the public record of a same-sex marriage would disqualify a person from being nominated, elected, consecrated or assigned as bishop or if the action of the jurisdictional conference could be considered "null and void" if that person is "subject to a chargeable offense" under the Book of Discipline.
"Is it lawful for one or more of the bishops of a jurisdiction to consecrate a person as bishop when the bishop-elect is known by public record to be a spouse in a same-sex marriage or civil union?" the petition asks.
The Judicial Council, which will meet April 26 to 28, is expected to announce its decisions on or about April 29.
Prior to the meeting, several groups have released statements about the possible outcomes of the decision. Two United Methodist College of Bishops – active and retired bishops who currently serve or who have served in a Jurisdiction – have released "Q & A" documents outlining their thoughts.
» Statement from Bishop Easterling: April 19, 2017
» Bishop Bruce Ough's April 18 statement on behalf of the Council of Bishops
» Read the Western Jurisdiction College of Bishops Q & A
» Read the Southeastern Jurisdiction College of Bishops Q & A