Power of Fierce Love can transform world
Posted by on
By Melissa Lauber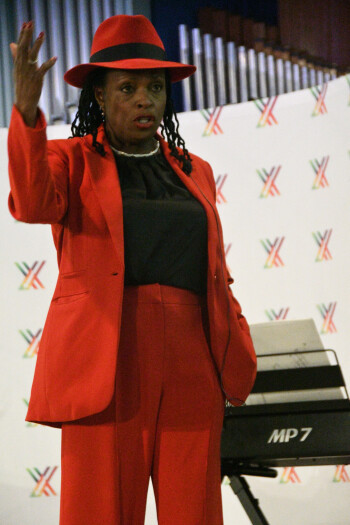 Ask any question about faith, church, your life, or the world. The answer is love; the rest is commentary.
This message permeated the March 8 session of the Next Level Speaker Series at Severna Park UMC, which featured the Rev. Jacqui Lewis, author of Fierce Love: A Bold Path to Ferocious Courage and Rule-Breaking Kindness That Can Heal the World.
Lewis, dressed in a red suit and red fedora, brought a sense of bold candor with her as she addressed issues of racism, trans-phobia, abortion, trauma, and the Gospel clarion call to love your neighbor as yourself. She spoke in a keynote conversation in the morning and in conversation with Bishop LaTrelle Easterling in the afternoon.
A public theologian and pastor of Middle Collegiate Church in New York City, Lewis opened her remarks by sharing how a six-alarm fire destroyed her church's building in December 2020. The fire feels like it is still burning in her life, Lewis said. "But fire also cauterizes; it purifies and incited power for us to move into the world with new convictions and courage," she said. "The building didn't survive, but the love did."
The church was founded in 1628. Since 2020, 672 people have joined the church.
Much of that growth can be attributed to Lewis' outspoken claim about the need for Christians to love fiercely.
The world today is in "the messiest hot mess" it has been for a long time, Lewis said. "We are on fire in these United States of America, and that fire can be traced to the ideas of empire – that began when the emperor Constantine had a vision of the cross in the sky that he believed meant he could take over the world in the name of Jesus." That empire logic, she continued, has led to caste systems, racism, and even denominational structures based on misplaced power and apartheid theology.
When confronted with evils like racism, too many people fall quiet. Nice Christians think love means never having to say we're upset, Lewis said. "But we can't make heaven on earth if we don't tell what's wrong with us."
Christians can begin by realizing they worship an African-Semitic savior, a poor, homeless carpenter, an itinerate preacher, born in Palestine. "We have to get back to Jesus, which is to get back to love. … Fierce love rejects empires. It is impossible to do hatred in the name of Jesus. If it's not about love, it's not about God."
But to confront racism and to truly love one's neighbor requires self-love. Too often, Lewis said, we've been "taught that the best thing for Christians to do is give away ourselves."
But Christians must realize they are children of God, created in God's image and worthy of love.
"You are the unique revealer of the glory of God," Lewis said. "Own your own unique ability to reveal God to the world."
In their conversation, Lewis and Bishop Easterling shared how love has been present, and sometimes felt absent, in their own lives. They talked about what it means to be embodied, to be seen, known and loved – and how God was present, in a variety of ways, in the midst of it all.
They also shared how they have learned, the bishop said. "God wants us to tell the truth in love. Telling the truth can be an act of love, resistance and courage."
Easterling also encouraged those present, and people of faith who disagree with one another, to be willing to come to the table and talk deeply with one another and to continue to learn from people of all theological persuasions. "There is nothing wrong, and everything right, with us being a learned and thinking people who go deeper than Auntie May's second-grade Sunday school class."
She also encouraged those present to avoid the sin of certitude, leaving enough room in their lives and their faith for the Holy Ghost, and to read the Bible through the lens of love.
People who seek to transform the world, don't need "a hearts and flowers type of love," the bishop said. Lewis added: "We need a change-the-story, cross-the-border love. We need a stand-in-the-gap love, a make-a-ruckus love that will heal the world."