Oskvig named University Chaplain at AU
Posted by on
By Erik Alsgaard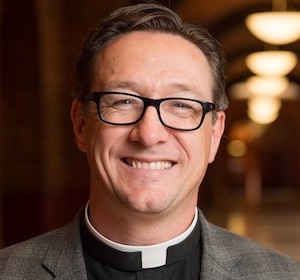 The Rev. Bryant Oskvig has been officially appointed to serve as the University Chaplain at American University in Washington, D.C. He becomes the 11th university chaplain at the school.
Bishop LaTrelle Easterling, presiding bishop of the Baltimore-Washington Conference who serves on the Board of American University, a United-Methodist affiliated university, celebrates Oskvig's new ministry. "As a pastor and as a Protestant chaplain at Georgetown University, Bryant developed a number of skills and gifts that will serve him well in this new ministry," she said. "He brings with him a keen intellect, a passion for theological inquiry, and a profound pastoral ability to care for the students and faculty." Bishop Easterling continued, "I could not be more excited for American University and Rev. Oskvig. They will bless and be blessed by one another."
As he begins this new season of service, Oskvig sometimes finds himself feeling sentimental and reflects back to his calling at the start of this ministry journey.
Oskvig, a graduate of Boston University School of Theology and an Elder in the Baltimore-Washington Conference, was ordained in the former New York West Annual Conference and appointed to a church near Buffalo, by Bishop Violet Fisher, who is now retired
After creating an endowment at his church and instituting some financial efficiency programs, he happened to have a conversation with Bishop Fisher about the need for pastors to combine theological perspective with business acumen.
Her response, Oskvig recalls, was, "Let me know what school you apply to." He went to business school, earned his MBA, and then returned to a church in Rochester.
He was driving with Bishop Fisher one day to a program where they would talk with local church leaders and pastors about finances when, he said, she told him that she thought he was being called to Washington, D.C.
"And not two weeks after that," Oskvig said, "I met a woman, and she was from Washington."
About four years later, he said, he followed that woman, who is now his wife, to Washington because she was earning a Ph.D. at Georgetown.
After serving for the past several months as the interim university chaplain at American, Oskvig is excited about being officially confirmed in this position, in a uniquely United Methodist setting.
According to its website, "American University was founded in 1893 as the culmination of a vision of our founder, Methodist bishop John Fletcher Hurst, to found a national Methodist university in the nation's capital." Oskvig noted that it is in AU's charter that it must have a Methodist chaplain, one of only a handful of schools to have a chaplain requirement in its founding documents.
Being a chaplain to college students is a ministry filled with its own joys and challenges, Oskvig said, not the least of which is the result that a quarter of his "church" leaves every year due to graduation. During the pandemic, it's been extra challenging.
"So much of the work," he said, "… is interacting with people who don't have a religious identity. What I discovered when I was in Georgetown and what I continue to discover at American University, is you very quickly fill in that spiritual religious role for so many community members. The faculty and staff aren't necessarily connected to a religious community. They turn to campus ministers who are the closest thing that many of them ever have come to know."
The pandemic altered that, Oskvig said, because so much of the face-to-face aspect of his ministry was taken away. "One of the challenges has been coming to know a community when the community can't get together."
But with those challenges comes new opportunities, too. "A crisis," he said, "is a terrible thing to waste."
As fully vaccinated students and staff return to AU this fall, the campus ministry at AU – like in so many other settings – is starting with a blank slate. He'll help students grieve losses that came from the pandemic. But he'll also help them look forward.
At the heart of campus ministry at AU is the Kay Spiritual Life Center. An interfaith center, it was built in the 1960s by Catholics, Protestants, and Jewish faith communities. Today, it's home to many faith traditions. Oskvig noted a growing ministry with the Muslim, Hindu, and Dharma communities, and said that a Hindu prayer space has been consecrated at the Spiritual Life Center, one of the first such spaces in the United States.
And because of the interfaith aspect at Kay, bringing people together, especially around meals (all-important for college students), has its own challenges.
Whereas years ago, it might have been pizza and Pepsi, today's dietary needs vary because of the interfaith aspect. Not only are there Kosher requirements to consider, but Halal requirements for Muslim meat preparation, and vegetarian or vegan needs for Hindus.
But again, this presents opportunities, Oskvig said. "Oreo cookies," he noted, "are vegan."
Knowing such things may prove helpful as Oskvig embarks on a unique ministry, serving people of all faiths at one of the nation's preeminent universities, in the heart of Washington, D.C.