Mr. Brown shares his front seat to Black History Month
Posted by Erik Alsgaard on
Freddie A. Brown Sr. once had a front-seat to black history. Literally.
Brown, 86, lives at Asbury Methodist Village in Gaithersburg. He was born in Pineland, South Carolina, just north of Savannah, Ga. His parents owned and operated a farm with a large house. Neither had any college education. The occupants of the house included Brown and his six siblings, but also one or two teachers. Brown's father built an extension on the house because, in those days and in that location, teachers weren't paid enough to find a place on their own.
"If you want to get out of the country," Brown recalls his parents saying, "you gotta go to school."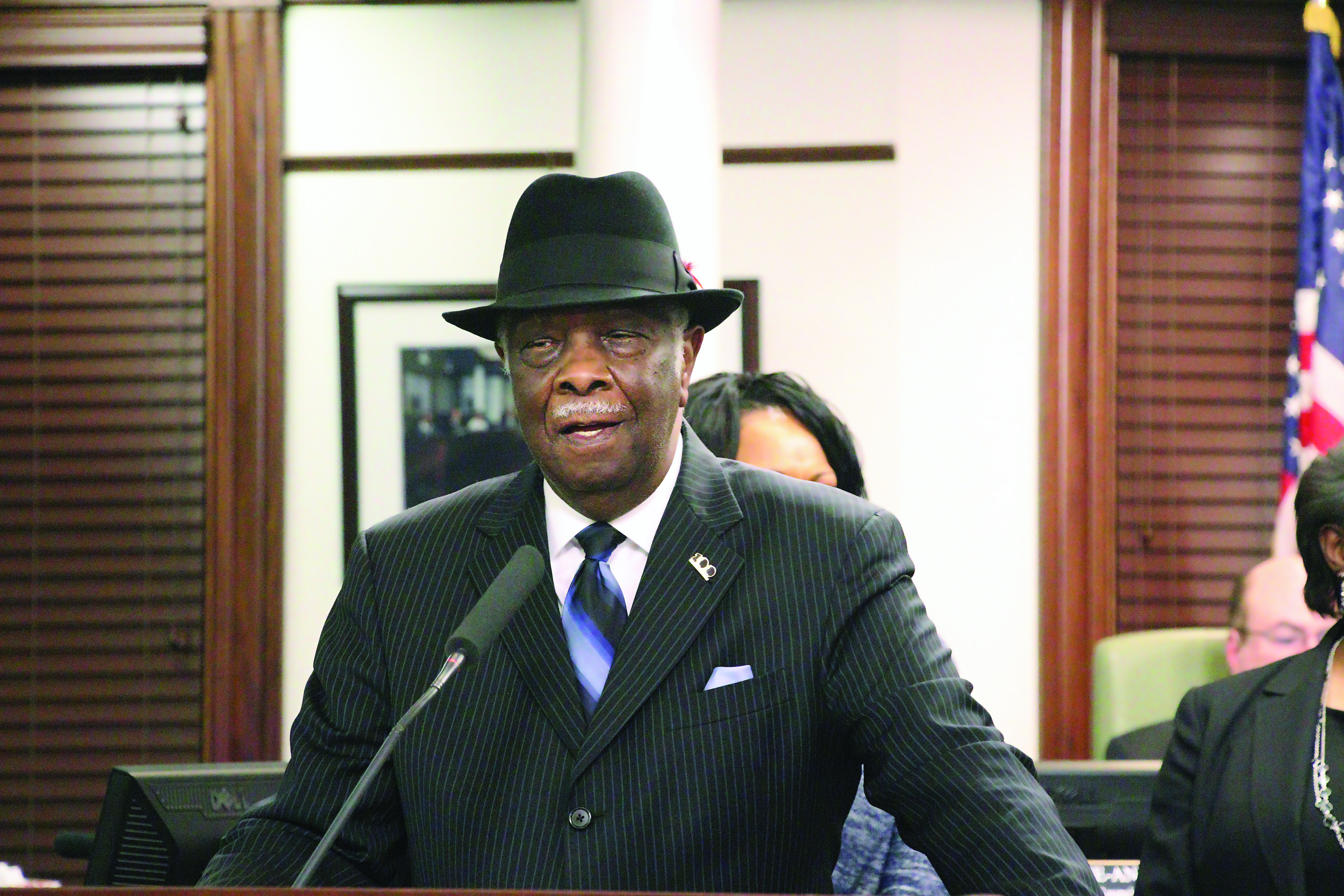 Brown moved to Columbia to attend Allen University. He wanted to be a research scientist and wound up with a degree in Chemistry. In his last semester there, he said, he was running out of money and looking for a part-time job. A local funeral home needed someone to stay at the home and "watch 10 dead bodies," he said. "I wanted a quiet place to study, so I took the job."
He and the owner of the funeral home, who was blinded after a car accident, hit it off. Brown drove him to his various speaking engagements which were used to market his business.
After graduating from Allen, the owner wanted to pay for Brown to go to the Atlanta College of Mortuary Science. Brown resisted, but when the owner sweetened the deal to include a limousine, he accepted.
"But he tricked me," Brown said. "The school was on Auburn Avenue in Atlanta, just down the street from Ebenezer Baptist Church. He wanted to make a contribution to the civil rights effort by offering (them) a driver. Me."
For two years – 1954 and 1955 – Brown would go to school during the week and drive on the weekend through a deeply segregated South. There were, for example, only a few places where they could buy gasoline. Either that, or you let someone else get it for you, he said.
"We would all dress up in black suits and black hats," he said, "because they would be more comfortable with us. They thought we were going to a funeral."
They visited churches and other places in their efforts to increase voter registration.
"We had a guy in the back seat that we couldn't see or even smell. His name was J. Edgar Hoover. They were spying on us, all the time," Brown remembered.
Brown's job was to keep the car and its precious occupants safe, he said. The first time Brown should have been dead was when the car blew up. His wasn't the only life that was spared that day. His passenger, who wasn't yet in the car, was saved. His name was the Rev. Martin Luther King Jr.
King was such a powerful speaker that Brown often wanted to "ease up to the windows" of the church to listen. "You'd get so pumped up about it that you were ready to take on the world. Sometimes that would get you in trouble."
A safety measure Brown used involved stretching clear tape around portions of the car. He was the only person who knew it was there. On that fateful day, Brown noticed that the tape had been disturbed. Stepping back, he said, about 25 feet or so, and making sure others weren't around, he pressed the remote starter on the Cadillac.
The car exploded.
On more than one occasion, police would surround the church where King and the others were speaking. Brown's job was to get King safely out of that situation. In several cities, he said, he also contacted the local undertaker to borrow a hearse or an ambulance.
"On two or three occasions, I had to put King in the back of the ambulance, put a sheet over him and cracked the blinds, make like I was crying, put the siren on, and they'd let you through," he said. "They thought someone was hurt."
After two years, Brown finished school and moved back to Columbia. He then served in the military, in Hawaii.
On Monday, Feb. 4, Brown accepted the Gaithersburg City Council's proclamation for Black History Month. He spoke briefly of his time as King's driver. And he also wore his hat.
Brown spoke more, however, about how King's life impacted his.
After serving his country, Brown landed a job at the National Institutes of Health in Washington. Almost immediately, he noticed a lack of diversity in his new workplace. They had 3,200 people with Ph.D's or M.D.'s, he said, but only a few of them were black.
"Because of my training with Martin Luther King, I said, 'I gotta do something about that,'" he said. "I was the new kid on the block, but I kept raising my voice and saying, 'You're racist.'"
Eventually, Brown said, they came to him and asked what it would take to "quiet him down."
"I said, 'I can bring you some black folks on this campus,'" he said. "But you're going to have to agree to give me money."
That money wasn't for himself. Instead, he started a "college on campus," as he described it.
"I brought in students from historically black colleges, and NIH paid for the whole thing," he said. They did course work, worked in the lab, and stayed at the National 4-H Center, which was all-white in those days.
Brown has folders filled with photos of some of the 1,800 students who participated in this program, which ran for 20 years.
"Injustice anywhere is a threat to justice everywhere," King once said. Brown not only believes that but lives it.
On his time with King and other founders of the Civil Rights Movement, Brown knows that he had a front row seat – sometimes literally – to history.
"I saw a lot," he said. "It's fine, even on Martin Luther King Day, to remember all those things that he did in his days. Now, its incumbent upon us to ask, 'What have I done?' or 'What am I doing to carry on his legacy?"