Love at the Border: Non-Violent Direct Action Training
Posted by Christie Latona on
I have a confession: this kind of thing makes me very uncomfortable. I have never considered myself a protestor or social activist. While I have marched and helped plan and execute a rally in recent years, I have never participated in an action where civil disobedience was a part of the plan. I ended up as a part of our BWC delegation because Bishop Easterling's and Stacey Cole Wilson's, Executive Director of Justice and Service, schedules didn't allow them to go.
I entered this training knowing that Emma and Julie Wilson (chair of BWC's Immigration Task Force) came to "take risks" while I was seeking to discern what God was calling me to do.
This Little Light of Mine
As we packed into the fellowship hall of University Christian Church (Disciples of Christ) in Hillcrest, I was struck not only by the turnout but by the generational diversity in the room. We were warmed up with singing a very spirited version of This Little Light of Mine and then Kirsten Kumpf, a member of Mount Vernon Place UMC in Washington, D.C., and leader at AFSC, helped us understand who was present. It was great to see so many United Methodists in the room! It was also wonderful to see the variety of faith traditions -- Jews, Muslims, Buddhists, Christians -- and organizations who were coming together for this effort.
We then honored the fact of whose land we were on. "We are on Kumeyaay land; land that is bisected by a wall." Everywhere we went, we honored this fact and asked for permission of the Kumeyaay people to be on their land.
And we were reminded of why were were there. While people were there for a variety of personal reasons -- including the recent tear-gassing of children, wanting to make love visible and to help shed light on the current unjust immigration policies and more--we were there for a common purpose.
Sanctuary Everywhere
A poem by Jeff Fazio was read that was originally written for the rally before the March for Humanity - #SanctuaryEverywhere in Philadelphia on Feb. 4, 2017 against the Muslim ban and recent immigration decisions. It created a very somber tone in the room ...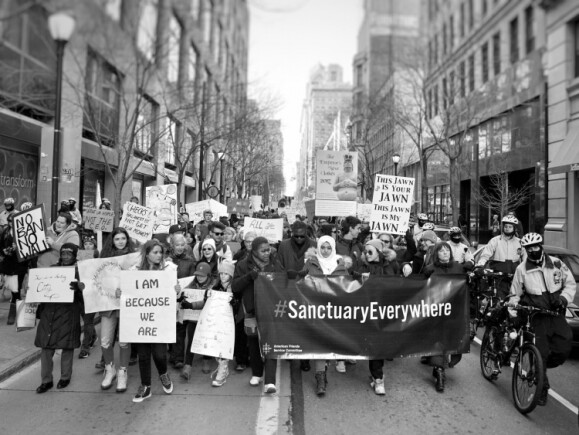 Will you harbor me? Will you keep me safe?
Will you shelter me as the gales of injustice pelt me with abuse?
Will you be for me a temple, holding me sacred, seeing that I hold God?
When the police stop me at a traffic light, will you take the gun from his hand?
When ICE agents come for me in the middle of the night, will you block the door?
When they poison my water, will you offer me a clear stream?
When they take my land, cutting the earth with a black snake, will you stand in the way?
When they try to pull my hijab from my hair, will you stop their hand?
When I am in prison, will you visit me and break down the doors?
When they tell me who to love, will you make a home for my lover and me?
When they build the wall, will you knock it down and build a bridge?
We thousands gather in city streets, in town squares, in schools, in churches and temples.
We grab each other's hands, create a web stronger than fear, reaching across borders and fences into each other's lives
The tsunami of white supremacy is here, the earthquake of hate is coming for us
Let us tie ourselves together in a supple net of resistance
Let us offer sanctuary everywhere
Our Agreement
AFSC was very intentional to create a common culture and vision for our very diverse group. One way they accomplished this was through an agreement, written by Idle No More San Francisco Bay Grandmothers. There were only four bullet points, but they covered quite a lot of ground. The main themes were about: a) conducting ourselves in "only the most dignified manner;" b) committing to the safety of all participants and surrounding community; c) protecting everyone--even those who disagree with us--from insult or attack; and d) acting and communicating with openness, friendliness and respect for all.
These reminded me of the United Methodist's three simple rules: Do No Harm. Do Good. Stay in Love with God.
Understanding and Preparing for Our Roles
After getting us grounded and rooted, it was time for us to break out into our groups:
Arrest-ables (those that will be doing the direct action);
Peacekeepers who were charged with helping to de-escalate situations and guiding people during the walk and action;
Medics who assembled kits, learned how to flush-out eyes in case of tear gas and other such things;
Logistics who cared for a wide variety of logistical tasks from food to flyers to loading buses; and
Media spokespersons.
Each role had a specific colored armband and we were instructed not to do something that someone else had been trained and assigned to do. The only jobs that we shared were taking care of ourselves and others and honoring the agreement.
I took the hour and a half Peacemakers training where we unpacked what "only the most dignified manner" meant for us. We talked about worst case scenarios and strategies for de-escalating someone or group of someones. I kept thinking that everyone in leadership would benefit from de-escalation training.
Imagine what our church would be like if we were clear and equipped to do our role and we all were upholding the three simple rules. Imagine if, before we had difficult conversations, we prepared ourselves intentionally by rooting ourselves in what we believe and a shared agreement about the culture and climate we were committed to co-create. And imagine if we were equipped to be peacemakers who de-escalated situations as needed.
What resonates with you? What are you dreaming of?