Emory Grove: an analog refuge in a digital world
Posted by Erik Alsgaard on
By Erik Alsgaard
UMConnection Staff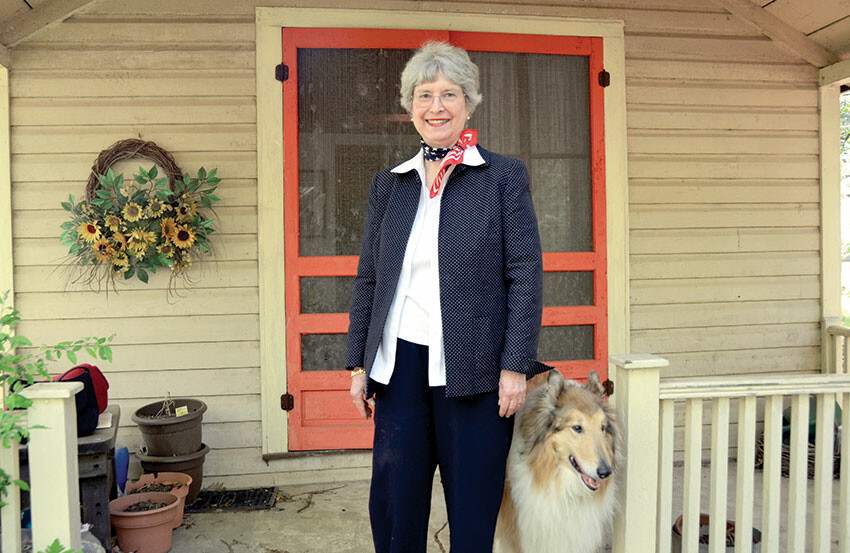 Ann Weller Dahl stands in front of her cottage at Emory Grove, along with a neighbor's collie, Fred. Emory Grove celebrates 150 years in ministry in 2017.
Nestled in a grove of old oak trees northwest of Baltimore is a place where time has seemingly stood still. Small cottages line narrow streets where cars are forbidden to go. Majestic trees tower over a large tabernacle, while a 150-year old hotel with a wrap-around porch greets both guests and residents alike.
Emory Grove has scheduled numerous special events this summer to observe their 150th anniversary. Among them:
A chicken dinner and special appearance by "Billy Sunday," July 2, 5:30 p.m.
An Independence Day celebration, July 4, with "Sonrise" service at 7 a.m.;
parade and worship service at 10:45 a.m.
Cottage Tour, Car Show, and Blueberry Bake Sale, July 15, 12 noon to 3 p.m.
150th Anniversary Gala, "Through the Years," Aug. 19, 6 p.m.
Welcome to Emory Grove, an historic Methodist Camp Meeting Ground that has held religious services every summer since its founding by the Methodist Episcopal Church in 1868. This year, Emory Grove celebrates its 150th season, and festivities are planned all summer.
In the 1800s, camp meetings were all the rage in Methodist circles. Set against the backdrop of the Second Great Awakening, camp meetings were religious revival events that, because travel was difficult and people could not come and go as easily as today, sometimes lasted for days.
And because they lasted for days, it wasn't long before people began pitching tents for shelter. At Emory Grove, those tents transitioned into more permanent cottages in the 1920s. That's why the cottages here are so close together: the cottages were built on the pads where the tents were pitched. To save money and space, people shared stakes on either side of the tent.
There are 47 cottages at Emory Grove, an open-air Tabernacle, and the hotel, though it is not used to house guests anymore. Weddings and special events are about the only time the hotel is used. The cottages are all privately owned, with many of them being handed down from one generation to the next. The worship services on Sundays and the Hymn Sings on Wednesdays are free and open to the public.
David and Judy Hughes' families have owned cottages at Emory Grove for decades. David is a former president of the Emory Grove Association. His first summer at Emory Grove was in 1956; he was 8 months old. His parents, he said, first rented their cottage in 1944 and bought it in 1945.
At Emory Grove, Hughes said, the word "Association" is "an all-encompassing term." The Association, he said, refers to both the grounds and the members who are cottage owners.
Cottage owners must adhere to certain rules when it comes to fixing their dwellings, he said, because there is a certain type of architecture they must use along with other rules to follow.
"We want to keep within the original historic appearance of the properties," he said.
"We live in a decidedly digital age now," Hughes said. "Emory Grove is decidedly analog, which is a double-edged sword. There are so many distractions today – Internet, smartphones, television – that Emory Grove has fallen somewhat out of vogue in that it's a little backwoods kind of place."
That analog feeling, he said, also works to Emory Groves' benefit. The Grove attracts families and couples who want to get away from the digital age, Hughes said, "and spend time sitting on an analog front porch of a cottage."
Judy Hughes traces her time at Emory Grove back to the days of her grandmother who was married to a Methodist minister. The Rev. Edward Beechum died of a burst appendix at age 43 in 1921. Suddenly, Judy's grandmother had to move out of the parsonage with three young children. One of the parishioners rented them a cottage at Emory Grove.
Her parents bought a cottage in 1968, and that's when she became a regular.
"Emory Grove means serenity and community to me," she said. "Even today, if I'm stressed about something, I'll just come over here and sit on the porch and get myself together."
Ann Weller Dahl, whose family first came to Emory Grove in 1919, is a walking history of Emory Grove. A former president of the Board of Directors of the Association, as well as serving in the Ladies Auxiliary, she has photographs, notes and other documents going back generations that tell the story of this sacred place.
"For me, Emory Grove means three things," she said. "A sense of history, a sense of peacefulness, and a sense of fellowship."