AU offers 'community wrapped in God's grace'
Posted by on
By Neal Christie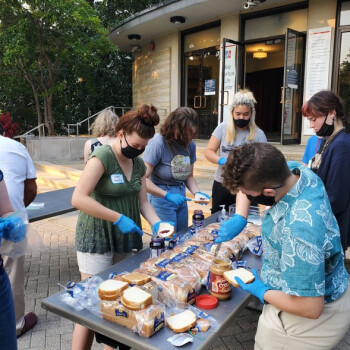 "It is almost always a little bit exciting to start a new project, especially when building something from the ground up. At some point, however, the newness starts to wear off and you look around at the long road ahead of you and the task can feel overwhelming," said the Rev. Joey Heath-Mason, Associate Chaplain for United Methodist Life at American University.
With the pandemic, campus ministry has been taking place across the country. At American University, 18 months of being only online took its toll on the American University United Methodist Community, one of four campus ministries supported by the Baltimore=Washington Conference.
"I would be lying if I said there were not some occasions where I have sat down on the steps of the chapel and looked out at a campus once again full of students and said, 'what am I doing? How am I ever going to get this going again?'" This is a question Heath-Mason shares with campus ministers across the country. Countless coffee meetings and one-on-one conversations and "things still feel like rolling a boulder uphill", he said. It's easy to get stuck in that place of asking why and forget to see the answers right in front of you.
"College is such a unique time in someone's life. A time to explore and find identity. A time to really dive into the questions of what do I believe? What might be missed are the small ways in which campus ministry can have a profound impact." He recalls students who approached him and asked if "the AU Methodists were one of the friendly ones." On a particular occasion, this was someone who had been told they were not welcome, at least not bringing an LBBTQ identity.
"Saying yes with a smile provided one small opportunity to share God's grace with someone previously wounded," Heath-Mason said.
Of course, it isn't just those who are LGBTQ who get this welcome. Many students who come to the campus ministry have been harmed or rejected by parts of the institutional church. Heath)-Maxon described it as "providing a radical welcome, that invites students from whatever they have come and says we see you here and we have a place for you here because you have a place in God's heart." This radical welcome brings students all kinds of backgrounds.
In taking about the campus community, Heath-Mason described a student who came looking not only for a community, but also for a place to share their gift of singing, searching to connect with God through song. There are students who don't exactly identify with Christianity but want to learn more. There are also several students who came from traditions outside the UMC who want to live out their values in progressive community. And, there are UMC pastors' kids, who come to AU partly on a scholarship intended for UMC PKs, and who find a different community than the church they were raised in. Countless students arrive and, even while navigating new classes and growing friendships, they look to ask questions and find answers as to what they ought to believe and more importantly why. Of course, there are also students who just stumble on the ministry and decide to stay.
The AU Methodist community gives students a place to be themselves and explore their faith. "I have made some friends here that I hope to have for life and have learned about myself in new ways because of the community and what we do. I truly believe that the AU Methodists are an all-inclusive, loving, affirming, and wonderful," says Masyn Halpern, a senior at AU majoring in Public Relations and Strategic Communication. "My experience at AU would not be the same without them."
"One of those things said regularly" said Heath-Mason, "is that we strive to be more than just a church or club. We are a real community. This means that community is at the center of everything we do, whether it is worship, serving, goofing off, or anything else we do. We come together to support one another in the good and the challenging times. To learn and grow together. To challenge and encourage one another. Sure, you can find community in lots of places, but we have community wrapped in God's grace."
Community, of course, isn't just what happens on campus. Once in a conversation about whether to plan a Spring Break mission trip a student brought up that there was plenty of need right here in DC. Why would we go away? That kicked off a serious of conversations that eventually led to making sandwiches once for Martha's Table -- a simple but very real meeting a need in the broader community. It's a ministry of literally sharing bread and what students have to give so that others might not go without.
Community is also belonging. Before the pandemic, there was a student from who came into the chaplain's office and had a concerned look. After some prompting, the student explained that they were going through a crisis of faith, not sure if they believed in God anymore and wondering if they would have to leave the community. With a chuckle, Heath-Mason said, "Of course not. As long as you want to be here, you are a part of this community." Life is filled with twists and turns and for much of it what is needed is a sense of stability, especially in college.
"In so many ways, I could feel like nothing I am doing matters, but then campus ministry has never been about me. It is about the students who connect and see God and find their stable place," he said.
To learn more about how you can support the United Methodist Life at American University contact Rev. Joey Heath Mason at .