Asbury chaplain shifts ministry amid COVID-19
Posted by Erik Alsgaard on
by Erik Alsgaard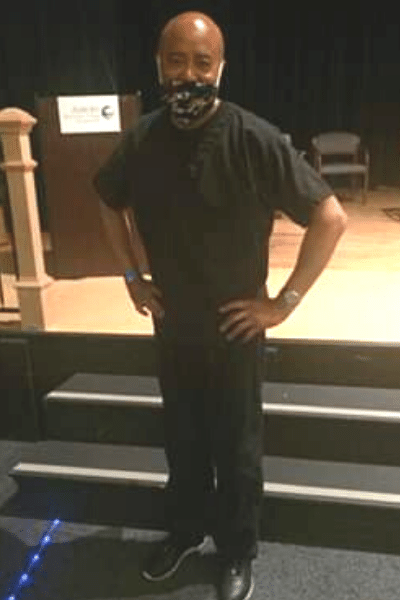 The Rev. Malcolm Frazier wears scrubs and a mask while preaching a recent worship service at Asbury Methodist Village. He did so, he said, to honor all the health care workers on the front lines of the pandemic response.
As the coronavirus pandemic continues, one sector in our society being hit hard is nursing homes. "Our nursing homes, we all know, are the most vulnerable of all of our people," West Virginia Governor Jim Justice said during a news briefing April 17. "This disease has a way of attacking the elderly."
Asbury Methodist Village, located near Gaithersburg, Maryland, is no exception to the virus. They are among the "15-largest continuing care retirement communities (CCRC) in the country," according to their website, with nearly 1,300 residents who live in homes, apartments, assisted living memory support units, quality skilled nursing, and rehabilitation therapy facilities.
So yes, COVID-19 has come to Asbury. The facility has published data on its website every day, even though the State of Maryland said they didn't have to and only reversed that decision on April 27.
As of April 27, Asbury reported eight deaths due to the disease, all of which came from their skilled nursing facility. They also reported that 32 residents have tested positive for the virus, four have recovered, and 13 are awaiting test results.
Asbury started in 1926 as a Methodist "home for the aged." Today, while it is a separate legal entity from The United Methodist Church, its long association with the church means faith plays an integral part of daily life at their facilities.
The Rev. Malcolm Frazier, an Elder in the Baltimore-Washington Conference, serves as Director of Pastoral Care and Counseling at Asbury, bringing faith to nearly 1,300 residents and countless associates, staff, vendors, and visitors.
He has seen his ministry turned upside-down in the last several weeks.
"This has been, by far, the most challenging period of my vocational career," Frazier said in a recent interview. "I'm not taking the power of the resurrection for granted anymore. We say we're Easter people, and we live by the resurrection. I just really need to embody that now; I need to live that and show it."
A big change in his daily routine is not having face-to-face encounters anymore. Because the vast majority of the people who live at Asbury live independently, Frazier said, they are under the same self-quarantine restrictions as other Marylanders. That means he mostly makes phone calls, checking in and praying with people, and bringing a positive outlook to everyone he meets, he said. He's also teaching people how to use Facetime and Zoom.
"The conversations are always varied," he said. "Sometimes I have deep theological conversations with the residents, sometimes they just want to praise us for what we're doing, but they always speak very highly of the dining program."
Frazier has been active in the screening processes initiated by Asbury when the outbreak first became news. Asbury closed itself to outside visitors on March 14, according to Cathy Canning, Director of External Communications for Asbury Communities. They also started taking temperatures for associates and staff before and after their work shifts. That's what Frazier does, sometimes three or four days a week.
"Nothing slips through," he said. "All residents, vendors, associates, everybody is tested. There's also a questionnaire they must fill out, too." Those that pass are given colored wrist bands, he said, to show that they've been screened.
In bringing his pastoral presence to the residents, Frazier knows he's combating another unseen enemy in this pandemic: loneliness.
"Isolationism is a real concern, a big concern," he said. "Studies show that people of this age group, if they are isolated, greatly increases episodes of depression, suicide, and even death. So, we take this very, very seriously. We have to engage with them more than just on the phone."
One way residents are staying connected, Frazier said, is by working through the Gaithersburg Beloved Community Initiative. Started by retired United Methodist clergyman, the Rev. Hal Garman, in 2011, this program connects Asbury residents with at-risk youth in the community as mentors. At present, some of those children are writing letters to the residents, and residents are taping themselves reading stories for preschoolers.
Meals are being delivered to residents, he said, so that social distancing can be observed. Many people have told him that a simple phone call is a godsend. "'It's so good to hear the phone ring,' they tell me," he said.
Frazier and his staff work on producing worship every week. They tape the program on Wednesdays, and it airs on closed-circuit TV twice on Sunday.
Self-care has also become more important for Frazier, he said. Every day, after work, he goes home and takes a nap. He also does regular exercise and takes breaks from the non-stop COVID-19 news cycle.
"It breaks my heart when the news of deaths in our community are publicized," he said. In a "normal" April at Asbury, there would be 15 deaths. When interviewed on April 22, there had already been 24.
It also breaks his heart that family members are not allowed on campus and that no memorial services are being held.
"This is a community," he said of Asbury. "All the deaths go up on a bulletin board. I grieve that we can't come together at a time like this."
But Frazier feels the presence of God moving, too. The spirit and attitude of the caregivers, he said, are inspirational.
"The health care professionals," he said, "seeing how God is working through them. Their spirit is contagious. I'm allowing that to sustain me."
Right now, Frazier's office is working on a project to provide gift bags for all 1,300 residents at Asbury. They'll contain inspirational cards, large-print puzzles, lotion, coloring books and pencils, and whatever else they can obtain that is safe to share. The Asbury Methodist Village Foundation is helping with the costs, he said, and if people wish to provide assistance, they can reach Frazier at .
The State of Maryland did not release data that tracks both infections and fatalities related to COVID-19 until April 27. The Baltimore Sun reported that "the about-face comes as county health officials revealed to The Sun on Monday (April 27) that nursing homes and other long-term care facilities are accounting for significant portions of the 858 COVID-19 deaths reported across the state as of Monday."
In Washington, D.C., the Washington Post reported on April 24 that 13 nursing homes had 199 infections and 15 fatalities.
And in West Virginia, an April 17 order by that state's governor, Jim Justice, will test every resident and worker at nursing homes statewide.