FAQ on Registering for the Online Annual Conference
Why is this online registration different from the past?
In order to privilege human life above all other concerns, during the coronavirus pandemic, BWC leaders postponed the May annual conference session. It will be held online Sept. 12. To safeguard the integrity of the voting process and ensure that only those who are eligible can cast ballots, a special registration process has been created.
Who can register?
The registration process allows for voting members and non-voting members with voice to register. Voting members will receive a code that allows them to vote. The voting is done on a separate web-based platform. (Some people have found it helpful to have a second device, such as a smartphone or tablet to be able to continue to watch the live stream while they vote.)
Will there be training on the voting procedure?
Yes, and it will be mandatory. Those who register must attend one of three sessions:
Session #1: Thursday, September 3 at 6 p.m.
Session #2: Wednesday, September 9 at 10 a.m.
Session #3: Thursday, September 10 at 5 p.m.
Who can vote in the Annual Conference session?
Lay members to annual conference who are elected by their congregations and listed as the lay member(s) in Arena. If you are not listed in Arena as the lay member or alternate lay member elected by your congregation, please contact your pastor and have your church information updated. We will need to verify your status prior to sending your ID code and this verification is through Arena.
Lay members at-large selected by the Conference secretary,
Deaconesses, lay missioners, and diaconal ministers,
Ordained deacons and elders,
Provisional deacons and elders,
Licensed Local pastors.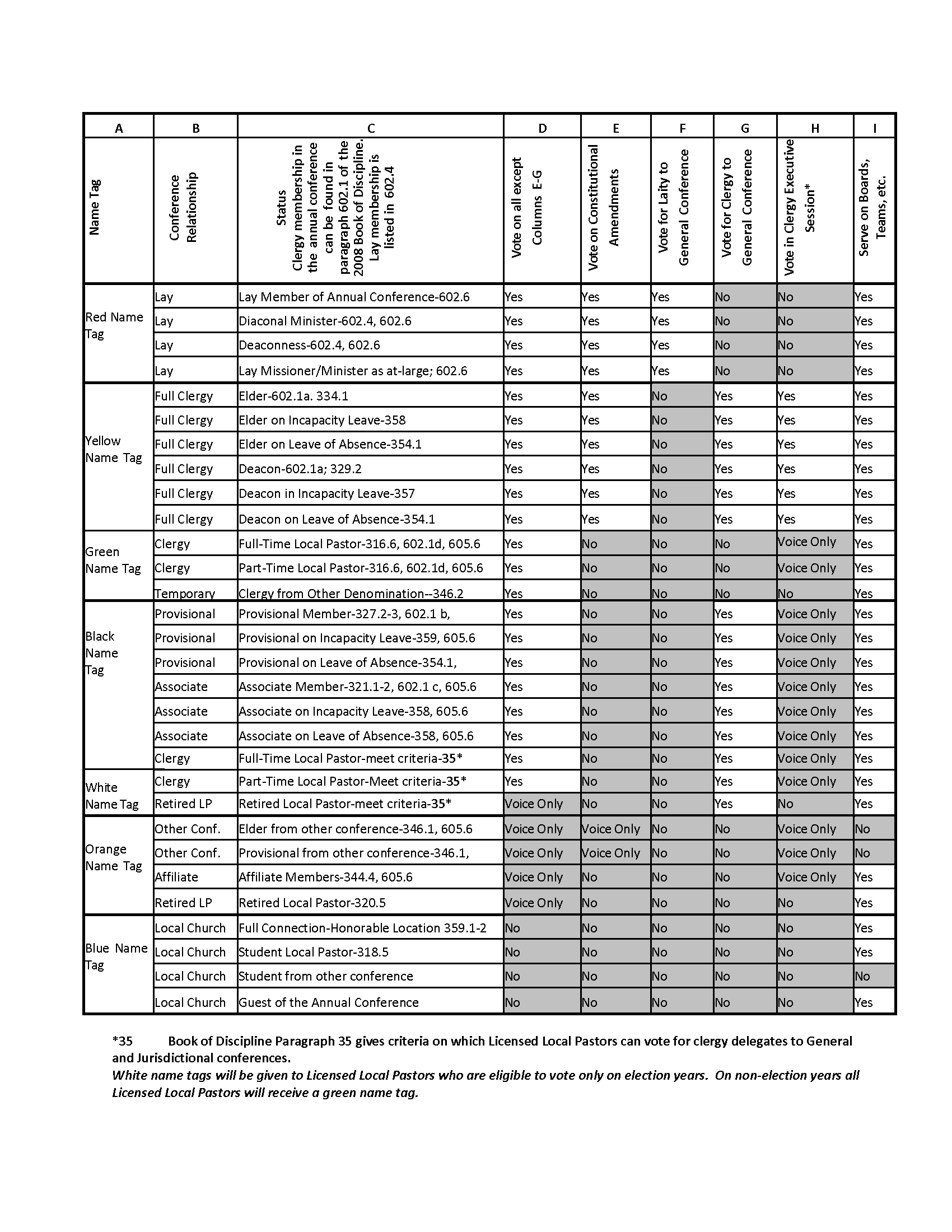 Who can attend and vote in the Clergy Session?
Only full member clergy, licensed local pastors, and others serving as pastors listed in the below chart can register and attend the clergy session, which will begin at 9 a.m. on Sept. 12. (NOTE: 9 a.m. is when you can log in to the webcast; worship begins at 9:10 a.m., and the session begins at 9:30 a.m.) A chart with a complete listing of who has voice and vote at that session is below, or a downloadable version can be found here. Only those with vote will be able to do so during this session.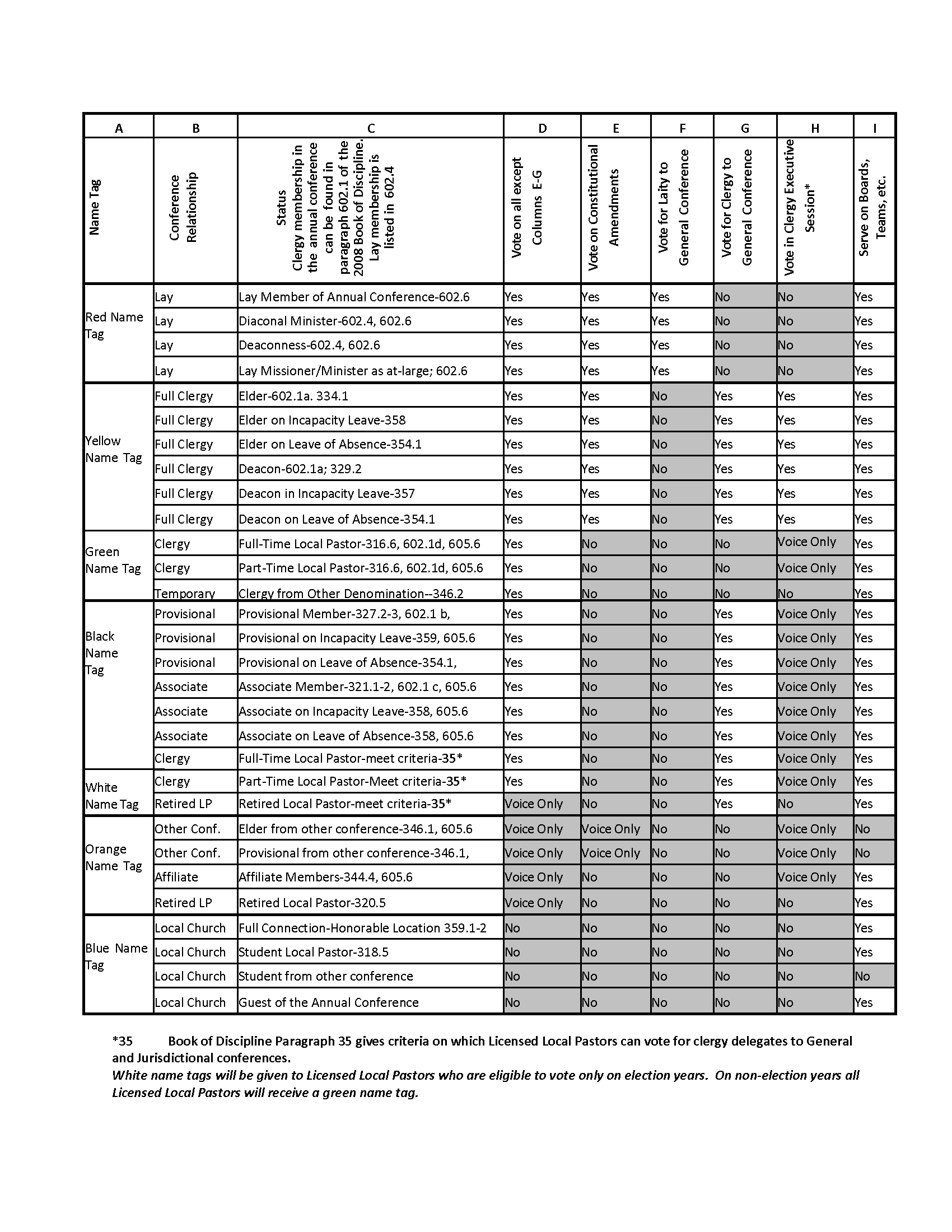 Why are only those with voice and/or vote allowed on the webinar and others must watch the live feed?
This system was created so that the webinar will only be used by those who, by Conference rules, are able to speak and/or to vote. While those watching the live stream will be able to view the annual conference session they will not have a voting registration code or be able to ask questions or make motions.
How will a registered clergy/lay delegates receive their voting credentials?
Voter ID's will be distributed the week prior to Sept 12. These will come in an email from the conference and will have your unique Voter ID. Please don't ever share this ID or give it to another delegate. Alternate Lay delegates will get their own ID which will only be activated if the proper notification is given to the conference team about a switch.
What will be covered during the Annual Conference Session?
During the annual conference session, the essential business to keep the Conference operational in the year ahead will be presented. This includes the proposed 2021 budget, some pension information, and equitable compensation and a few other items. The five resolutions submitted by groups and individuals will be considered at the 2021 Annual Conference session. The Nominations/Leadership report will be postponed until 2021 and most committee members will serve an additional year in their current ministry positions. Ordination will be held following the business of the conference.
The Laity Session and presentations on BWC ministries will be held at a later date. So will the celebration of the retirees.
What is the registration cost?
Do Members at-large need to register themselves?
Yes, everyone much register themselves.
Does each voting individual need a separate device to use for voting and what type of device can be used?
Those who have used this voting system, report that having a second device streamlines the process and makes it feel a bit easier, but it is possible to toggle back and forth between the video of the session and the voting process, which is hosted in a web browser.
What about arrangements for Deaf and sight-impaired members?
The BWC is committed to inclusion. Plans are being made to assist those who register to ensure their participation in the Annual Conference session. For accessibility accommodations, please contact the Rev. Leo Yates at