Pen-Del and BWC celebrate new affiliation
Posted by on
By Melissa Lauber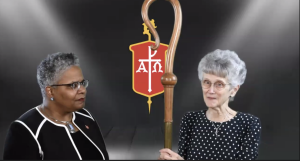 In a gesture of remembrance and hope, Bishop Peggy Johnson passed a crozier, a symbol of episcopal leadership, to Bishop LaTrelle Easterling to mark the new affiliation between the Peninsula-Delaware and Baltimore-Washington conferences.
This transitional gift was presented at an online town hall on Aug. 31. The crozier was made of wood from both conferences in 1960, the first time the two annual conferences were joined in shared leadership. That relationship ended in 1990 when Pen-Del was realigned with the Eastern Pennsylvania Annual Conference. The affiliation, which began Sept. 1, marks a new beginning in leadership and ministry that builds on the conferences' strengths and provides fresh approaches to their challenges.
Receiving the crozier with deep humility, Bishop Easterling will now lead both conferences. Speaking at the affiliation town hall, the bishop evoked the image of the Chesapeake Bay Bridge that spans the two conferences. (Read a script of her presentation.)
"This affiliation offers a fresh, new opportunity for collaboration, exploration and innovation," Easterling said. "Nothing restricts our possibilities except our own creativity and willingness to take risks for the sake of the Gospel."
Collaborative work between the two conferences has already begun. The first major endeavor, the bishop said, is being led by young people, who are merging the two conferences' very successful youth rally and youth retreat into a new experience for youth called Wave.
Wave 2022 will take place Jan. 7-9 at the Convention Center in Ocean City. A new website provides details on this event, which is designed by youth, for youth. It can be found at https://waveoc.org.
A second major collaborative initiative is the creation of the Center for Vital Leadership, led by the Rev. Jack Shitama at Camp Pecometh in Centreville, MD. This center builds on existing programs and partnerships and will provide extensive online and in-person leadership training opportunities to clergy, laity, youth, and leaders of all ages.
Leaders from both conferences, including the Directors of Connectional Ministries, Rev. Rob Townsend and Christie Latona, have begun mapping out common ground for vision and ministry and exploring and identifying places of opportunity.
Assisting in these efforts, and serving as Bishop Easterling's Chief Administrative Officer, is the Rev. Erica Robinson-Johnson, whose position was created to help ensure the success the of affiliation. She will contribute to both conferences' work to expand discipleship, develop new faith expressions, engage in transformative ministries of justice and reconciliation, and work ecumenically to expand the Beloved Community.
The affiliation, which Easterling stressed is not a merger, originated out of a need to revise episcopal oversight in the Northeastern Jurisdiction. (See an FAQ, which provides background on the affiliation.) With the retirement of Bishop Peggy Johnson on Aug. 31, the NEJ College of Bishops assigned Bishop Easterling to provide interim coverage for the Peninsula-Delaware Conference and Bishop John Schol to provide interim oversight of the Eastern Pennsylvania Conference.
Bishop Jeremiah Park, of the Susquehanna Conference, also retired. That conference will receive interim leadership from Bishops Cynthia Moore-Koikoi of the Western Pennsylvania Conference and Sandra Steiner Ball of the West Virginia Conference.
"I am excited to see what God will do in and through us as we bring the best of ourselves into this sacred work. What bridge is God calling you to cross?" Easterling asked. "We have the opportunity to look at our mission fields from new angles and to approach our ministry with new insights. Yes, the terrain is familiar, but we can see new things by simply changing our location. God is doing something new, can you not perceive it?"
Participants at the town hall asked a variety of questions about the new affiliation, covering such topics as how appointments will be made, what resources will be offered to small churches, how theological differences on human sexuality will be addressed, and a variety of other issues.
The bishop shared that the two Cabinets will meet together at least twice a year, but will make appointments separately, recognizing that cross-conference appointments are not new and can continue.
She outlined resources and possibilities for all congregations interested in growing in their discipleship.
The bishop also shared her belief that all people are created in the image of God, her commitment to justice and full inclusion, and her promise that she will meet each conference where they are.
Additional conversations with Bishop Easterling will be held this fall in the three districts of the Peninsula-Delaware Conference Sept. 20-22 and on the four regions of the Baltimore-Washington Conference Sept. 27-30.
"Beloved," the bishop concluded the town hall meeting, "may it not be said of us that we contributed to chaos, division and negativity. May it not be said of us that we were resistant to an opportunity to experiment, risking, failing, learning and growing together. Instead, may it be said of us that we were open-hearted and open-minded, trusting God beyond our self-interest and the status quo. May it be said of us that we were skilled servant workers who selflessly engaged in ministry to bring God glory. May it be said that we loved well as we crossed the bridge into our new beginning together."