Immigrant's story ignites fierceness of faith and justice
Posted by on
Sign a petition to ICE to release Binsar Siahaan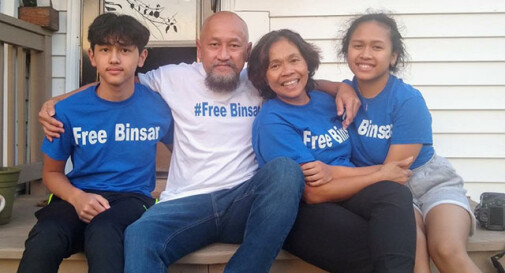 By Melissa Lauber
It's a political story of such gravity that it makes bishops publicly question the integrity of the nation. It's a family story of heartbreak and the potential tearing away of a parent from his children. It's a moral call to action, a love story, a witness to the human spirit, a story that recently appeared in the headlines of the Washington Post. And, at its heart, it weaves all these elements together to become a story of faith.
It starts with Binsar Siahaan and his wife, Eko, who came to the U.S. — he in 1989; she in 1995 — to work for Indonesian diplomats. They had two children, now ages 14 and 16, who are American citizens.
Six years ago, they moved into a house at Glenmont UMC in Silver Spring, where they are members and serve the church as volunteer caretakers.
Their pastor, the Rev. Kara Scroggins, reports that Siahaan is active in the church's men's ministry, and in prison ministry. He sings at a nearby nursing home and has the heart of a servant leader. She remembers visiting his home and seeing photos of his children participating in church activities displayed with pride. "God, his family, and his church family are everything to Binsar," she said.
Today, she prays over the phone with him while he is federal custody. She prays, "that the worst thing won't be the last thing," and together they say the Lord's Prayer.
Siahaan has been seeking a path to legal status since 2002, believing that conditions for Christians like himself are dangerous in Indonesia. Scroggins has recently worked with the family in this struggle to obtain US citizenship. It has not been an easy road.
A lawyer who first worked with them gave them bad guidance and was later disbarred. In February, Siahaan was detained by U.S. Immigration and Customs Enforcement (ICE) officials without explanation and held in Frederick until April 3. After surrendering his passport and agreeing to wear an ankle monitor, he was released April 3 under an order of supervision.
But some of the worst fears of many immigrants came to life on Sept. 10 when six ICE agents showed up at the church.
Scroggins remembers that on Tuesday, Sept. 8, when Siahaan was helping at the church, handing out school supplies to community children, and he told her that "the American flag outside on the lawn was looking tattered, and he was going to get a new one that would fly with more pride."
Two days later, on Sept. 10, before 7:00 in the morning, six ICE agents showed up to their home on the church property.
"Two stayed out of sight outside, while the others entered the home," Scroggins said. "Eko offered them coffee. They said that there was a problem with Binsar's ankle monitor, and they were taking him to the ICE office in Silver Spring.
"But when he got outside, they handcuffed him and took him to Baltimore," Scroggins said. "His lawyer could get no information from any ICE officers when she called and emailed. They sent him that night to Steward Detention Center in Georgia and indicated that he would be deported to Indonesia.
Those who know Binsar are "baffled and engaged," Scroggins said. "There is a pending motion on Siahaan's asylum case. Binsar is not a flight risk, has no criminal background, and we are asking that ICE free him now and return him to his family and church until his case is heard fairly in court."
If deported, the Siahaans are uncertain of how they will be treated as members of a persecuted religious minority. In addition, the children don't speak the language and Indonesia doesn't recognized dual citizenship, so it is unclear how long they would be able to remain in the country with their parents.
Leaders in the Baltimore-Washington Conference and the United Methodist General Board of Church and Society issued an action alert calling for Siahaan's release back to his family and church community.
On Sept. 21, they also held a press conference to address a larger issue. While taking Siahaan, ICE officials violated their policy of not taking custody of people in sensitive locations like churches, schools and hospitals. (See https://www.ice.gov/doclib/ero-outreach/pdf/10029.2-policy.pdf)
Church leaders, like Bishop LaTrelle Easterling, the presiding bishop of the Baltimore-Washington Conference, called on ICE to publicly commit to their own Sensitive Location guidelines.
"The manipulative and deceptive practices utilized in this case are beneath the dignity of our nation," Bishop Easterling said. "I find this breach of established practice unconscionable. How dare they enter upon our sacred grounds and violate their own policy."
The bishop went on to say that "the sanctity of our sacred spaces should never be violated, and this calls into question our administration's respect for communities of faith and for God's people."
The Rt. Rev. Mariann Budde, the Episcopal bishop of the Diocese of Washington, also expressed her heartbreak and outrage at the press briefing, saying the "egregious actions of ICE" at the church "calls into question the integrity of the entire organization."
The Rev. Susan Henry Crowe, the General Secretary of the Board of Church and Society, also spoke out, quoting the United Methodist stance from its Book of Resolutions. To refuse to welcome migrants to this country — and to stand by in silence while families are separated, and individual freedoms are ignored — "is complicity to sin," she said.
For Scroggins, the urgency of working with Siahaan "has activated a fierceness in my faith," she said. "This is what I understand the call of Jesus to be."
She remembers when she was in college and traveled to the US/Mexican border with a group that provided water to migrants crossing the desert. She remembers standing alone in the desert and wondering "about the people who can walk that desert and not believe they are alone, who are strong and resilient because they know God is with them."
"My calling is to amplify that," she said, "to bring the presence of God and the news of the Gospel that Christ came to liberate, and set free, and fight oppression."
As she pursues this call, Scroggins said, she prays that the Holy Spirit will help her find the words that Siahaan and his family need to hear and that will be persuasive to those in power.
She is grateful for all those whose faith is calling them to speak up and take action. She prays "for the softening of people's hearts and that the people who hold Binsar's future will seem him as a person and will listen."
And Binsar himself? Even amid his tears, he sends gratitude to those fighting on his behalf. "I feel the love of God so strongly," he told Scroggins. "I am blessed."
UPDATE Oct. 2, 2020
Please keep working for Binsar and immigration reform! The first important ruling is that the judge ordered Binsar NOT be deported until all of his appeal options for his asylum case are exhausted. The second ruling is that, within 14 days from today, Binsar should be taken out of Georgia and returned to detention in Maryland. This is amazing news given that his impending deportation was terribly frightening. We are relieved for the order to get him out of Georgia and back where he is closer to his family and community. HOWEVER, the judge did not order for Binsar's immediate release from detention. While we celebrate the protection from deportation at this time, and we are hopeful for Binsar's return to Maryland, we grieve with Binsar's family and the Glenmont UMC community that Binsar won't be released immediately. There is still a road to travel, but we reached a good place today. Binsar's family and the Glenmont UMC community want to express great gratitude for all you have been doing. What a team. What a beautiful Body of Christ."
-- Rev. Kara Scroggins, Glenmont UMC; Rebecca Cole, Church and Society; and the #FreeBinsar Organizing Team.