Faith leaders call for Binsar Siahaan's immediate release
Posted by Erik Alsgaard on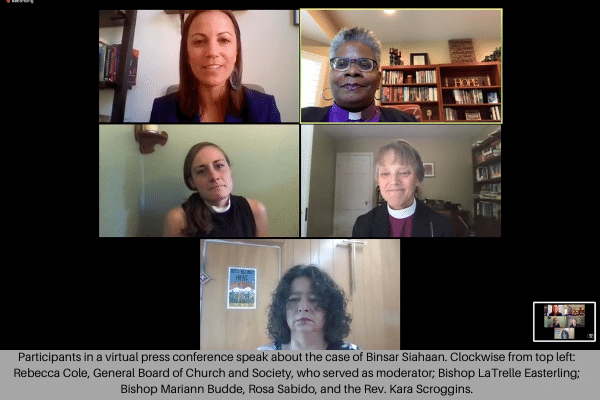 by Erik Alsgaard
In the early morning of Thursday, Sept. 10, Binsar Siahaan met with Immigration and Customs Enforcement (ICE) agents at Glenmont UMC in Silver Spring, Maryland, because his ankle monitor was not working properly.
Or so he was told.
Siahaan, who arrived in the United States with a work visa from Indonesia in 1989, was wearing the ankle monitor after being detained Feb. 25, 2020, in Frederick. The monitor was a condition of his release. His wife, Eko, arrived in 1995 and they have two children, both U.S. citizens.
According to the church's pastor, the Rev. Kara Scroggins, the agents came under false pretenses. As soon as Siahaan stepped outside, he was arrested.
The fact that he was arrested on church property has drawn the ire and dismay of faith leaders in Maryland. At a virtual press conference Monday, Sept. 21, Bishop LaTrelle Easterling of the Baltimore-Washington Conference of The United Methodist Church was joined by Bishop Mariann Budde, diocesan bishop of the Episcopal Diocese of Washington, along with the Rev. Susan Henry-Crowe, General Secretary of the General Board of Church and Society of The United Methodist Church, pastor Scroggins, and Rosa Sabido, currently in sanctuary at Mancos UMC in Colorado.
The Siahaan family has lived on the property of Glenmont UMC since this past January, Scroggins said. She described Binsar as a devoted, generous, and loyal member of the church. He has been a member since 2014, often the first to arrive for church functions and the last to leave.
"The federal government has torn this beautiful and faithful family apart," said Scroggins. "We are baffled and enraged because there's a pending motion on the two parent's asylum case. Binsar is not a flight risk, he has no criminal background, and we are asking that ICE release him now. Return him to his family until his case is heard fairly in court."
As a bishop ... I find this breach of established practice unconscionable. How dare they enter upon our sacred grounds to violate their own policy. -- Bishop Easterling
Calling the situation important yet regrettable, Bishop Easterling first reflected on Psalm 24, noting that everyone is a part of the family of God. She added that the United States has always been a nation of immigrants unless a person is indigenous or were brought over "under the scourge of chattel slavery."
The bishop said that Siahaan and his family were the victims of "negligent representation," and that has placed them in harm's way.
"While complying with every request made of him," Bishop Easterling said, "he has been a model immigrant, contributing to society, paying his taxes, and obeying the law. Conversely, ICE has violated their established practice by entering a recognized sensitive location and apprehending Mr. Siahaan under false pretenses."
Sensitive locations, according to the ICE website, include but are not limited to schools, hospitals, "churches, synagogues, mosques or other institutions of worship, such as buildings rented for the purpose of religious services, the site of a funeral, wedding, or other public religious ceremony; and a site during the occurrence of a public demonstration, such as a march, rally or parade."
"The manipulative and deceptive practices utilized in this case are beneath the dignity of our nation," Bishop Easterling said. "As a bishop … I find this breach of established practice unconscionable. How dare they enter upon our sacred grounds to violate their own policy."
Based on that breach alone, the bishop said, she believes that Siahaan should be released immediately.
Sabido, who has been living in sanctuary in Mancos UMC since 2017, said that she and others in the movement are feeling more fearful after this recent ICE action.
"We don't know if this is going to be a new policy," she said, "where ICE is going to come and take everything away that we have been fighting for. We have been fighting for rights to stay in this country."
She noted that living in sanctuary in a church is a two-way street: the church not only trusts in who the people in sanctuary are, but the people trust the church to protect them.
"So, it is very terrifying, not only for me but for all us in sanctuary," she said. "If it is not safe for us in a church, where do we go?"
According to information shared during the webinar, there are about 40 people living in sanctuary in the United States right now.
The Siahaan case is raising concerns because ICE went on church property to make an arrest.
Scroggins, the church's pastor, said that she has been able to speak with Siahaan a couple of times. At first, that wasn't possible because he had no money in his account – and she and others didn't know where he was so that they could add money. They finally found him at the Stewart Detention Center, in Lumpkin, Georgia.
"He is being abused," Scroggins said. "He was not fed for two days. They took him on a Thursday and did not feed him until Saturday. He is not well, and yet, he is strong. He is incredibly resilient."
Whenever he calls her, Scroggins said, Siahaan always offers thanks and always offers a prayer.
"He says, 'I am blessed,'" she said. "He asks that I let people know my thanks for all those rallying on my behalf."
Scroggins said now is the time to put pressure on the ICE field office in Georgia and in Baltimore, and to contact members of Congress to intercede on Siahaan's behalf.
"It's time to make a lot of noise," said Bishop Budde, "it's been effective in the past. I would like to have some investigation into who made this order; who in ICE thought that this was a good use of their resources … to violate their own policy to take someone who is the living representation of all that we long for in those who come to this country."