Blessings offered for clergy moving to new ministries
Posted by on
By Melissa Lauber
The people of the Baltimore-Washington Conference gathered in-person and online June 7 to offer a blessing to the more than 100 ordained clergy and local pastors who are being called and appointed to serve in new ministries starting July 1.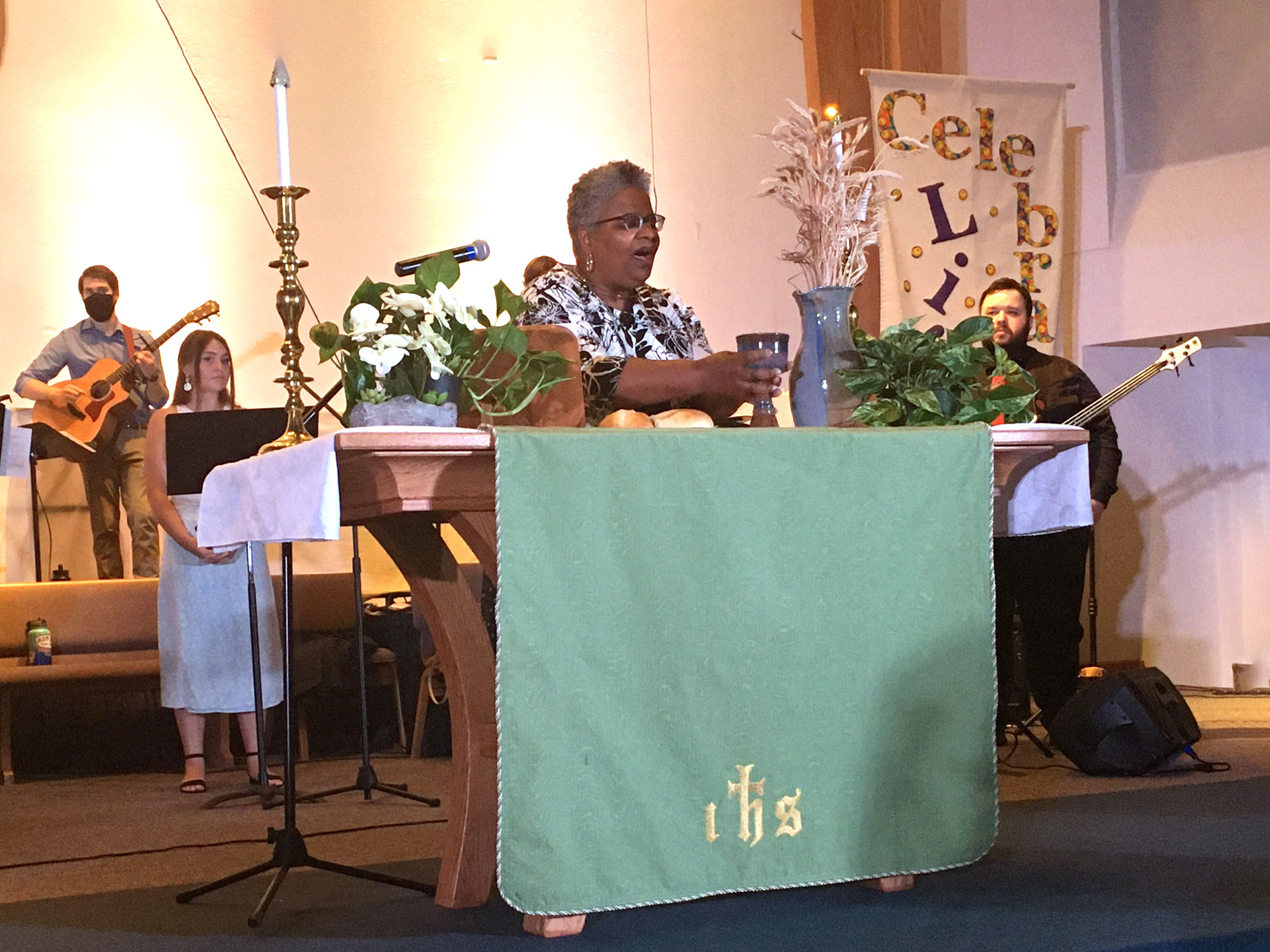 At the time of the service, 28 clergy were retiring, and Bishop LaTrelle Easterling and the Cabinet had named 85 clergy people — Elders, Deacons, and Licensed Local Pastors — to serve in, and beyond, local churches. The appointments are part of the denomination's historic itinerant system, in which pastors commit themselves to being sent to serve wherever they are appointed by the bishop. Appointments are made one year at a time, and many pastors move an average of every 7 to 12 years. Appointments are based on the gifts and graces of a pastor and the ministry needs of a church.
The bishop acknowledged that the road of itineracy is not always an easy one. But she urged all those making changes in their ministry this year to "know that the God who formed you in your mother's womb, guided your through your formative years, called you into ministry and refined you in the crucible of life's experiences, did not bring you this far to leave you."
She stressed that each transition is unique and encouraged people who are arriving in new settings to serve, lead, listen to, learn from, love, laugh, rejoice, cry and just be with the people God has called them to serve.
"This is your time," Bishop Easterling said. "Do not worry about being perfect. Do not worry about being everything you think they need. Do not worry about how it will all unfold. Beloved, breathe; breathe deeply, breathe deeper still, and then relax. Relax into the arms of Jehovah Jireh. … May you walk into this new season of your ministry knowing that it is blessed. Trust God."
The Service of Blessing for Those Entering New Ministries was hosted by the Baltimore-Washington Conference's Board of Ordained Ministry's Culture of Call Committee and the Conference Center for Clergy Excellence. It was held at Wesley Freedom UMC in Eldersburg and live-streamed on Facebook.
Throughout the evening, prayers of blessing were offered to affirm the lives and ministries of Elders, Deacons, Local Pastors, and retirees; Communion was served, and those present and online took part in a liturgy to remember their baptism vows.
In a sermon, the Rev. Jenny Smith, pastor of Wesley Freedom UMC and a member of the Board of Ordained Ministry, shared about her childhood. She talked about rising early with the sun and watching her father, a farmer, labor in the fields, planting seeds, fertilizing young shoots, and harvesting the crops.
"It was the rhythm of my childhood. It sounds romantic, but planting and harvesting is anything but simple," Smith said. "We know there is joy to be found in the harvest, but the journey to get there is often lived through hard works and tears."
Smith was 17 when God called her off the farm and away from a life of milking cows each morning to enter the ministry. "I could not work that hard, nor live with such uncertainty," she said.
However, she quickly discovered the ministry had its own kind of unpredictable hours and hard, sometimes heart-breaking, work.
Smith told those moving to new ministries this year that, "We are here because a new season is dawning. … We must remember the life-saving importance of the harvest we have been called to labor for, lest we fall under the weight of the newness before us."
Considering the pandemic, all ministers are facing new challenges, Smith said.
"This is a new day for everyone," she said. "The lay of the land has shifted. The events of the past two years have changed the topography of our existence and how we live out our call.
"We are called to plant new fields we haven't seen and don't understand," Smith continued. "We're seeking to move forward with safety and relevance, … but, if we're honest, we don't have any idea how to map it.
"The work ahead of you, beloved, is hard," Smith said. "We live in a time of uncertainty. For those called to transition in this season, there's an anxiety and a restlessness. But, beloved, the God who called you at first is calling you again."
Dealing with new ministry fields with what feels like bags of seeds that aren't even labeled, and with hard tasks ahead, Smith urged the pastors to reach out to the people serving beside them, to embrace self-care, and to remember that Jesus journeys with them.
"As we enter these new days together, ultimately the outcomes are not ours to determine. It is God who sends the rain on winter fields and determines what rises when springtime comes," Smith said.
"And when there is a harvest, we will give God all the glory and all the praise."