Zimbabwe Mission offers thought-provoking paradoxes
Posted by Guest Author on
By Rev. Tim Warner
Special to UMConnection
Zimbabwe is a place of paradox. It is a country that, while rich in natural resources, exhibits some of the most pronounced poverty most Americans have ever seen.
Four years ago, I was a part of the Baltimore-Washington Conference – Zimbabwe Episcopal Area Pastors' School and had the opportunity to visit Gwese UMC in the Mutare District of the Zimbabwe East Annual Conference.
I found there a gracious people, my United Methodist sisters and brothers, who were trying (like many of us) to make a difference in their community in the name of Jesus. This was my kind of church!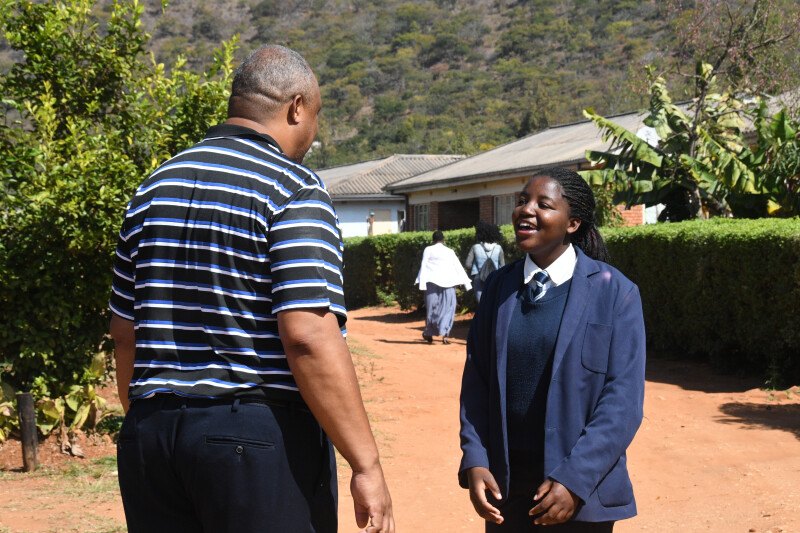 They worshipped God with such great joy and intensity, yet they were situated in a community where there was no electricity or water, and the people had nearly nothing by American standards. We were there as a part of the Baltimore-Washington Conference's strategic relationship as partners in ministry with the Zimbabwe Episcopal Area to join them in the spirit of "chabadza," a Shona word meaning a partnership in which a passerby stops to help another person already at work.
They had already begun to build a sanctuary in which to worship, and the BWC team was there to put in some sweat equity and financial gifts to help finish the work.
Seeing their continuing need, and knowing our relative abundance, I immediately led Emory Grove UMC (which did not have a deep history in foreign mission work) into a partner-in-ministry relationship with them to help them drill a well. People here were excited that their sacrificial giving enabled the people at Gwese to have access to clean water without having to walk a mile down to the river.
People at Gwese were excited to see how water helped them be even more relevant in the community, and that they had sisters and brothers 8,000 miles away who were willing to walk side-by side with them. Since then, Emory Grove has partnered to help them build a parsonage for their young pastor and his family.
This year, at Bishop Easterling's invitation, I joined the Pastors' School team again. When I led a group of people in our delegation to visit some projects that were ongoing and assess needs in other places in rural Mutare, I found a whole new Gwese.
The livestock were thriving, the pump is set up for irrigation, and the parsonage is complete. They had also begun the work of setting up a trust for the children who were orphaned because of HIV/AIDS, and, as part of it, had begun to set up a community garden for the orphans.
They were elated that I brought another gift from their partner church to help them expand their prophetic work with the orphans.
Instead of patting the orphan children on the head and telling them how unfortunate they are, they have chosen another model of care. Each child has someone from the congregation come to visit them as often as they need help or assistance. The children stay in their own houses in their own communities. They are given a she-goat to bear young goats as a food source and as a way to provide income. Each child is also given a plot of land to farm in the garden, which they work for their sustenance.
Emory Grove's latest gift to support the Orphan's Trust is now helping the church build self-sufficient Christian leaders, rather than a permanent welfare class, through providing for school fees and uniforms.
Another of the churches that I serve, Mill Creek Parish UMC, out of an initiative begun by the Vacation Bible School a year ago, has worked with the District Superintendent of the Mutare District to partner with the West Zimunya Circuit of churches. We, too, have helped them drill a well that is used by three churches and a community.
One of Mill Creek's members, Kim Berger, joined me as we visited to see the well. The church (pastor and people) and the community Head Man and neighbors greeted us with a celebration where we heard them tell us how important the well was and offer their sincere thanks for our partnership with them.
We pumped clean water from the ground and drank the fruit of our sacrifice for our sisters and brothers together. While there was no ritual, it felt like what Communion should be.
We also saw more work that they have begun, and having met our sisters and brothers and heard from them how we might best partner with them, we will discern together how we can join them in that work.
Over oceans and thousands of miles, this is chabadza from church to church.
Aside from the many political and economic paradoxes we found, the spiritual paradox this: We are quick to approach the poverty of others, who are enduring it through the grace of the God who sustains them, and we note their Christ-centered joy in the midst of the scarcity. "These people are amazing," we say. "They have nothing, but they love God anyway. How can they have joy with so little?"
But, have we found them by the side of the road, having begun the work of praising God regardless of their circumstance; or, have they found us by the side of our road, having forgotten God in our relative prosperity? Are they helping us return to the God who deserves worship, honor and praise regardless of the circumstance?
Perhaps we have forgotten that the Kingdom of God comes against poverty, compelling those of us who purport to be Kingdom-citizens to do something to relieve it wherever we see it, particularly when two-thirds of the world is so poor precisely because we have so much.
In this paradox, I am thankful that chabadza works to bless both partners in the work. I pray that we will receive what we need from our sisters and brothers who are rich in obedience to the will of God and zeal for the Lord, even though (and perhaps precisely because) they don't have as many things.
*The Rev. Tim Warner is pastor of Emory Grove UMC and Mill Creek Parish.