Zimbabwe gets its first female UMC bishop
Posted by Guest Author on
By Maidstone Mulenga*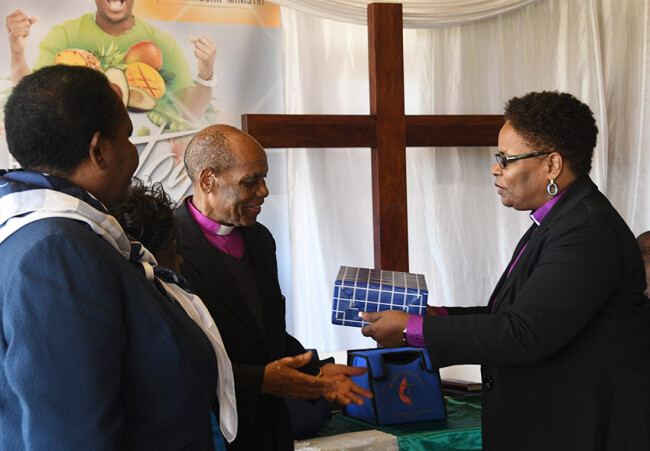 Bishop LaTrelle Easterling, right, exchanges gifts with Zimbabwe Episcopal Area Bishop Eben Nhiwatiwa, left.
MUTARE – The Zimbabwe Episcopal Area of The United Methodist Church has its first female bishop, albeit for only one week.
Bishop LaTrelle Easterling is resident bishop of Zimbabwe for this week, an opportunity afforded to her by Zimbabwe Area Bishop Eben Nhiwatiwa, who is in Chicago attending the Commission on a Way Forward meeting.
After greeting Bishop Easterling at Harare International Airport as she arrived in the country last Friday, Bishop Nhiwatiwa asked her to supervise his area, which encompasses the Zimbabwe West and Zimbabwe East Conferences.
Bishop Easterling, who is the resident bishop of the Baltimore-Washington Conference, is in Zimbabwe with 29 other members of her conference to conduct the 2017 Pastors' School at Africa University in Mutare.
In a letter read on his behalf at the start of the Pastors' School, Bishop Nhiwatiwa informed the more than 400 pastors in attendance that he had asked Bishop Easterling to supervise the Zimbabwe conferences in his absence. The announcement was received with a standing ovation for Bishop Easterling.
As part of her new responsibilities, Bishop Easterling later met with the Zimbabwe Episcopal Area Cabinet. It is not yet known if she made any new appointments.
On Sept. 1 last year, Bishop Easterling made history by becoming the first female bishop to lead the Baltimore-Washington Conference in its 233-year history.
The Pastors' School runs from July 17-21.
*The Rev. Dr. Maidstone Mulenga, who is the Director of Communications for the Council of Bishops of The United Methodist Church, is a clergy member of the Baltimore-Washington Conference and he is one of the instructors at the Pastors' School.