Youth mission trip turns from habitat to flood relief
Posted by Erik Alsgaard on
By Erik Alsgaard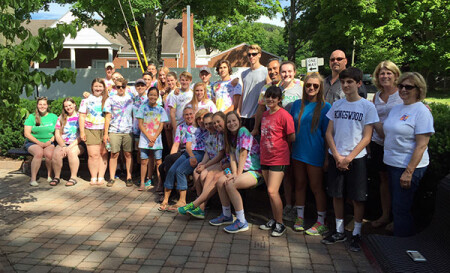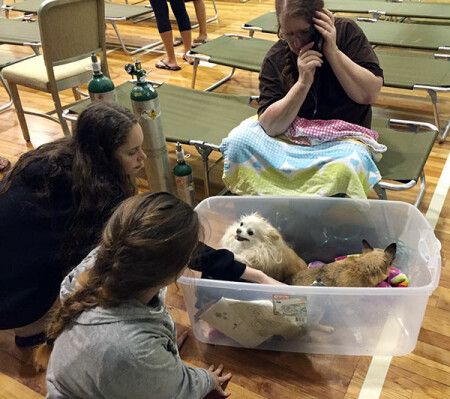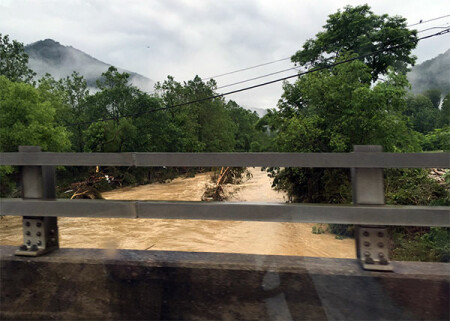 For Charly Ryan and the rest of the team at Potomac UMC, it wasn't the youth mission trip they signed up for, but it was the mission trip God gave them when storms began flooding the area of West Virginia they were in.
Ryan and nine other members of her church had joined with 24 other volunteers from nearby Our Shepherd Lutheran Church to go to White Sulphur Springs, W.Va., and work on a Habitat for Humanity house. They left Maryland on Sunday, June 19.
When they arrived, everything was normal, Ryan said. Groups were formed and people assigned to where they were needed. At night, the group stayed in an old high school in White Sulfur Springs that had been transformed into a community Civic Center. One group slept in the gym, another slept in the social hall.
Everything began to change on Wednesday, June 22.
Ryan said that that afternoon, as is typical for these kinds of trips, several of the youth had the afternoon off. One group went tubing while Ryan stayed behind with kids who didn't want to go.
As the rain intensified and lightning became more frequent, those on the tubing trip were pulled out of the water for their own safety, Ryan said.
The next day, she said, even as the rains continued, one group of volunteers was back working on their home, located on top of a mountain. Another group stayed in town to help clean up Habitat's "Re-Store," a warehouse where gently used and new furniture and building supplies are donated and then sold to help raise money for home-building projects.
"When we left the Re-Store," Ryan said, "it was sparkling." Just a little while later, after the flood, the building was totally destroyed.
By lunchtime, the rain had swollen creeks and streams in the area, Ryan said, so they were told to head back to the Civic Center. The group working on the house had to spend most of their morning in their vehicles, due to the rain. By time they returned to the Civic Center, there was about six inches of water covering the walkways, Ryan said, and there was water coming in under the social hall doors.
"The creeks were flooding," Ryan said. "We starting seeing things floating down the river. We saw and heard a house getting pushed off its foundation. A house that had caught on fire came floating down the river. We saw a car, with passengers in it, floating down the river."
Ryan said they gathered everyone together in the Civic Center and one of the leaders from the Lutheran Church, Alex McKeague, addressed the group. He told them that the Civic Center was a designated Red Cross shelter and that they were in the safest place they could be. He told the youth to call their parents and tell them that they were safe. And, he added, expect more people to come.
"We're going to feed everyone who comes," McKeague said, "and ourselves. We are here to serve."
And they did.
"The kids were amazing," Ryan said. "They started setting up cots and tables. They helped cook all the food we had brought, and people began to come in."
One youth, she said, took initiative and began registering people at the door as they came in. Others began pulling pieces of clothing out of their luggage and giving them to residents who came in soaked. Yet others wrapped cold, shivering people in their own sleeping bags to keep them warm.
Altogether, Ryan said, about 150 people were housed that night in the Civic Center. There were people with broken bones, people without their medication, and people showing up with their hungry pets. Between them, the volunteers had one nurse and three first aid kits.
And then the power went off.
Folks from the building next door came over and said that they had a generator, but only three gallons of gasoline. The decision was made to use the generator for lights in the gym, where most of the people were staying, but there was one problem: no portable lights.
A group of kids, Ryan, said then scavenged through the Civic Center and found a string of Christmas lights in a room. They hooked those up and strung them across the bleachers.
Around 10 that night, a medical team arrived, Ryan said, and "I was never so thankful to see them in my life."
Ryan is proud of the way the youth responded in the midst of some very trying circumstances.
"The kids were so strong," she said. "They were amazing."
Ryan said that the National Guard arrived Friday morning, and it became clear that they knew what they were doing.
"They were professionals," she said, so the youth spent most of that morning simply getting out of their way.
Word also arrived Friday morning that some of the roads heading home were now open and if they wanted to make it out, they had better leave soon. The group packed up and headed home.
"We've done VIM trips in the past," Ryan said, "but, by far, this was the most memorable. I really felt that we were part of God's hands."