With reconciliation, cemetery returns home
Posted by Guest Author on
By Mary Kay Totty & Johnsie Cogman*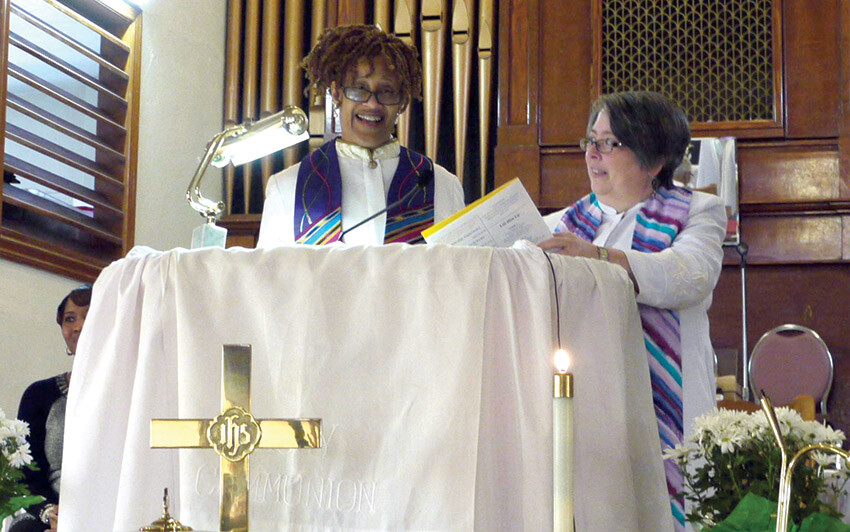 The Revs. Johnsie
Cogman,
left, and Mary Kay Totty
lead
worship together.
Dumbarton and Mt. Zion United Methodist churches have a long history. In 1816, Mt. Zion UMC was formed when African American members (slave and free) left Dumbarton UMC (founded in 1772) to form their own congregation because of the discrimination and oppression African American members endured.
Mt. Zion UMC thus became the oldest African American congregation in Washington, D.C., celebrating its 200th Anniversary in October 2016.
Over the years, Mt. Zion UMC and Dumbarton UMC have sought reconciliation and worked to strengthen both their shared ministries and friendships with one another, yet there has been an unresolved matter between them: the ownership of the Mt. Zion Cemetery.
In the 1800s, Dumbarton leased the cemetery to Mt. Zion for a dollar for 99 years. That lease expired in the 1970s. As time drew near for the lease to expire, Dumbarton faced some significant financial challenges and was tempted to resolve those challenges by selling the cemetery to commercial developers.
One Dumbartonian, Mike Beard, refused to go along with the unjust plan and, with obstinate conviction, argued against the idea of selling the cemetery to commercial developers and eventually, others came to agree with him that to do so would be a desecration. Since then, the cemetery has been designated a Historical Preservation Site and is off limits for sale or commercial development.
The next step was to transfer the deed, the ownership of the cemetery, from Dumbarton to Mt. Zion. This has been a long-held dream of Mt. Zion historian, Carter Bowman Jr., and Beard. Despite failing health, Bowman worked tirelessly until his death at age 92 in September 2014 to preserve the legacy of the cemetery.
The process to transfer the deed has taken longer and been more complex than anyone thought, however. The Revs. Mary Kay Totty of Dumbarton UMC and Johnsie Cogman of Mt. Zion made it their goal to get this task completed.
When Mt. Zion and Dumbarton gathered together for Sunday morning worship on March 5, the service included the symbolic handing over of the deed for the Mt. Zion Cemetery. The congregations celebrated that the deed legally had been transferred from Dumbarton to Mt. Zion.
The ownership of the Mt. Zion Cemetery is now with Mt. Zion UMC where it rightly and justly belongs. Connie Wilkerson, one of Dumbarton's trustees and an attorney, shepherded the process in recent months.
On Feb. 9, Vernon Ricks, Chairperson of Mt. Zion Trustees, and David Cook, then Chairperson of Dumbarton Trustees, met and signed all the paperwork for the deed transfer.
Both Dumbarton and Mt. Zion, rejoice that they have taken this important step in their shared journey of reconciliation.
*Totty is pastor of Dumbarton UMC, and Cogman pastors Mt. Zion UMC in Georgetown.