By Rev. Julie Wilson*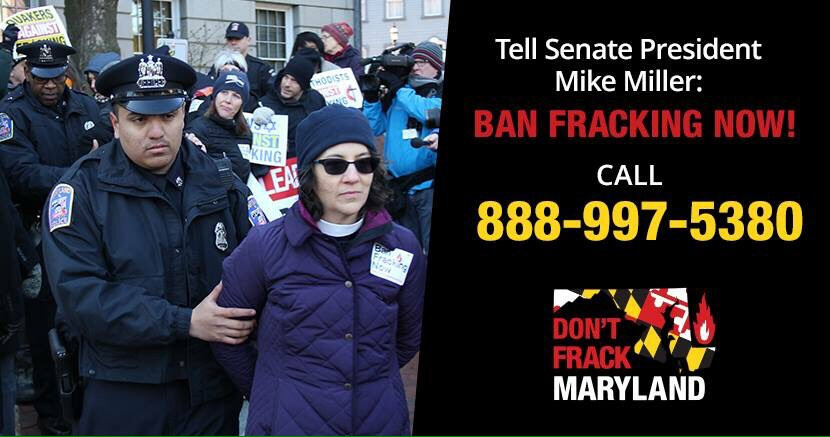 "Hi, Rev. Wilson. I know it's not what we originally discussed, but I'm calling to ask you to take some extra personal risk tomorrow."
That's how my conversation began with Brooke Harper, my main point of contact with the Chesapeake Climate Action Network (CCAN), and someone the Baltimore-Washington Conference has been working with for several years on many issues related to caring for God's creation. Originally, I had been lined up to provide clergy support for an act of civil disobedience at the State House in Annapolis, but due to some unforeseen circumstances and one clergyperson's extensive record of prior arrests at similar events, they needed me to risk arrest. Was I willing?
It took me about five seconds to decide. I knew in my heart what God was calling me to do. I knew it as soon as I heard what the action was earlier in the week, when I had taken the easy way out and offered to be support.
But it's funny how things work out, isn't it?
The next thing I knew, I was agreeing to meet up with the rest of the group risking arrest for some training and a quick briefing in the morning before heading to the State House.
What was this event all about and why did I risk arrest? It was a protest in front of the State House, blocking the senators access to their entrance. We did this because the President of the senate and the Chair of the Education, Health, and Environmental Affairs committee are currently blocking the bill that would permanently ban hydraulic fracturing (fracking) in the state of Maryland from coming to the full senate for a vote.
So, we gathered with faith leaders and people from Western Maryland, where the fossil fuel companies are chomping at the bit to "drill, baby, drill." We heard about how each faith tradition feels called to care for creation, to protect the water, the soil, and the geological stability. I spoke of how The United Methodist Church feels a responsibility to use our resources wisely and to move away from our reliance on fossil fuels toward more renewable energy resources which are not as harmful to our environment. And then, while a rabbi from Interfaith Power and Light lead everyone in singing "like a tree planted by the water, we shall not be moved," I and 12 other advocates for the fracking ban were handcuffed and taken into police custody.
I spent a day in jail, but that's a story for another time. I am waiting to hear from our group's lawyer about whether I will need to serve community service, pay a fine, or serve additional jail time, but either way, it was worth it.
I care too much about the mountains, forests, streams, and air to risk poisoning it with the toxic chemicals involved in fracking. I care too much about the health and safety of my neighbors. And that's not even mentioning the increased risk of earthquakes.
When I was released from the Anne Arundel courthouse on the evening of March 16, I was greeted by one of the organizers for Food and Water Watch. He informed me that my photo in handcuffs was one of the best, so they turned it into the Twitter plea to call the senate president.
Congrats, you went viral! (It's a good thing I warned my parents before I got arrested!)
*The Rev. Julie Wilson is an ordained Deacon serving at Calvary/Centennial Memorial Cooperative Parish in Frederick. She is also the chair of the Baltimore-Washington Conference's Board of Church and Society.