We mourn Hyattsville Mayor Kevin Ward
Posted by on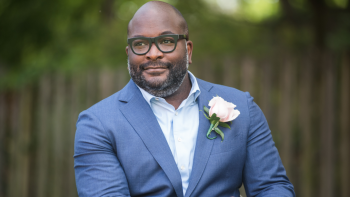 It is with a profound sense of grief that we mourn the loss of Mayor Kevin Ward, of Hyattsville, who died Jan. 25 from an apparent self-inflicted gunshot wound.
Ward was a servant leader who cared deeply about all the members of his community and gave generously – contributing food and other items – to the ministries of First United Methodist Church in Hyattsville. Throughout his political career he served as a fierce advocate for the marginalized.
"Mayor Ward was known to our United Methodist church family in as he tangibly helped meet the needs of hunger and poverty," said Bishop LaTrelle Easterling.
"We join the Ward family, the community of Hyattsville and the state in mourning the passing of Mayor Kevin Ward. Our hearts are heavy as we pray for his family," Easterling said. "The community has lost a dedicated leader, who was a stalwart of justice and equity. As we gather to comfort and support one another, may we offer the family privacy during this tender time."
See a Washington Post article and an NBC News article about Ward's death and the outpouring of responses from civic leaders.
The BWC offers the resource, Stay, for those contemplating suicide or self-harm.
If you or a loved one is feeling distressed, call the National Suicide Prevention Lifeline. The crisis center provides free and confidential emotional support 24 hours a day, 7 days a week Call the National Suicide Prevention Lifeline at 1-800-273-8255 (tel:18002738255). Or text HOME to 741-741 (Crisis Text Line)