United Methodists gear up for Michael relief
Posted by Guest Author on
By Heather Hahn and Jim Patterson
United Methodist News Service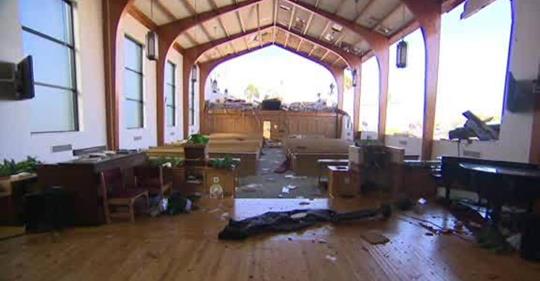 St. Andrew UMC in Panama City, Fla.,
seen Oct. 11 after Hurricane Michael.
United Methodists across the southeast are preparing to offer long-term relief after the most powerful hurricane in nearly 50 years slammed into the continental U.S.
Hurricane Michael, which roared onto the Florida Panhandle as a Category 4 hurricane, has left a path of destruction across multiple states and at least five United Methodist conferences. The storm has caused at least 11 deaths — four in Florida, five in Virginia, one in Georgia and one in North Carolina — and in its wake are upturned trees, collapsed buildings, broken roads and hundreds of thousands of people without electricity.
Search-and-rescue teams are operating across the panhandle, communication is extremely limited in damaged areas and it's still not safe for church-trained early response teams to come on the scene. Michael is the most intense storm to batter Florida since at least 1851 when records began to be kept on such things.
For now, the main things United Methodists can do to help is give money, prepare relief supply kits, and pray. (Learn more about BWC Disaster Response and VIMs)
"There are so many people who are praying for us and are with us," said Bishop David Graves of the Alabama-West Florida Conference in a Facebook video ahead of the storm. "That's the beauty of The United Methodist Church, that people come together."
The United Methodist Committee on Relief already has distributed a $10,000 emergency grant at the conference's request and stands ready to provide more such grants at other conferences' requests. UMCOR also reminds people not to self-deploy or donate unsolicited items.
Bishop Sharma Lewis of the Virginia Conference, where five deaths were judged storm-related, was attending a United Methodist Do No Harm conference in San Antonio but was keeping in touch by text and email.
"I've got to be here, because I'm a liaison, but I'm concerned about my people in Virginia," she said.
As of Friday morning, Oct. 12, Lewis had no reports of damaged churches or parsonages. But she had received a concerning text from the Rev. Janine Howard, superintendent of the Danville District, which got six inches of rain.
"I'm on the northern neck (of the Dan River) with no power," Howard's report went. "Lots of damage around here. Trees down. Massive power outages."
Lewis said she had received updates from several superintendents and the Danville District appeared to be the worst hit.
The Alabama-West Florida Conference, which encompasses much of the hard-hit panhandle, reports that at least six of its churches and a parsonage sustained damage. The storm destroyed the home of the Rev. Doug Pennington, Marianna-Panama City District superintendent. However, the conference still hasn't heard from many congregations. Because cell phone towers are down, a number of pastors have not been in contact with the conference.
The eastern side of Panama City extending to Port St. Joe appears to have received the worst devastation. To the west, a number of churches got through relatively unscathed and stood ready to help.
Good News United Methodist Church in Santa Rosa Beach, Florida, has volunteered to serve as a staging area for the distribution of kits and other needed equipment.
The day after Michael made landfall, the church was back in business. A group of women were in the church kitchen baking casseroles for an Oct. 28 fundraiser for women's activities.
"The power was on, and we were all home with nothing to do, so we came here," said Linda Huston, one of the bakers.
Crosspoint Church, a four-campus United Methodist congregation in and around Niceville, Florida, also came through without damage. The congregation plans to deliver to Good News church bottled water, nonperishable food and notes of encouragement, said the Rev. Tyler Fuller, Crosspoint's missions pastor.
Ahead of the storm, many people along the Gulf Coast had evacuated, and some of them experienced United Methodist hospitality.
Park Avenue United Methodist Church in Valdosta, Georgia, was among the churches in the South Georgia Conference that served as a shelter as Michael pounded across the state.
"I think it's really important as a church to be open to your community and to serve," said Ann Rickart, a volunteer at Crosspoint Church, a four-campus United Methodist congregation in and around Niceville, Florida. She volunteered at the church shelter with her daughter, Sadie.
"That's really what we're here for, to be the hands and feet of Christ. So I think it's really important that we as members of this community and members of this church open the doors to those who need help."
The South Georgia Conference is dealing with massive damage after Michael destroyed buildings and decimated crops. Hundreds of thousands are without power, and several counties are in a utility crisis, without power or water. Bishop Lawson Bryan and other conference leaders are assessing the damage.
In the neighboring Florida Conference disaster response coordinator, Pam Garrison was planning for the long haul. The conference, which is still dealing with the aftermath of last year's Hurricane Irma, now must deal with damage in the region around Tallahassee.
At this point, she said, first responders in the state are expecting search and rescue to take one to two weeks, which means it could take that long before United Methodist teams can come in.
"We're going to be listening to what's needed and standing by for when it's time to go in," she said. "Besides the trees being down, making roads impassable when the waters recede, there's no telling what shape those roads will be in. We've got to stay out of the way right now."
In the coming months, she expects the need to be especially great in and around Apalachiola, which is largely flooded and still recovering from a wildfire a few months ago. Many of the people in that community are oyster fishermen struggling to make a living.
South Carolina, still dealing with both the ravages of this year's Hurricane Florence and 2016's Hurricane Matthew, is again getting drenched by a dangerous storm.
"Those that were affected before have been affected again," said Bishop L. Jonathan Holston of the South Carolina Conference. "We're praying for our friends in Florida."
Early response teams in various conferences, including North Georgia, stand ready to give aid when invited.
"We're in a unique position to serve because we have minimal damage and debris in our own conference, while there are neighbors in need all around us in Alabama, Florida, South Georgia, South Carolina and North Carolina," said Sybil Davidson, North Georgia Conference communicator.
Fuller, the Crosspoint's missions pastor, urged fellow United Methodists to remain fervent about helping even after Michael no longer is in the headlines. The native Floridian is a veteran of multiple hurricanes.
"People tend to feel very, very deeply in the first few days after a hurricane," he said. "But the work continues for weeks and months. I wouldn't discourage people from acting on their gut right now, but I would encourage them to pull the thread over the long term to see what God is doing."
Hahn and Patterson are Nashville-based reporters for United Methodist News Service. Sam Hodges contributed to this report. Contact them at (615) 742-5470 or .