UMs respond in wake of Ellicott City flooding
Posted by Erik Alsgaard on
By Erik Alsgaard
UMConnection Staff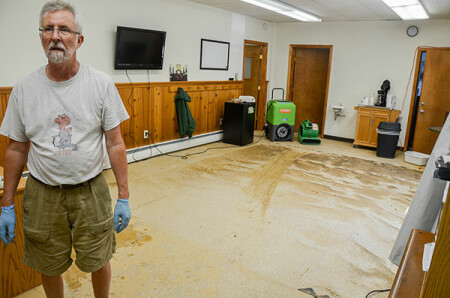 Richard Blood, a trustee at Emory UMC in Ellicott City, stands in the church's Education Building Aug. 1 as they work to clean up from the flash flood of Saturday, July 30. Photo by Alison Burdett.
Natural disasters have been in the headlines throughout the summer, with recent flooding in Louisiana and, closer to home, Ellicott City, causing loss of life and millions of dollars' worth of damage. Through it all, United Methodists have responded and will continue to respond to the community's needs.
A devastating flash flood hit Ellicott City July 30, causing two deaths and destroying several businesses and homes. The Baltimore-Washington Conference has two churches in Ellicott City: Emory UMC and Mt. Zion UMC. Neither church sustained damage, but the Education Building at Emory had raw sewage back-up into their building. Because of road closures, neither church was able to hold worship services July 31.
At Mt. Zion, members were allowed back in the church building in late August and they held their first worship service since the flood on Aug. 28.
At Emory, restoration and clean-up at the Education Building is "almost done," said the church's pastor, Sam Moore, on Aug. 30.
The church is also serving as a storage space for a local business, Great Panes, which sustained major damage in the flood. The business made stained glass windows for several churches in town, and what glass that was salvageable is being stored at Emory.
Moore told a local TV station the fact that some pieces remain untouched is a gift. "I think you see God in these little miracles, and I think you see God in the helping hands of the community people so willing to help," he said to Fox45.
Emory has also sent volunteers to help clean up in the West End of the city, Moore said. "Mostly, they are looking for experienced volunteers with hazmat training, so that lets out a lot of willing if not qualified help," he said.
An Ecumenical Prayer service was held at Emory Aug. 4. About 100 people attended the service which included moments of silent prayer and two lit candles in memory of those who lost their lives. Several local TV stations reported on the service.
"This church has been in Ellicott City for 179 years," Moore said about Emory UMC during his sermon. "We'll be here, God willing, for the long haul. We know that this is a long path to recovery, but we're committed to helping to restore the community."
As prayers were lifted up in the congregation for all those who suffered loss, were facing anxiety about the future or who were simply grieving over the flood, Moore also offered a prayer of thanksgiving for the out-pouring of love and community that was being seen in Ellicott City.
"In the midst of darkness, we thank you for the light," he prayed.
Moore also offered a unique rendition of the hymn "Amazing Grace," playing it to the tune of "The House of the Rising Sun." A short video of his playing the guitar and singing was seen by more than 1,300 people on the BWC's Facebook page.
Pastor Wilhelmina Street of Mt. Zion UMC.
Members at Mt. Zion UMC were unable to worship at their church because the road leading to it was not passable. Unwilling to cancel worship, Pastor Wilhelmina Street secured a space at the Ellicott City Health and Rehabilitation Nursing Center on nearby Ridge Road. The church had been ministering to residents there for years, Street said.
"We were happy to be able to help Mt. Zion," said Stephanie Malloy, Director of Activities at the Nursing Center. "They have come here several years to minister to us. Now we can give back. Plus, the residents were thrilled to have a real Sunday morning church experience."
The first service was held at the center on Aug. 7, with church members bringing all the needed supplies for worship. Weekly, a keyboard, speaker system, and chairs loaned by Emory UMC were packed into cars.
On Aug. 28, Mt. Zion UMC returned to their church at 8565 Main Street in Ellicott City. They are planning a celebration event, "There's No Place Like Home" in the upcoming weeks.
After the flooding, the Rev. Doug Fox, a retired Elder serving at Gary Memorial UMC in Ellicott City, contacted St. Luke's AME. Gary Memorial's village of Daniels was completely destroyed in 1972 by Hurricane Agnes. The Patapsco Valley State Park took over the 200 acres that was Daniels, Fox said, and the church is the only civic building left from Daniels.
"We are also the next church 'up river' from Ellicott City," he said. "We are very empathetic to what happened in the flood. I have members who grew up in Daniels."
Since Aug. 14 St. Luke's and Gary Memorial have been worshiping together at Gary Memorial.
"We had initially thought we'd only worship together on Aug. 14," Fox said. "They were planning on using our building for a 1 p.m. Sunday service, but after the service we decided to continue worshiping together 'indefinitely,' while they assess the possibility of returning to their building."
Gary Memorial worships about 40 each Sunday, Fox said, and has been discussing a church growth family ministry initiative.
"We have met with our district superintendent, the Rev. JW Park, and with conference staff," Fox said. "God heard our desire to grow and we doubled our church!"

To donate money to help with flood relief efforts, visit the United Methodist Committee on Relief (UMCOR) website at www.umcor.org.