UMs build life-changing gift of Africa University
Posted by Erik Alsgaard on
By Erik Alsgaard
UMConnection Staff
Normally, a reporter such as myself is required to be objective, impartial, as unbiased as possible and simply report the facts of the story.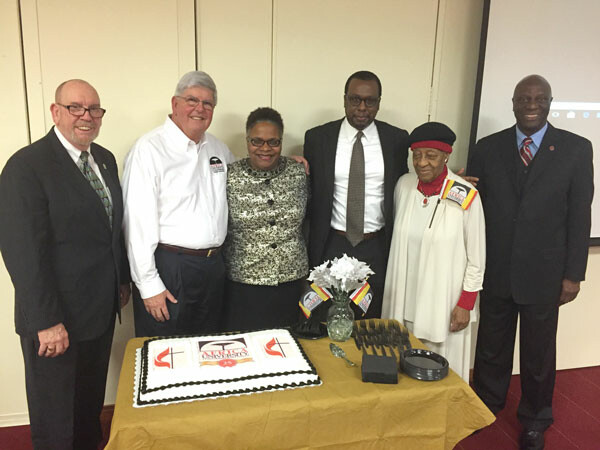 Present at the 25th anniversary celebration were, left to right: The Rev. Lloyd Rollins, Charlie Moore, Bishop LaTrelle Easterling, the Rev. Marion Easterling, the Rev. Irene Pierce, and James Salley. Rollins noted that the Campaign for Africa University has already raised more than $35 million.
In this case, I can't.
I want to tell you about the recent celebration at the Baltimore-Washington Conference Mission Center to mark the 25th anniversary of Africa University, but I also want to testify as to why this is significant. When it comes to this United Methodist institution, I can't be unbiased. I have an opinion, and I want to share it.
In 1988, the General Conference of The United Methodist Church created Africa University near Mutare, Zimbabwe. It was chartered by then Zimbabwe president Robert Mugabe in 1992, and 40 students from six countries began their studies.
From that humble beginning to today, more than 7,000 students have graduated from Africa University. The student body today is from no fewer than 32 countries.
James Salley, Associate Vice Chancellor for Institutional Advancement at Africa University, spoke at the celebration on Dec. 8. He said that the BWC was the first conference in the Northeast Jurisdiction to invest in the Africa University (apportionment) Fund at the 100 percent level. He couldn't thank the conference enough, he said. "We are in your DNA," he said.
"This annual conference is a cornerstone of Africa University," said the Rev. Lloyd Rollins, who works in the Campaign Office of Africa University, housed in the BWC Mission Center. He said that the current $50 million Campaign for Africa University has already raised more than $35 million in cash and pledges. The four-year campaign began in September 2016 and will double the school's endowment fund.
"You are investing in the life-changing activities of people," Salley said. "Before I sit down tonight, I hope you will understand how important that is."
I can tell you how important it is.
After years of writing and reading and sharing the story of Africa University, I had the privilege to visit the school in 2015. The trip was life-changing.
I have seen poverty and homelessness in our urban and rural communities, but nothing like what I saw in Zimbabwe. I have witnessed and written about generous people many times, both in terms of material things and spiritual gifts, but I had never experienced the true meaning of that until I was in Zimbabwe. I have seen joy spread across a person's face and seen their eyes well up with tears, but I've never felt the power of that joy like I did in Zimbabwe.
Into that world, we, The United Methodist Church, plopped down a school and called it, with great audacity, Africa University. We had the vision to bring people from all across that great continent to learn and study and live together, even though, in some places in Africa, that might be frowned on… and might even be dangerous. We had the vision to create leaders in agriculture, theology, education, and (would you believe it?) peace, leadership and governance.
That last bit is an educational program that African University started 10 years ago, according to Salley, and it is a shining example of the difference the school is making. The school's Institute of Peace, Leadership and Governance took their program to every school of higher education in Zimbabwe, and today, Salley said, those schools either have a department of Peace, Leadership and Governance, or teach courses in that area.
Late last year, President Mugabe was replaced as president of Zimbabwe. In a remarkable series of events, the transition of power happened without bloodshed. When that happened, Salley said, it was notable that many of the leaders who now have Cabinet positions in the new government had received education in this area.
"How do you change a country?" Salley asked. "You do it one day at a time by educating its people."
That's what Africa University is doing. We can and ought to be proud as a denomination of the difference we are making in and through Africa U.