Trinity Brass to play for General Conference
Posted by Erik Alsgaard on
By Erik Alsgaard
UMConnection Staff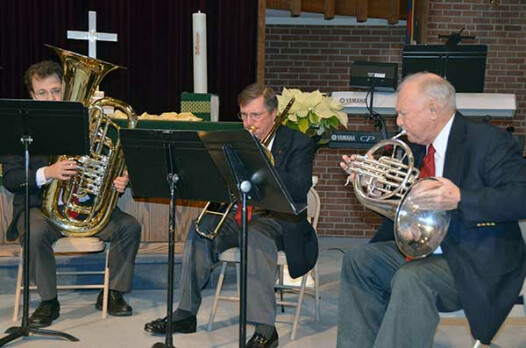 Three of the five members of Trinity Brass (l-r): Anthony Makusky, Matthew Stegle, Hal Grau.
There are many doors through which a person may enter a church. At Trinity UMC in Frederick, one of those doors has been a long-standing brass ensemble that plays at worship once a month.
Created in 1990, the Trinity Brass features the usual arrangement of a brass quintet: two trumpets, a French horn, trombone and tuba. After playing in dozens of venues from Annual Conferences to nursing homes, Trinity Brass is about to add one more feather to its cap: performing at General Conference.
The group formed after several players were asked to accompany hymns for a Christmas service, said Hal Grau, who plays the French horn.
"I knew there were several brass players in the congregation," Grau said, "so I asked them to come in and play. Most of us hadn't picked up an instrument since high school."
Grau, at the time, was a school teacher and he was able to borrow some music. They were on their way.
After playing Christmas services for two years, the group thought they could expand and play during other worship services, Grau said.
None of the group is a professional musician. Grau is a retired school teacher, Matt Stegle (trombone) is recently retired from an insurance company, Clint Wright (trumpet) is a senior manager in a corporate accounting department, Anthony Makusky (tuba) is a college student, and Mike Boyd (trumpet), one of the original members of the group, is a Program Manager for Business and Workforce Development, Hagerstown Community College.
Stegle had the idea several months ago that perhaps the group could play at General Conference in May. General Conference is held every four years and is the highest legislative body in the denomination.
"I happened to be looking at a United Methodist website, and there was a press release saying that the director of worship for the 2016 General Conference was looking for musical groups to participate," Stegle said. The release outlined audition procedures along with other information.
Stegle talked with the group and they all said it would be worth a shot, he said.
The group put together a video of themselves playing "Jesus Loves Me," submitted it on YouTube, and waited.
In early 2015, Stegle said, they learned that they had been selected to perform. They know now that they will be playing on Friday, May 13, during the morning worship service and also during a lunch break in the Exhibition Hall. The group will fly out to Portland, Ore., on May 11. Total cost of the trip is expected to be between $5,000 and $6,000.
One of the questions facing Anthony Makusky is how, or if, to ship his tuba. A member of the group for five years and a student at Shepherd University, he doesn't trust the airlines with something as big and as costly as his $6,000 instrument. He may end up borrowing a tuba in Portland.
Clint Wright, one of the trumpeters, says that it is a big honor for the group to go to General Conference. "It's a large group of people to play for," he said. "I hope we'll do our best."
Wright has been a member of the group for more than 20 years, about the same length of time he's been going to church at Trinity.
One of the reasons Stegle is a member of the church is because of the brass ensemble. "I learned about the brass group and I hadn't played in many, many years," he said. "This was a hook for me."
The mixture of younger and older players has been intentional and wonderful, said Grau, noting that two of his own children played in the group over the years. "It's been a good program as far as us being able to share music with our kids," he said.
"Over the years, we've had the opportunities to play in several different venues both outside and inside the church," said Stegle. "For some of those performances, we've received donations. Over the years, we've put aside money."
Last year, at the church's annual talent show, all of the proceeds went to the Trinity Brass to help them pay for the trip. The March 2016 talent show is expected to do the same, Stegle said. "We're very appreciative of all their donations," he said.
The group is fundraising, Stegle said, and available to perform in a concert setting at churches in the Baltimore-Washington Conference. Funds raised, either through direct donation or through a free-will offering, will be used to help finance the group's expenses associated with its performance at General Conference. You can contact Stegle through Trinity UMC (Frederick) at 301-662-2895, or .
"It's going to be very exciting," said Grau. "We've played at Annual Conferences in Baltimore and in Washington, so we've done some big events before, but nothing like this."