By Rev. Charles Harrell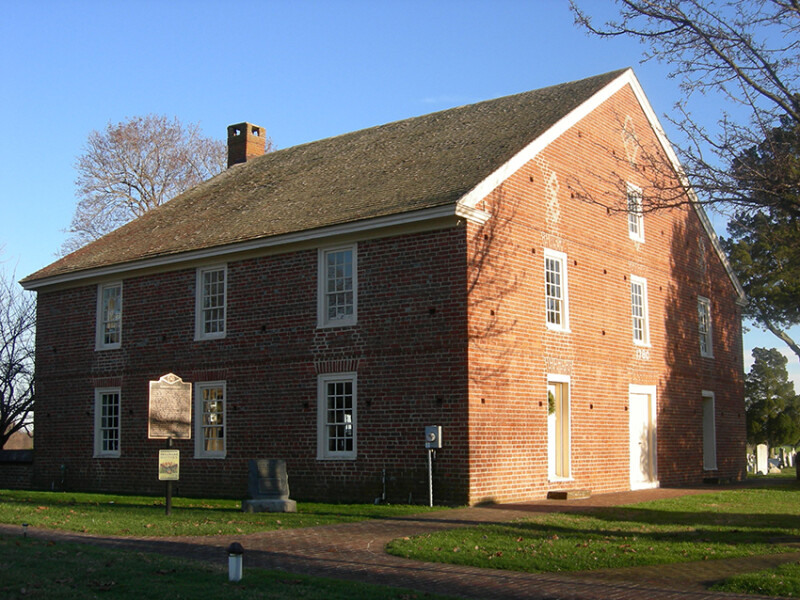 The plainness of this small, colonial-style chapel, set on a rise just east of Highway 1 near Frederica, belies its grander significance. If Lovely Lane in Baltimore is the "Mother Church of American Methodism", here is where "Mom" got her first date with destiny. For it was from this brick meeting house that Rev. Freeborn Garrettson "rode out in all directions," following his instructions to find all the Methodist preachers on the eastern seaboard – some of them in hiding since the Revolutionary War – and to call them to a special Christmas Conference in Baltimore. The rest, as we say, is history.
Barratt's Chapel, less than 90 minutes' drive from Annapolis (Bay Bridge traffic cooperating), is the oldest purpose-built Methodist structure in America. Preserved today in its condition from a remodeling in the 1840s, its campus also boasts a small but excellent museum with exhibits on the Chapel and on Delmarva Methodism, which also houses the Archives of the Peninsula-Delaware Conference, as well as a 3,000-volume historical library. The chapel's property sits adjacent to the sprawling Barratt's Chapel Cemetery, managed today by a separate corporation. Almost never a parish church in its long history, Barratt's still hosts special services, including Christmas Eve each December and Thursday night gatherings in summertime.
It was in 1780 that Philip Barratt, a prominent figure in local business and politics and a recent convert to Methodism, donated the land and money to build a 500-seat facility in sight of his own house for the purpose of holding large meetings of local society members. Think a Hylton Chapel for the 18th century and you won't go wrong: nothing said "event center" in its day like the fine Flemish-bond brickwork and balconied interior, situated along what was even then the main north-south thoroughfare on the peninsula. Sadly, Mr. Barratt himself had already died by the 14th of November 1784 when, during a Quarterly Conference meeting, the Rev. Dr. Thomas Coke presided at the first (authorized) Methodist Communion in America, and the Rev. Francis Asbury entered the meeting as Dr. Coke was preaching. Visitors today can hear the story of how, armed with instructions from John Wesley himself, Asbury would guide the molding of the "connexion" into an organized church in the following months.
These were exciting, heady times, when "everybody on the peninsula could walk to a Methodist Church," according to Rev. Phil Lawton, Pen-Del Conference Historian and a friendly fount of knowledge about the Chapel, Delmarva Methodism, and local lore in general. In the museum, learn about Levi Scott, a cabinetmaker-turned-preacher who made his own violin (it's there) and became the first Delawarean bishop. See the lap desk of another preacher who, devotedly single his whole life long, cherished the love letters of would-be spouses in a secret compartment, discovered only recently.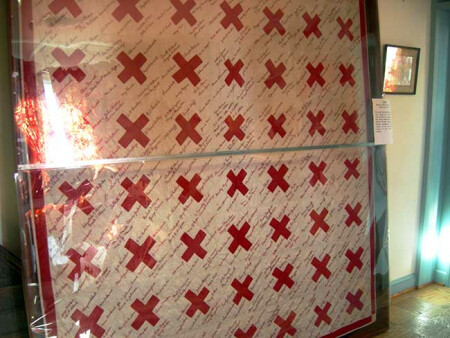 Besides such tantalizing glimpses of past lives, the social witness of earlier generations is on display, too. Visitors can learn, for example, about the important work of the Deaconess Home in Wilmington, whose members welcomed generations of immigrants who would often arrive in America without money or work and who often did not speak English. Thanks to the Deaconesses' work, many were saved from the destitute streets and offered hope. Or see the exhibit on "Wesleyan Female Collegiate Institute," a girls' finishing school forced to close after a fever outbreak in 1881. See the quilt, lovingly crafted by the Methodist Women's Society of nearby Viola in 1910. It includes the name of almost every person in the village on it, including members of a Jewish family – all were welcome!
And did you know that Delaware's resort with the Biblical name of Rehoboth Beach began as a camp-meeting ground? Learn of how church leaders tasked with picking the site chose "the land over the strand," a real estate mistake – but one that opened the way for developing today's oceanfront destination. These and many other artifacts are there for discovery. The chapel and museum are open selected hours on Wednesdays and Saturdays; groups are welcome. (Be sure to call ahead first.) The website is www.barrattschapel.org .
If you're planning to make a day of it, be sure to enjoy a meal at nearby Frederica Pizza and Pasta. The family-owned restaurant boasts great food and exceptionally friendly service. Put your order in early for one of the amazing (and huge) cream puffs: they sell out daily. If seafood is more to your liking, Meding and Son along Route 1 enjoys a good reputation with local folks. And for a weekend getaway, Frederica is about midway between Dover (north) and Milford (south), both of which sport many hotels and B&B's. Or plan to camp at nearby Killen Pond State Park, which has everything from tent sites to (year-round) cabins, plus boating, and even a water park for the whole family in warm weather. Call ahead first; non-Delaware residents should expect to pay a bit more.)
Barratt's Chapel offers a great opportunity to get more deeply in touch with our spiritual roots, and to have a great excursion in nearby Delmarva along the way. I came back more excited about Methodism's welcoming touch and its faithful witness from the early days of our country. I think you will, too.
Rev. Charles L. Harrell, Ph.D., is a retired elder in the Baltimore-Washington Conference. When not working at his day job as Director of Pastoral Care for a fabulous area retirement community or teaching in the field of history and doctrine at one of our United Methodist seminaries, he can often be found poking around sites of historical or cultural interest. His not-so-hidden agenda is to incite or fan a similar flame of appreciation for our heritage in faith and its gifts and promise for blessing now and tomorrow.