To fight racism, 3 DC churches reckon with past
Posted by Heather Hahn on
Foundry United Methodist Church has gained renown as a place where U.S. leaders, including Congress members and presidents, come to worship.

However, the prominent Washington congregation has another side to its 205-year history — a source not of reminiscence but of repentance.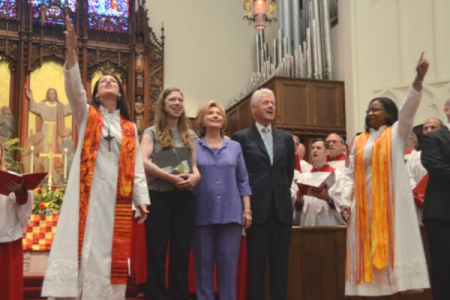 In the 19th century, Foundry's sin of white supremacy drove out African American churchgoers. The racial discrimination ultimately led two congregations — Asbury United Methodist Church and John Wesley African Methodist Episcopal Zion Church — to strike out on their own.

But just as the Bible does not end with the first chapters of Genesis, human sin is not the end of this story.

In the past year, members of all three churches have been getting together each month to learn about each other's congregations and discuss ways to undo the impact of racism.

"As three congregations, we are not only trying to renew our relationships but reimagine ministry together," said the Rev. Ianther Mills, Asbury's senior pastor. "In some ways, we hope to be a model for other churches — and the world — in crossing the divide of race."
Members of all three congregations plan to attend Foundry's inaugural William Astor and Vivian T. Kirk Symposium at 7 p.m. EDT Oct. 17, which will feature Ibram X. Kendi discussing his new book "How to Be an Antiracist." Kendi is director of the Antiracist Research and Policy Center at United Methodist-related American University.

But getting to this point took understanding how three churches with a shared Wesleyan heritage split apart in the first place.

"Most of our congregation at Foundry had no idea of the history because white congregations tend to be more transient and their privilege allows them to ignore that part of history," said the Rev. Will Ed Green, Foundry associate pastor and director of discipleship. He is the convener of the tri-congregational group.

When Foundry Methodist Episcopal Church organized in 1814, the congregation was almost evenly split between white and African American churchgoers.

While both freemen and slaves were welcome, they were not treated as equals with whites. These early African American members were barred from participating in church governance, serving as ushers and even singing in the choir. During worship, they were restricted to the church balcony and compelled to take communion separately.

Matters came to a head with the "Snow Riot" of 1835, when a white mob attacked free blacks in the nation's capital and destroyed their establishments — including a schoolhouse where Foundry's black members held religious classes.

A year later, with strong encouragement from Foundry's board, African Americans started their own congregation on separate property — what was then Asbury Methodist Episcopal Church. However, the new Asbury congregation remained under the control of Foundry's white leaders. That fact led some Asbury members to withdraw in the late 1840s and form what became John Wesley AME Zion Church.

Just blocks from each other, the three churches grew worlds apart.

Foundry remained an exclusively white congregation for the next 100 years. The church received its first black members, Norman and Frances Prince, into full membership in 1965.

In subsequent decades, Foundry and Asbury slowly began to heal their relationship, starting with pulpit exchanges. Discussions between the two congregations eventually led in 2002, to a Service of Repentance by Foundry followed weeks later by a Service of Reconciliation by Asbury.

Ralph Williams, the first African American
lay leader at Foundry UMC, initiated the
current talks among three churches that
divided in the early 19th century because
of Foundry's racial discrimination. Photo
by Phil Carney, Foundry UMC.
Ralph Williams, who was Foundry's first African American lay leader, made sure that Foundry's bicentennial did not ignore the church's past injustices and that Asbury was part of the anniversary commemoration.

Still, he said, John Wesley AME Zion "remained on my mind as unfinished business."

He took the initiative in forging a new connection. He visited the church and invited the congregation to a series of classes that Foundry was planning on Howard Thurman, the theologian who provided the spiritual foundation for the U.S. civil rights movement.

The three-part Howard Thurman series ended up also including Asbury and took place at each church. But the congregations decided they did not want to stop with a few classes.

"The sense was: 'That was great. Now, how are we going to move forward?'" said Kumea Shorter-Gooden, a John Wesley AME Zion member. "It was planned as one event, but the success of it meant we really needed to be coming together to continue this work with each other, this learning from each other and this mutual growth around racial equity and justice."

That's when Shorter-Gooden and other church members started the monthly get-togethers.

Typically, about 10 people get together, three or four leaders from each congregation. The meetings move among the churches.

The group doesn't have a formal name, but it does have a mission to work toward becoming the beloved community modeled by Jesus.

While that ideal is still a work in progress, the churches' relationships have already borne fruit.

The Rev. Christopher L. Zacharias, John Wesley AME Zion's senior pastor, said the churches have supported each other's outreach ministries. The three churches all now participate in pulpit exchanges. In August, Zacharias preached at Foundry — the first John Wesley pastor to ever do so.
Members of Asbury and Foundry United Methodist churches as well as John Wesley AME Zion Church
join together for a class on the legacy of Howard Thurman, theologian and civil rights pioneer.
Standing is the Rev. Will Ed Green, who now convenes conversations among the three churches.
Photo by Phil Carney, Foundry United Methodist Church.
The churches also are looking for ways to collaborate more in the future in addressing local challenges — especially homelessness and the gentrification that too often makes housing unaffordable for African American families who call Washington home.

Leaders of the three churches acknowledge that the capital's gentrification has helped draw more people to Foundry while presenting a challenge to Asbury and John Wesley, who've seen their neighborhoods change dramatically. Still, they see hope for tackling the issue together.

Carol Travis, an Asbury member, said the once-estranged congregations now cheerfully acknowledge their family roots.

"We call each other cousins," she said.

Travis, who is also executive assistant for the African American Methodist Heritage Center, sees lessons for the broader United Methodist Church as it deals with its own strained relationships.

"We judge people from afar but when you actually sit down side by side over a cup of coffee or just sit seeing each other face to face, you get to see people's joys and concerns and sincere wishes to be fully involved in the church," she said.

"I know if more of us sat down face to face and actually spoke with each other, we'd be so much further along."
The Rev. Ginger Gaines-Cirelli, Foundry's senior pastor, said the work she witnesses at the group's meetings is profound.
"I really believe God is calling The United Methodist Church to acknowledge the historic inequities and injustices that have been part of our structures and do some work on that," she said. "I feel that we have this opportunity to do at the micro-level what God is calling us to do at the macro-level."

Williams, the Foundry member, said forging better relations can come with awkward moments. But he is convinced his congregation is heading in the right direction.

"You can't let the fact you get something wrong or you don't say the right thing stop you," he said. "What I am sold on is that the congregation is in fact moving very much in an anti-racist direction, and it's doing it not by mistake but very deliberately."

This article first appeared in United Methodist News Service's Daily Digest. Heather Hahn is a multimedia news reporter for UM News. Contact her at (615) 742-5470 or . To read more United Methodist news, subscribe to the free Daily or Weekly Digests.