Schlieckert named Annapolis DS
Posted by on
By Melissa Lauber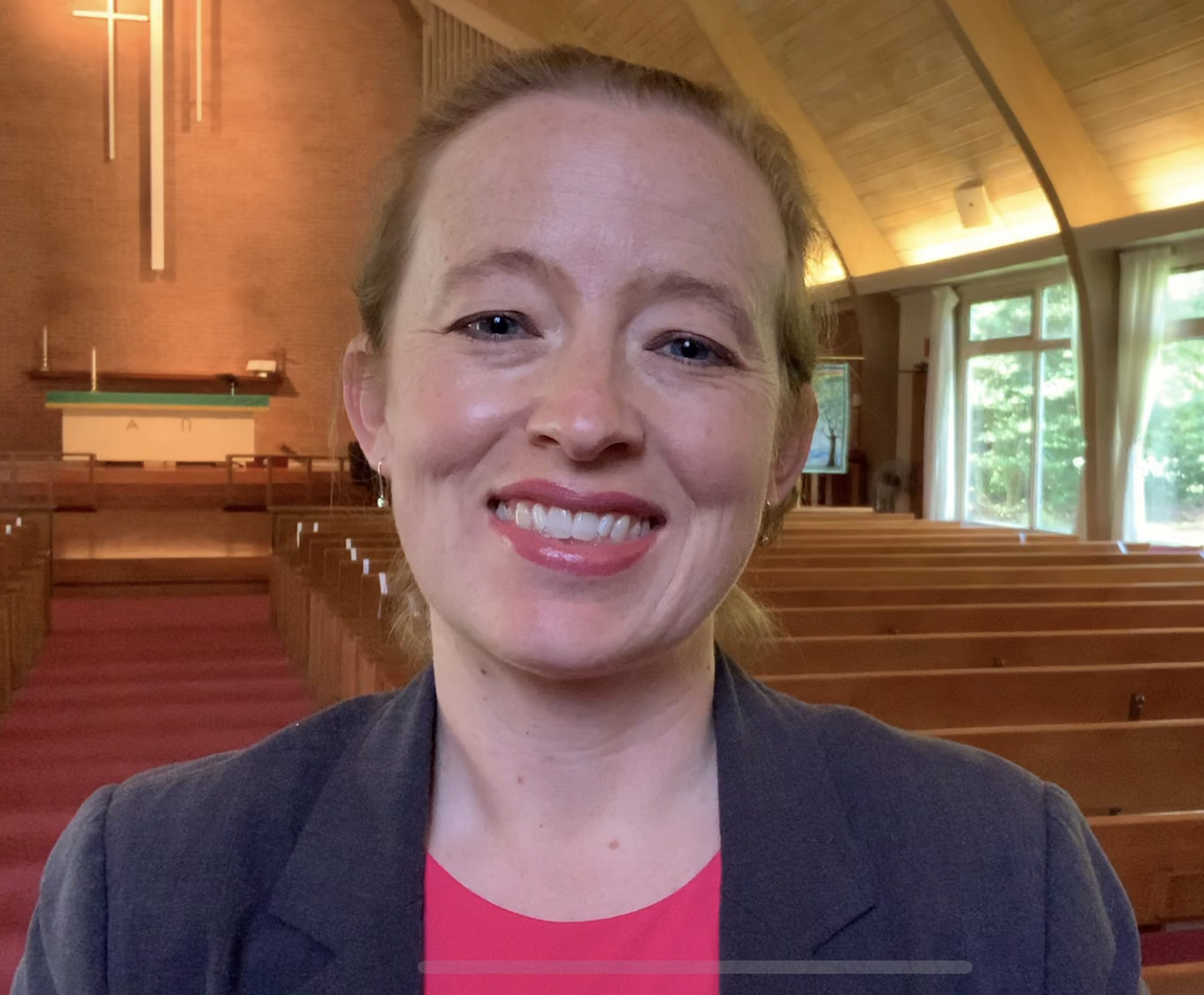 In 1921, the Rev. Elmer Ross Andrews received his quarterly conference license to preach in the Evangelical United Brethren Church. A century later, his great-granddaughter, the Rev. Sarah Schlieckert is being appointed to serve as the superintendent of the Annapolis District.
Faith and leadership run deep in Schlieckert's blood. She is a fourth-generation pastor – following the Revs. Elmer, David, and Rick Andrews. Her grandfather, David, was the first superintendent of the Frederick District.
But Bishop LaTrelle Easterling appointed Schlieckert to serve the Annapolis District because of her own unique gifts and leadership abilities.
"The uncertainty of the times ahead requires leaders who are certain of their commitment and grounding. Rev. Schlieckert has demonstrated her profound love of God and God's people through her own deep discipleship, her ability to lead across differences, and by welcoming all without reservation," Bishop Easterling said.
"Sarah has earned the respect of her colleagues who have elected her to serve as a delegate to two general and jurisdictional conferences, to lead a district committee on ministry, and to serve on the Board of Ordained Ministry. Her gifts have continually made room for her," said the bishop.
Schlieckert imagines her pastoral ancestors would remind her to stay as healthy as she can so that she can serve people well, to remember her calling to ministry, and to embrace the practical knowledge that "the church is a place where you will see brokenness—it's not immune from that. But it is also a place where we get to live into and live out God's grace, love and mercy together."
As a "pastor's kid," she learned that the church is a place of "challenges and blessings," and her parents also put certain literal and figurative boundaries around her and her siblings so that they didn't feel like they had to fit into anyone else's mold.
From her family, but also from clergy and lay mentors along the way, she has grown into a pastor known and admired for her authenticity. It's one of the words her husband, Chris, who is Conference Director of Retreat and Camping Ministries, uses to describe her.
"I've seen the danger of trying to live two lives," Sarah Schlieckert said. "It is exhausting to try to be one way in the ministry and a different way personally," she said. "I really don't have the energy or the time to devote to trying to maintain different versions of me."
Presently, this version of her is intently focused on healing and wholeness.
"I value healthy relationships," she said. "I value physical health and mental, emotional, and spiritual health. Striving for health in all those kinds of ways requires a constant commitment."
That word "striving" is an important one for Schlieckert.
"I hate being stagnant. I hate being stuck," she said. Over the years she's learned to strive to identify and find that healthier place and to work toward it. "For me," she said, "life is about constant change and development."
She brings this same sense of commitment to her work. Being strategic, proactive, and having a plan are hallmarks of her leadership. She is also dedicated to helping the local church, district, and denomination preserve what is best, divest from ineffective bureaucracies when they get in the way of ministry, and promote health and wholeness for clergy, laity, and churches.
Being a mother to Anna, 10, and Mary, 7, is a central part of Schlieckert's life. Since they were infants, the girls attended church meetings and worship services -- from napping in her arms at General Conference to occasionally reading a Scripture passage during worship -- living their faith is part of family life. Crafting a church for her daughters to thrive in motivates Schlieckert.
"I am going to do everything I can so that they can grow into what God has created them to be. I want my children to grow to be disciples of Jesus Christ, and I want them to be excited that they are. And so, I feel the responsibility – as a mom, and as a pastor, and now as a district superintendent – not only for my children but for all kids growing up in our churches, that they can be proud followers of Jesus Christ."
Bishop Easterling said she is excited to have Schlieckert's unique and confident voice in Conference leadership.
"I am committed to including younger voices in leadership. The church professes to want the ideas, creativity, and vision of our younger members but does not always give them a seat at the table. Sarah's presence at the Cabinet table actuates that profession," Easterling said.
Currently, Schlieckert is using that voice to pray for individuals, churches, and the denomination, that they know healing and wholeness.
"That is a more faithful desire than to name or try to lay out the tangible path of what should be," Schlieckert said.
She also prays one of her father's favorite prayers by Thomas Merton, which one of her clergywomen colleagues framed for her. It hangs in her hallway and begins with, "my Lord God I have no idea where I'm going I don't see the road ahead of me and I cannot know for certain where it will end."
The prayer goes on, Schlieckert said, with the idea that we must go to God with humility. It says, in part: "The fact that I think that I am following your will does not mean that I am actually doing so. But I believe that the desire to please you does in fact please you. And I hope I have that desire in all that I am doing."
Schlieckert will be following the Rev. Rebecca Iannicelli as superintendent of the Annapolis District. Her appointment begins July 1.