One of the highlights of a "normal" ROCK youth retreat is a time set aside for "Dish with the Bish," a kind of "ask me anything" forum that always delights, informs, and provides insights into how young people's lives are impacted by society today.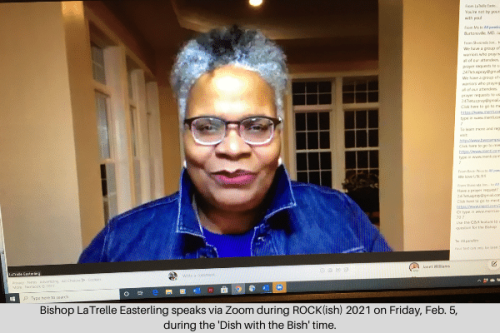 This year's ROCK, of course, was anything but normal. Due to the pandemic, ROCK was not held in person in Ocean City, Md. Instead, like so much else in the past 11 months, it went virtual. More than 1,000 people tuned in to ROCK(ish) 2021 via Zoom Feb. 5 which featured a 30-minute session with Bishop LaTrelle Easterling answering questions.
One of the first questions to the bishop was, "How have you coped with COVID-19?"
Bishop Easterling said that some of the good things about the pandemic have been being able to spend more time with her family, spending lots of time in prayer, and catching up on her reading and writing. However, she knows that these past months have been tough.
"What I have said to clergy, what I have said to my staff, what I say to myself every day, is 'it's okay to say, we're not okay,'" she said. "It's okay to tell the truth about what we're feeling. God is big enough – God's shoulders are big enough – God's heart is loving enough to hear our truth."
The bishop said that, yes, it has been hard, but it's also been a time of strengthening her faith.
"No matter what," she said, "God is with us," enunciating those last words clearly for emphasis.
One of the ways that Bishop Easterling knows we'll get through the pandemic is because people of faith have made it before.
"It may not have been with COVID-19," the bishop said, "it may not have been this exact nature, but we've come through difficulty before. Knowing that those who have gone before us made it, that, yes, 'weeping may endure for a night' and the night may seem really, really long, but 'joy does come in the morning;' the sun will rise – s.u.n. – because the Son – S.o.n. – is always with us."
One person asked the bishop when she thought things would return to normal in the church and in society. The bishop was clear that she expects a "new normal" to emerge, one that is better than the "old normal."
"If we're really honest, 'normal' wasn't really that 'normal,' anyway," said Bishop Easterling. "We're never going to go back. But as we move forward, they'll be some things that will change in our lives, things that, because of new ways of being together, new ways of experiencing church, new ways of connecting with each other – I pray we take some of those things out of this 'COVID cave' when we've come out.
"And I hope we're better," the bishop continued. "I hope we've missed one another so much that when we see one another, we stop judging each other by our skin color, stop judging each other by our weight, stop judging each other by our language, stop judging each other by our able-ism – I hope we've missed each other so much that all we're able to do is love one another."
Another person asked Bishop Easterling what she considered to be an "amazing" question: how teenagers can serve in the church right now.
"Because so much worship is happening virtually," she said, "because our homes have become production studios, what an awesome time for everyone to play a greater role in our services."
Bishop Easterling noted that she's told her pastors and worship leaders throughout the Baltimore-Washington Conference not to shoot for perfect production qualities, "you know, Broadway-style productions," she said. "I pray that with all the fits and starts, the kinks and problems that one runs into, that we let everyone have an opportunity to be a part of worship. It doesn't have to be perfect. All it has to be is Spirit-filled."
On a more personal note, someone asked the bishop what to do if they don't feel comfortable in their own bodies. The bishop's advice: No one is perfect; stop comparing yourself to others; and avoid negative self-talk.
"Beloved, I am on this journey with you," Bishop Easterling said. "Let me tell you something: I can get 25 letters that say, 'bishop, you did that thing; that was wonderful,' and I can get one (letter) that says, 'umm, I didn't like that.' I have to pull myself away from the one and center myself back in something positive. I'm not telling you something I don't know; I'm telling you what I do know."
Other topics included whether pineapple belongs on pizza ("don't ruin my pizza with pineapple," she said, "give me sausage, pepperoni, and extra cheese"); if she still likes Tom Brady, who used to play quarterback for the New England Patriots (the bishop is an avid fan of this team) but who now plays for the Tampa Bay Buccaneers and who were playing in the Super Bowl ("I'm mad at him, but you know what? I've had to forgive him; say that he had the right to do with his career what he wanted"); and that her life Scripture is Jeremiah 12:5 ("If you have raced with people and are worn out, how will you compete with horses? If you fall down in an open field, how will you survive in the forest along the Jordan?").
The bishop closed her time with ROCK(ish) by answering the question, "what is one thing you know now that you wish you knew as a youth?"
"To know that better was coming; I wish I had more of that confidence back then," she said, "and had been better able to just breathe and be comfortable with myself, where I was, what I was doing, trusting in the future that God had planned for me."
On Saturday, Feb. 6, multiple workshops offered participants opportunities to learn about and discuss racism, human rights, mental health, life after high school, and faith in the time of COVID. Links to these Zoom recordings will be posted on the BWC's ROCK webpage.