ROCK
mark your calendars:
Feb 7-9, 2020
Take heart! I have overcome the world.
John 16:33
To help plan, please come to ROCK meetings. Schedule available by clicking TEAM on the right-hand side. ALL ARE WELCOME!
ROCK is a powerful and fun-filled weekend in Ocean City, MD. The event allows youth and adults to take a step back from their busy lives and learn about the amazing love of Jesus Christ. It is an awesome experience for folks to more fully connect with God and their friends while listening to great bands and speakers. You will leave ROCK renewed and ready to spread the word about God's great love for us.
ROCK is designed as a retreat with a focus on presenting the Gospel message in an exciting, culturally appropriate way for young people (and now adults, too) to be exposed to and have an opportunity to respond to an invitation to a life-changing relationship with Jesus Christ.
Nominate a Young Person for the Moral Courage Award
(Nominations open September 1 - December 16)
---
ROCK 2019 OFFERING
The ROCK 2019 offering raised $11,697.76 for Retreat & Camping Ministry camperships so all can experience the blessings of camp. If you are interested in donating or applying for a campership, learn more.
Sometimes we all need someone to talk with. We hope you are able to share with your parents, teachers, youth leaders or pastors. But if you don't feel you can share with them, the ROCK Cares team is here to listen to you. There are members of the ROCK Cares team in the prayer room throughout the weekend or look for someone with the ROCK Cares button on. They are here to listen to you and pray with you. You don't need to be alone. ROCK Cares for you!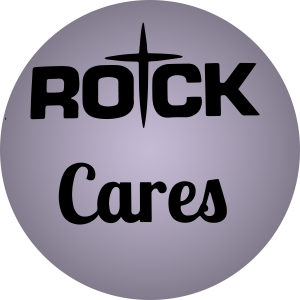 ---
Videos from ROCK 2019
Saturday morning's message
Mass Choir
Your attendance at ROCK grants permission for ROCK/BWC Conference/Joyful Noise! LLC to reproduce your image, likeness and/or voice for publicly distributed ROCK/BWC Conference/Joyful Noise! LLC related publicity and information.