Rev. Robinson-Johnson named new Chief Administrative Officer
Posted by Melissa Lauber on

By Melissa Lauber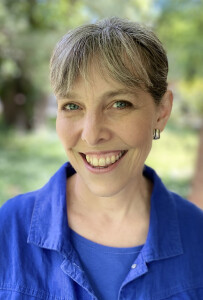 The Rev. Erica Robinson-Johnson has been appointed to serve in the newly created position of Chief Administrative Officer of the Baltimore-Washington and Peninsula-Delaware conferences.
In this new role, she will work with Bishop LaTrelle Easterling, helping to oversee the successful affiliation of the two conferences while performing many of the administrative duties of the episcopal office.
The two annual conferences will begin this new, affiliated relationship, sharing a bishop and many ministry resources, in September. Robinson-Johnson's appointment begins July 1.
Currently serving as the Director of Connectional Ministries and Assistant to the Bishop in the New England Conference, Robinson-Johnson "will bring new eyes and fresh perspectives to this critically important work," Bishop Easterling said.
"It was very important to me that I have the expertise of an objective leader in this role," she continued. "As the two conference's leadership teams began meeting over a year ago to talk about collaborative ministry, one thing became exceedingly clear – The Peninsula-Delaware Conference was concerned that they would become the stepchild in this affiliation. Rev. Robinson-Johnson is a self-differentiated, yet deeply experienced leader who shares my commitment to equity in this endeavor.
"We will be exploring and trying new things as we move into the affiliation, discovering the best possible structure to enable 100 percent of our churches to be 100 percent fruitful and effective in their ministry," the bishop said. "Rev. Robinson-Johnson is the ideal person to help lead this work. Her administrative gifts and ability to oversee complexity and growth are unparalleled."
Robinson-Johnson has served in ordained ministry for 26 years. In addition to being the Director of Connectional Ministries and assistant to Bishop Sudarshana Devadhar in the New England Conference, she has served four churches in Massachusetts and Illinois, as an adjunct professor at Garrett -Evangelical Theological Seminary in Evanston, Ill., as a chaplain at Yellowstone National Park, and in numerous leadership positions throughout the denomination.
Over the past eight years, in particular, Robinson-Johnson has developed an outstanding reputation as someone who sets high expectations and consistently meets them with excellence and grace. Combining two complex jobs, as Assistant to the Bishop and Director of Connectional Ministries, she had to consistently shape her ministry and employ her considerable supervisory and administrative skills to meet the conference's changing needs. She consistently excelled at making connections that helped people and the church grow stronger.
This work, her deep and abiding knowledge of The United Methodist Church, and her leadership ability to bring out the best in people will serve her well as she begins to implement the bishop's vision of how the two conferences can be better together – joining together in unprecedented ways for mission and ministry while maintaining separate organizational structures.
Robinson-Johnson jokes that perhaps she's a perfectionist who is determined about meeting visionary goals because her father was a football coach who excelled at motivation. On a more serious note, she reflects that a key ingredient to the success of her ministry is having strong organizational skills and being able to see and attend to both the big picture and the small details.
"The spiritual gift of administration comes naturally to me," Robinson-Johnson said. "I enjoy figuring out how to make order out of chaos, and how to take a situation that may seem like a crisis and develop some steps for us to walk out of it or use it for good. It's often about knowing where we can be nimble and where we need to fall in line."
Her strong faith and calling, which was first nurtured on a church cultural immersion experience in Cuba when she was a teenager, guide her to put those administrative gifts to work pursuing her passion "to make sure everybody knows the love of God and has a sense of belonging."
For the past several years, Robinson-Johnson has served on the Northeastern Jurisdiction's Vision Table, whose members have been considering and anticipating possible realignments and shifts in annual conference supervision and boundaries.
"We've been imagining what's possible and now that we're here in one of those imagined possibilities, I'm looking forward to being part of that equation," she said.
As churches begin to re-emerge from the isolation of the pandemic, address political uncertainties about the future of the denomination and begin to understand the potential of the affiliation between the Baltimore-Washington and Peninsula-Delaware conferences, Robinson-Johnson is prayerful that they don't end up getting stuck or paralyzed by fear.
"We can choose to embrace the church God is calling us to be," she said. "There's so much human need and there's so much potential for us to be the church. Every day, there's the need and every day there's the potential to really follow Jesus' call. … If we can continue to build the gifts God has given us, we'll be okay."
Robinson-Johnson is enthusiastic about getting to know the people in both conferences, having conversations, figuring out what the needs and resources are, and building bridges between the two conferences.
She is also excited about serving with Bishop Easterling, who she worked with when the bishop was superintendent of the Metro-Boston Hope District. "I've always admired her deep faith and unwavering commitment to standing in her own truth and her own vision of what she believes she's called to do," Robinson-Johnson said. "Her integrity is so contagious and inspiring."
Robinson-Johnson is no stranger to the Washington area. In 2019, her husband, the Rev. Doug Robinson-Johnson, was appointed to National UMC in Washington, D.C. During the pandemic, she lived much of the time in the city, setting up a home office and telecommuting to her work in New England.
She enjoys the city and also loves the green spaces she's finding in this region. "I've been just delighted to walk out the door and find the next trail and get into the woods. I enjoy just watching the different seasons, and the different flowers, and really exploring."
For now, Robinson-Johnson is looking forward to the future and all that it holds. "I'm joyful about every day. I can't think of a day I didn't want to go to work," she said. "It's my hope we will keep the faith and keep looking forward with hope. Let's work together to really be the people and the church that God imagines we can be."