reCall 3.0 explores changing narratives
Posted by Erik Alsgaard on
by Erik Alsgaard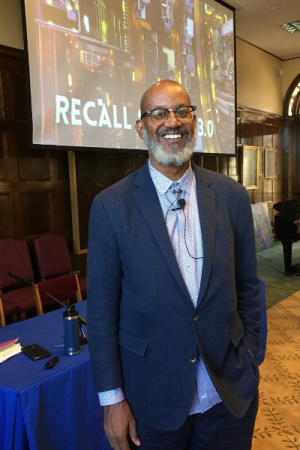 The church, said the Rev. David Anderson Hooker, is in a unique position to address the issues of privilege, power and poverty. That was the message Oct. 18 and 19 in Baltimore as he spoke at the reCall Summit 3.0.
Hooker, who once served as Assistant Attorney General in Georgia, brought razor-sharp insights over two days and four sessions at the summit, attended by about 50 people at St. Mary's Seminary.
The reCall Summit, now in its third year, is a response to the Call to Action for Racial Justice from the 2016 Northeastern Jurisdictional Conference, according to the Rev. Stacey Cole-Wilson. Lead organizer of the event, Cole-Wilson serves the BWC as Executive Minister of Justice and Service.
"I hope participants come away with a deeper commitment to follow Jesus Christ," Cole-Wilson said, "and to engage in conversations with people across various lines of difference, real and perceived."
A major goal of the summit, she said, was for people to come away with tools, resources and strategies for continuing the work of racial justice "in deeper and broader ways."
Hooker provided ample resources and tools, shared from his years of serving as a mediator, community builder, scholar and advocate. He began by looking at trauma as it relates to poverty, and vice versa.
"Trauma isn't just one event or circumstance," Hooker said. "It occurs when your capacity to respond is overwhelmed. Not all responses to trauma are negative."
After looking at six types of poverty, Hooker examined in detail the themes of absolute poverty, relative poverty, and social exclusion.
"There are only a handful of organizations, the church being one, equipped to have the capacity to deal with trauma and poverty" at every level, from individual to corporate, he said.
But the cost of changing the face of trauma and poverty, Hooker said, is expensive, not in terms of dollars (although that is needed), but in what needs to change. He listed institutional structures, theology, personal privilege, power, and prestige as examples.
On Saturday morning, Hooker spoke about power and narrative. Using John 5:1-8 and the story of the man who had waited 38 years by the pool of Bethsaida, Hooker examined some of the narratives emerging from this passage. He then asked the question, "What impedes you from being whole? What impedes our society from being whole?"
The difference between narrative and story, Hooker said, is simple. "Stories are a particular series of events. The narrative is what gives the story form."
The words "would/could/should" are elements of a narrative, he added. Changing a narrative is an invitation to make new meanings out of it.
"The idea is not to build a shared vision of the future," he said. "Our idea is to build a vision of a shared future. There's a huge difference."
Later, Hooker unpacked the "meta-narrative" of the hero's journey. This narrative is seen in Star Wars, the Black Panther, Hunger Games, and many others, Hooker said. It is also seen in the life of Jesus.
"Some otherwise hapless individual is set out on a major task – some transformational assignment," he said, explaining the hero's journey. "They either find some compatriots or some wisdom text along the way, add a few new skills, have three or four challenges – failing at the first one or two – and then they succeed and transform themselves and their world."
Narratives such as this are taught, Hooker said, through songs, movies, games, toys, ancient texts, and social norms, just to name a few.
"What Scriptural narrative would we offer to those for framing the conversation between black political folks and white political folk," Hooker asked. "How do we recognized the inequitable distribution of power in our narratives and then work to change them?"
As part of the continuing movement of racial justice, Cole-Wilson is looking for people interested in receiving community organizing training, whether they attended reCall or not.
"Those who raise a hand, we will begin working with them," she said, "to strategically work in their districts to listen and learn the needs of the people. My hope is that, for example, Cumberland-Hagerstown will begin organizing and then move and work with the Frederick District, and then they'll move to Baltimore Suburban and on to Baltimore Metropolitan. Then, we'll have four districts working together."
By September 2020, Cole-Wilson said, the goal is to have every district mobilized to address the needs of the people.
"It's so important for us to hear from persons contextually," Cole-Wilson said, "and have people tell us what they need instead of us trying to discern what other people need."
If you're interested in community organizing training, contact the Rev. Stacey Cole-Wilson at .