Bishop LaTrelle Easterling is requesting prayers for the people of Puerto Rico as Hurricane Irma brings its destructive force to that country. Our Conference has a covenant relationship with the Methodist Church of Puerto Rico.
Bishop Easterling also passed along the contents of a letter from the Methodist Bishop of Puerto Rico written to Thomas Kemper, General Secretary of the Board off Global Ministries. The letter is below.
If you would like to support relief efforts in Puerto Rico and other areas affected by this season's hurricanes, contribute to the United Methodist Committee on Relief. One hundred percent of all donations go directly to people and churches affected by disaster.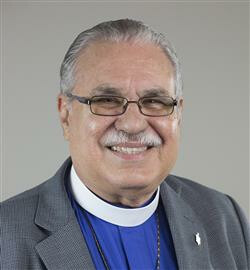 Bishop Héctor F. Ortiz Vidal
September 5, 2017
Mr. Thomas Kemper, General Secretary
Global Ministries
United Methodist Church
Atlanta, GA
Re: Hurricane Irma
Grace and peace to you and the General Ministries family.
Puerto Rico, will be confronting Hurricane Irma in the next hours. This hurricane has been classified as a category 5. In his route it will be affecting Puerto Rico, Vieques, Culebra, and the Virgin Islands. It is expected that it will be in our vicinity tomorrow, Wednesday, September 6. This hurricane, at the moment, has winds of more than 180 miles. This makes Irma a catastrophic hurricane for the island.
The Puerto Rico Methodist Church has been in contact with the 100 churches located in the island, Vieques, Culebra, and St. Croix. We have oriented them in following the necessary steps to prepare for this atmospheric event. We have put in place an emergency system to work in the aftermath of the event. Nevertheless, there is not enough preparation for this type of hurricane.
We are requesting the United Methodist Church for your prayers and your solidarity during this difficult time. Knowing that people outside of our area are praying for us give us faith and courage.
Trusting that God is in the midst of all this,
Rev. Héctor F. Ortiz Vidal
Bishop

787-447-7941