By Linda Worthington
UMConnection Staff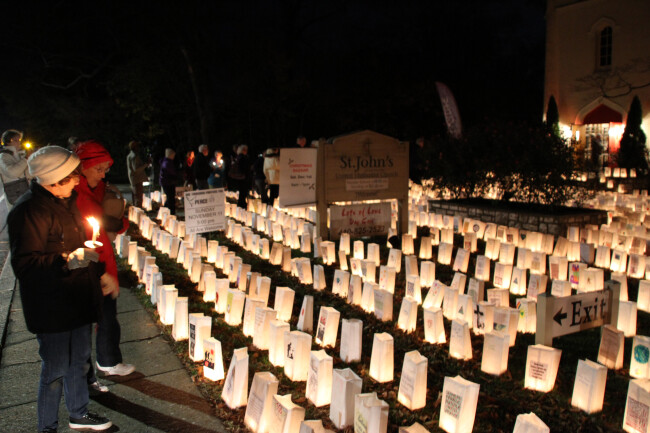 A year ago, Ron Dumas shared a vision he had with the church council at St. John's UMC in Lutherville. Through prayer and conversation, the congregation agreed when Dumas, the Lay Leader, proposed the church light up the neighborhood with a thousand luminarias in prayers for peace. Each luminaria would represent a prayer.
They set the date for "A Thousand Prayers for Peace" for Nov. 11, 2018, the 100th anniversary of the Armistice that marked the end of World War I.
With St. John's worship attendance around 30, it was soon evident they'd need help to create their goal of 1,000 luminarias, so they reached out to other worshipping communities and soon enlisted a Jewish congregation, other UMCs in the area, congregations of other denominations, neighbors and other groups to pray for peace.
Together, they created more than 1,200 bags.
At each ensuing worship service throughout the year, the Rev. Carol Pazdersky led the congregation in prayers for peace. On the second Sunday of the month, at a "creation station" in the Fellowship Hall, the youngest members helped their elders decorate the luminaria bags with words, pictures and scribbles.
As the church worshipped the morning of Nov. 11, the church bell rang, joining thousands of churches across the world ringing their bells for peace. Between the morning service and the 5 p.m. service, volunteers set up the luminarias in front of the church and up and down the street. The Boy Scout Troop lit the lanterns.
Worship began with a service of prayer, music and message on the theme of peace. District Superintendent, the Rev. Ann Laprade's message was based on the "swords into plowshares" passage from Isaiah, blending beautifully with the "visual prelude created by Dan Pazdersky of the Battlefield of Verdun," Carol Pazdersky said. Laprade reminded them that true peace is not only the absence of war, but also the presence of God.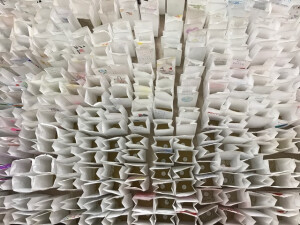 Baltimore's Channel 45 recorded the event and broadcast the news that evening and the next morning.
Every worshipper carried a lit candle as they walked out the door past the glowing luminaries at the end of the service, singing "Let There Be Peace on Earth."
"We heard gasps and exclamations," Pazdersky said. "Neighbors who had not been in worship came to see the light, and cars driving past … slowed down to look."
"This was a huge endeavor for a small church … but I have seen the congregation grow in spirit and in confidence, trusting in God and following the Holy Spirit's leading," Pazdersky said. "Peace and peacemaking are now part of who we are."