By Melissa Lauber*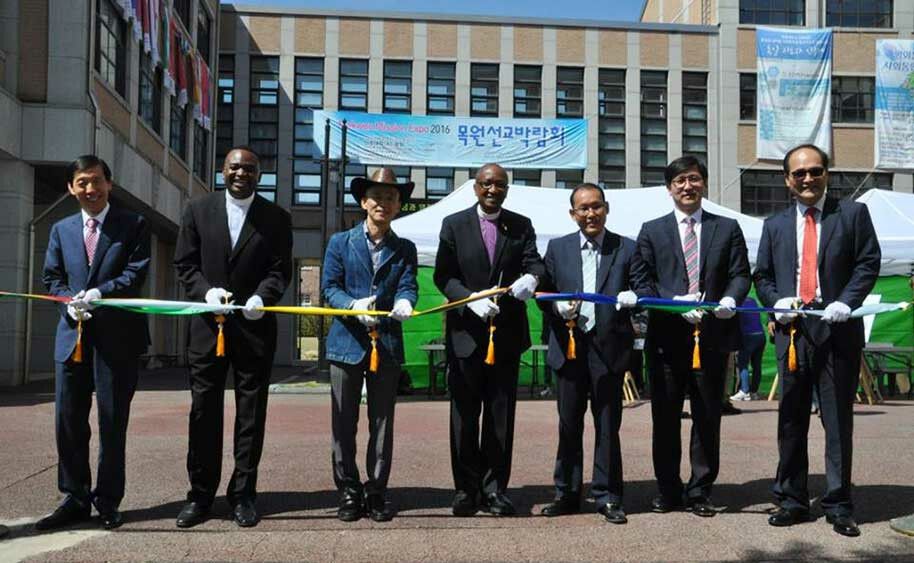 On the last day of our journey with our partners in Korea, we visited Mokwon University, a Methodist-affiliated school in Daejeon. The university has 10,000 students and promotes itself as an "educational community full of dreams and passion."
Students attending the college of theology receive a scholarship for their first year of studies, paid for by area Methodist churches.
Before preaching at the chapel service, Bishop Marcus Matthews and the Rev. Maidstone Mulenga, the BWC's director of Connectional Ministries, were asked to cut a ribbon for a new mission center at the school.
Joining them was the Rev. Ohoon Kwon, the chaplain for mission work at the school, who attended Wesley Seminary in Washington, D.C., from 1996 to 1998.
Chapel attendance at the school is mandatory. Electronic attendance is taken and students are expelled if they miss three worship services.
Speaking to the students, Bishop Matthews shared with them stories from when he was a young man, growing up as one of seven children in South Carolina.
From his Uncle Bubba, Matthews said, he learned three values: be interdependent, sharing gifts and resources with people who need you; be positive; and look at roadblocks, not as stumbling blocks, but as opportunities for new growth.
Following a delicious traditional Korean lunch with three of the university's chaplains, the BWC delegation attended the ordination service of the Nambu Annual Conference, where Bishop Matthews preached.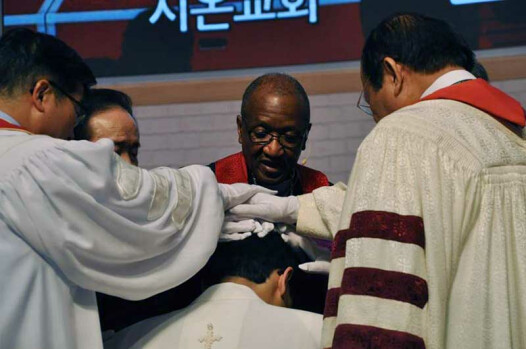 He told the ordinands, who included a pastor from Mongolia, that "the church of Jesus Christ known as Methodism will need your faith, enthusiasm, and imagination now, more than ever before."
He urged them to practice genuine discipleship, which means "becoming more and more like Christ in every avenue of our lives." Citing Romans 12, he told them, "Embracing what God does for you is the best thing you can do for God."
As we began the preparations to depart, the Rev. J.W. Park, superintendent of the Central Maryland District and leader of the Korean Partnership, had already begun making plans for six members of the Nambu Conference to visit the Baltimore-Washington Conference this June for a cultural exchange.
While in Korea, I must confess, I learned very little of the language. The Revs. J.W. and HiRho Park provided non-stop translation to ensure everyone could talk freely with one another. But one word I learned was "thank you." The bishop knows it, too, and everyone smiled when he said it.
"Kamsahamnida."
There are many more profound things I could say about this trip and our partnership and the experiences of God created in a global church, but for right now, my heart just feels full of gratitude, and kamsahamnida feels like the best last word.
*Melissa Lauber is Director of Communications for the Baltimore-Washington Conference