By Melissa Lauber*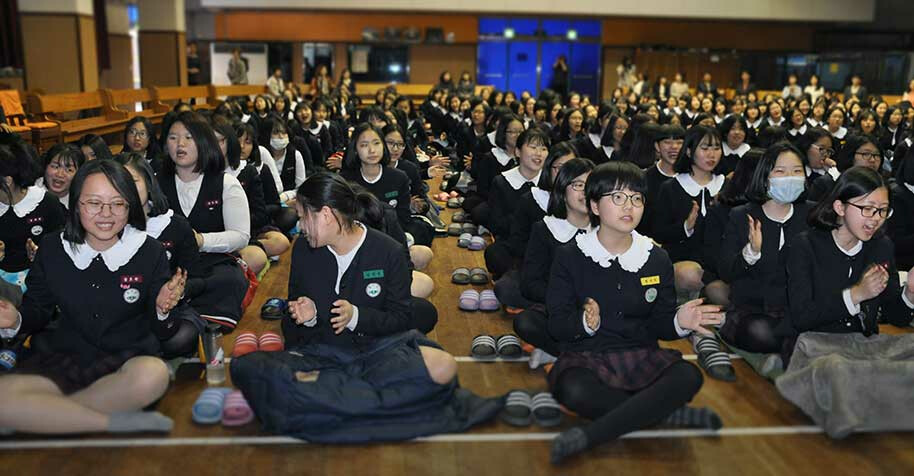 Imagine more than 500 junior high girls, all dressed in school uniforms, seated with their legs crossed in more than a dozen straight lines on the floor of a gymnasium in Daejeon, South Korea. It wasn't the normal audience for Bishop Marcus Matthews to address.
But Bishop Matthews brought a special message to the girls as part of the BWC's partnership with the Nambu Conference. Each of them, he stressed, was loved by God and they should dare to dream an impossible dream.
The bishop drew his inspiration from Arrena Carroll, a Methodist from the Baltimore Conference, who in 1898, as a missionary, began the Holsten School for Girls. Her legacy sat before Matthews in those straight lines, along with the other more than 500 high school girls, who attend the school. When the school started women weren't even allowed to venture beyond their family's front gates. Educating girls was a bold act of faith.
The bishop also spoke to 23 candidates who are preparing to be ordained into the Korean Methodist Church later this week. He told them about how the Rev. John Goucher, and Methodist missionaries Henry Appenzeller and William Scranton, stepped out on faith to bring their faith to Korea, starting the denomination that is thriving today, 131 years after that grand leap of faith.
The church needs strong leaders willing to dream and then act, witnessing to God in the world, the bishop challenged them.
Sitting in the crowd was the Rev. Park Hyung Min , pastor of Juhyang Methodist Church, where the ordinands gathered. Bishop Matthews joined Bishop Seung Chul Ahn for a traditional, many-dish Korean lunch.
As the bishops lunched, Min shared how, of the more than 400 people who worship at his church, a majority are young adults. He attributes the congregation's popularity among young adults to the worship, which he said is full of praise and "light and bright."
He used a model of ministry that focuses his energies as the pastor on getting people to worship well, helping members to share God's story and then becoming disciples. Min says his favorite word is "passion."
"I love that word," he said. Passion, as in suffering, and passion as in enthusiasm. "I tell people, 'you need Jesus Christ.'"
Passion is also a favorite word of Bishop Seung Chul Ahn. "Passion and zeal, they have been mine to embrace," he said.
Bishop Ahn retires this year after serving his two-year term as a bishop. He likens himself to a small puppy. "When they're born, puppies can't see," Bishop Ahn said. "They have closed eyes. In two weeks, those puppies will open their eyes. As a bishop, I feel like I've just opened my eyes," he said.
Bishop Ahn will continue to serve as pastor of his 6,500-member church, which averages 2,500 in worship, a staff of more than 20, and a coffee shop on the first of the church's six floors.
*Melissa Lauber is Director of Communications for the Baltimore-Washington Conference.