Pastor presents 'Get Thru This: A Night of Unity'
Posted by on
by Melissa Lauber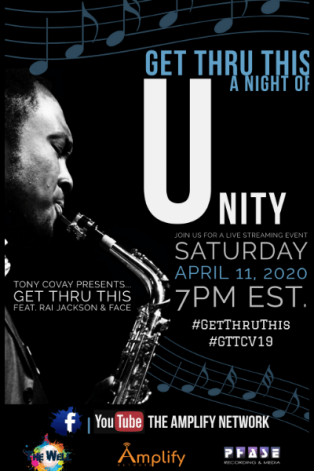 The need for the church to really be the church, especially during the challenges of the coronavirus pandemic, keeps Raimon Jackson up at night.
For Jackson, the leader of the online worship experience "The Well," discovering, creating, and sharing ways people can "lift each other up" makes his mind and imagination spin.
On Saturday, April 11, at 7 p.m., the fruits of his imagination will be aired when The Well presents "Get Thru This: A Night of Unity," streaming through the Amplify Network on Facebook and YouTube. (#getthruthis; #GTTCV19)
The event will feature music, spoken word poetry and other performances by artists from throughout the United States and beyond. Artists who are confirmed to perform include radio personality and musician, Ronnette Harrison; singer and recording artist, Lakisha Goldsberry; rapper, Jordan G.; R&B singer, Angel Grant; R&B/Pop vocalist, Chartel; and poet Kim B. Miller and many more.
On Saturday evening, Jackson will also premiere an original song he wrote and is one of the performers on, also entitled "Get Thru This."
Easter weekend is the perfect time for the song's release, he said.
"It's about bringing life back," Jackson said. "It's about us bringing love, hope, and light for one another, united, together."
Jackson worked on the recording with Phase Recording studio engineer, producer, and lyricist, Jamil "Face" Johnson and his wife and business partner Abina Johnson; Terence and Jacq Sams of Amplify Network, and music producer Tony Covay.

"I'll sleep when this is over," Jackson said. "For now, I feel called to create the 'Get Thru This Movement' to allow people to have hope in this anxious time. It's going to be overwhelming. It's going to be about us being a light to each other."
After he gets some rest, Jackson will go back to work as pastor of The Well, which was started in 2017 as a missional outreach of the Baltimore-Washington Conference. The online faith community is a "non-traditional 'unchurch church,'" Jackson said, that centers around the arts and uniting community, navigating purpose, and evoking healthy conversation around spirituality, justice and Jesus.
For more information on The Well, visit https://www.facebook.com/encounterthewell