Pastor creates Project SPIRIT to minister to young adults with Sickle Cell
Posted by on
By Rev. Lorraine Brown
Pastor of Simpson UMC and Executive Director of Project SPIRIT Sickle Cell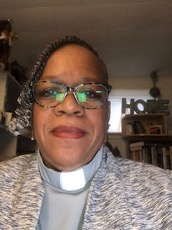 Aligning with the mission of the Baltimore Washington Conference, Project SPIRIT Sickle Cell (PSSC), seeks to support and enable young adults living with sickle cell disease to be transformed through experiencing the love and hope of Jesus Christ.
Sickle Cell Disease, an overlooked public health issue, affects approximately 100,000 Americans. A painful and debilitating genetic condition most commonly affects persons of African ancestry; however, individuals of various ethnic groups from the Mediterranean, Spanish-speaking regions in South and Central America as well as parts of the Caribbean, also have SCD. Symptoms include chronic fatigue, anemia, fever, strokes, and infection. Very severe pain episodes require frequent emergency room visits and/or hospitalizations.
Although first discovered in 1910, currently there is no universal cure. The combination of quality health care and medical intervention, has increased life expectancy from 20 years to an average of 38 years for males and 42 years for females, while others are living into their 70's and 80's.
The seed for this ministry, was planted in 2006 while I was working for the federal government as the Director of the Hemoglobinopathy Programs and Project Director for two SCD projects. Upon leaving this position to attend seminary, I took the sickle cell community with me in my spirit, having promised myself and them that I would be an advocate for the community, even in ministry.
My final MDiv. paper, an independent research study that explored the intersection of spirituality and sickle cell disease for those 18-25, revealed limited studies for this population. For the past six years, two pastoral study grants from the Louisville Institute and grant funding from the Foundation for Spirituality and Medicine supported the seminal work of assessing the needs of this population (survey and focus group) and pilot testing a spiritual care intervention with a Maryland-based sickle cell out-patient clinic and their chaplaincy department, culminating in my doctorate.
Survey findings (with 41 participants) revealed that only a third (34%) looked for spiritual support from clergy; half (50%) shared they did not view the church as a viable resource. At the same time, almost half (46%) felt that having access to a spiritual resource would be helpful. They identified the most helpful spiritual coping strategies during a sickle cell pain crisis as prayer, meditation, deep breathing exercises, and yoga.
Focus group participants described their beliefs as less religious "a set of rules that people do or perform or just acts that people perform" and more spiritual "a strong relationship with God [Higher Being] but not in church." One stated, I am "connected with God [Higher Being] but not through a church." These young adults have stated a desire for a different kind of spiritual, not religious experience than that of their parents and grandparents. These findings reinforce the survey results conducted on behalf of the United Methodist Church by the Barna Group in 2015-16 of young adults in their 20s who were found to be interested in opportunities for spiritual growth and development, outside the church.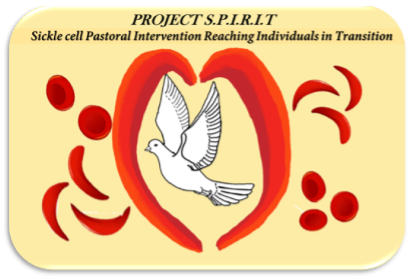 Feeling an ethical and moral obligation to address the identified gaps and barriers gave birth to the grass-root community organization, Project SPIRIT Sickle Cell. The acronym SPIRIT stands for Sickle cell Pastoral Intervention Reaching Individuals in Transition.
Focusing on the 18–28 years-old with SCD recognizes the complex mix of factors that occur for them in their formative years. Examples include, 1) transitioning from adolescence to adulthood (that is, from dependence to independence); 2) transitioning from pediatric to adult health care and for many reasons become 'lost to care' while making the transfer; 3) loosing parental health insurance coverage, 4) having less low-cost and free supportive services available as compared to pediatric care; and, 5) having access to fewer qualified adult health care providers who are knowledgeable about SCD care and treatment. Stressors, which may contribute to depression, suicide, and health-related death, results from increased complications of the disease because of non-compliance of necessary health regimes, being negatively viewed as 'drug seekers' when presenting to emergency rooms for pain medication, and for those eligible to make the difficult decision for being treated and cured of sickle cell by undergoing bone marrow transplantation (BMT), means not only facing unknown complications, but also extremely long recovery periods and/or possible transplant rejection.
Young adults who have a life-threatening chronic disorder such as SCD face their own mortality each time they attend funerals of peers and relatives and may lack a faith community to process concepts of life, hope and death. PSSC ministry actively works to introduce or enhance a sense of personal spirituality and peace to face the complexities of SCD, the challenges of transitions, and the barriers of racial injustices, biases, discrimination, and health disparities.
However, this ministry will face challenges in reaching young adults whose chronic illness and circumstances can produce feelings of hopelessness. Often lacking the voice to speak up for themselves in overwhelming medical and religious systems, research confirms they are amongst the hardest to reach. An authentic ministry must seek to bring expression to voices that have been suppressed or marginalized. We must be persistent yet patient in our outreach and building trusting relationships with those most in need -- the least, the lost, the last.
Transforming a life happens when an individual is able to hear and discern their personal spirituality in the midst of upset and distractions, which is discovered through the intentional sharing of divine grace. To achieve that end, we will need to be creative in our approaches.
Having experienced unfair treatment and witnessed its infliction upon others, my spirit recognizes hurting and marginalized people who suffer injustices because of life circumstances and/or their skin color. Utilizing my God-given gifts and graces of nursing, public health, teaching and ministry, I feel called to serve and minister to this community who are seeking spiritual ownership. I look forward to the future as God is leading, guiding, and expanding the reach of this ministry to serve this population.
Follow 'Project_Spirit' on Instagram and 'Project Spirit Sickle Cell' on Facebook. You may refer someone or seek more information by texting or calling Tisha at 240.780.8986 or emailing PSSC at . A one-minute video introducing PSSC can be found at: https://youtu.be/jDJ2qq4UK-Q. Your prayers are most welcomed.