Parsonage transformed into transition house for women and children
Posted by Erik Alsgaard on
By Erik Alsgaard
UMConnection staff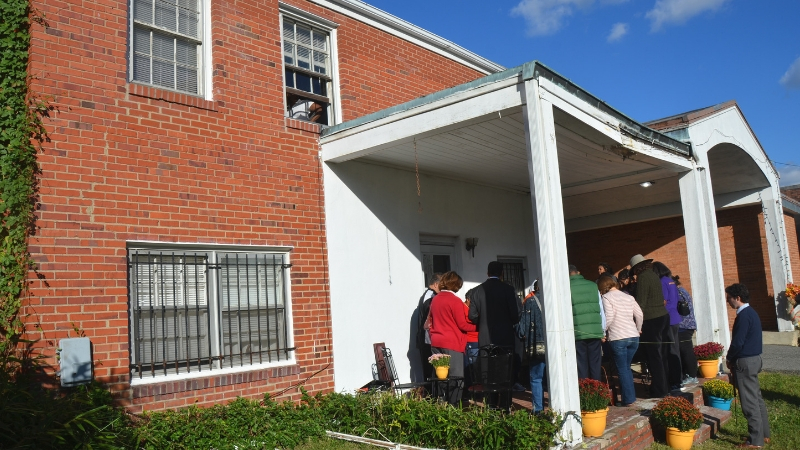 Church members and civic leaders pray on the front porch of the new UMC House at Van Buren UMC in Washington, D.C. Photo by Erik Alsgaard.
Every Sunday morning for months, Pastor Lucinda Kent stopped in the breezeway between the parsonage and church at Van Buren UMC in Washington, D.C. Quietly, almost without notice, she painted one of the bricks on the empty house, reminding her of the vision she had for a building that had hit hard times: a family of racoons had inhabited the attic and church members were afraid to enter the building; some turkey buzzards had set up shop; it sat empty for about 15 years; bamboo was threatening to take over the yard.
In mid-October, Kent stopped painting. Her vision had become reality.
Pastor Lucinda Kent stands in a doorway of the UMC House. Photo by Erik Alsgaard.
At a ribbon-cutting Oct. 13, Kent was joined by Ward 4 Washington, D.C., Councilmember Brandon Todd, the Rev. Tony Love, assistant to the bishop, and church members as they unveiled the "Under My Care (UMC) House." The UMC House will offer transitional housing to women and children ages 5 and younger who are coming from domestic violence situations.
The UMC House is a partnership that came together to birth an entrepreneurship ministry. A $2,000 Peace with Justice grant from the Baltimore-Washington Conference helped buy new appliances for the kitchen. A $10,000 grant from Global Ministries furthered the work, while construction contractors pitched in with reduced-price work. Countless hours of volunteer work helped to bring the house up to code, including colorful painted stairwells, window treatments and art throughout. The church also partnered with another non-profit in the community to help screen potential residents.
Kent said that the first residents at the UMC House will arrive in November, each family staying between three and six months. The house is capable of handling between eight and 12 people. Each family will have their own bedroom and there's a separate play room just for the children. A full kitchen, pantry, and dining room offer communal space, as well as a large living room.
"Every person who is displaced has different levels of need," Kent said. "Because we won't have full time counselor people in the house, we need people who are fairly independent with living and don't have issues with substance abuse, or who have very high security types of situations, or children that have special needs that we're not equipped for."
The UMC House is a signal to the community, Kent said, that the church wants to work with its community. That's why it was important, Kent said, to have Councilmember Todd present.
"If this church was full of people, it would be awesome," Kent said. "However, I don't think that that's our best work. I think that in this day and age, we have to be relevant. People are evaluating churches by our work. I think they are less interested in what you might have to say on Sunday if they cannot see who you are Monday through Saturday."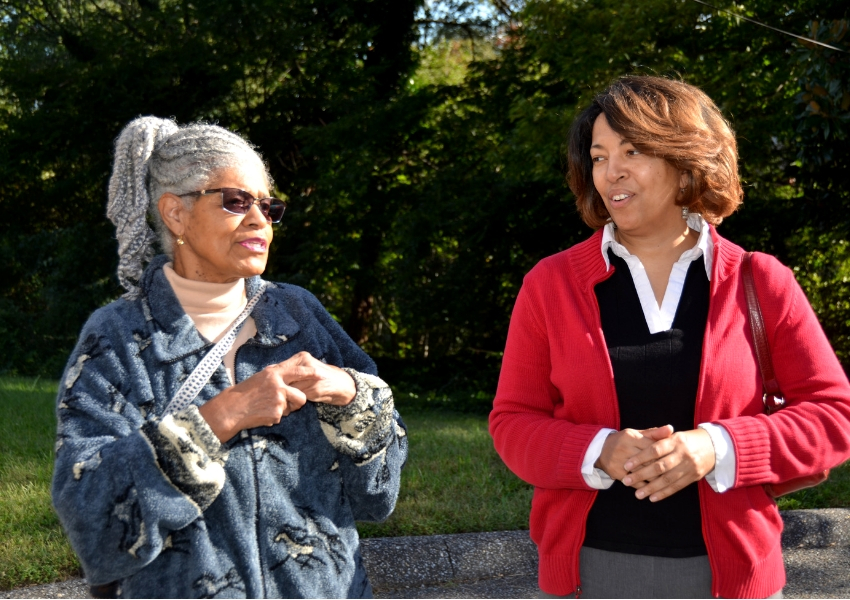 Julia Maxwell, left, stands with Pastor Kent.
Photo by Erik Alsgaard.
Julia Maxwell, a long-time member of Van Buren and one of the leaders behind UMC House, said that she was thrilled the parsonage was being returned to active ministry.
"I wouldn't even come inside," she said. "There were animals all over the place." Maxwell added that the floors of the house needed to be cleaned and re-finished; walls needed repairing and painting; everything was a mess.
But sitting on a couch in the House after the ribbon-cutting, Maxwell smiled. "I think this is wonderful," she said. "Half of the people working here are not members of our church; they're members of other churches. Our community will know that we're not dead; we're still alive."
Kent is a certified candidate for ordained ministry on the Elder track, and currently enrolled at Wesley Theological Seminary. She also serves as Director of Operations for National UMC in Washington. She had been seeking clarity around her call to ministry prior to coming to Van Buren. Amid struggles with her candidacy and course work, she received a phone call from the district superintendent on a Friday night. She was introduced at the church on Saturday. She was announced as the new pastor on Sunday.
"When I arrived the first day, that Saturday, to meet the community as their pastor, I saw the house and I was thinking, 'Now I know why I'm here,'" said Kent. A licensed local pastor who is in her first appointment, Kent has a background in property development. "This is something I know how to do," she said. "I can take land and do something with it. I'm a builder."
In her "previous life," as she calls it, Kent served as the CFO of a "significant real estate developer and property management company" in Chevy Chase. Putting those skills from corporate management to work at Van Buren was only natural.
When she first walked through the parsonage, Kent said that church members were nervous both for her safety and what she might find. "They didn't know who or what was living in there," she said. "I can be fearless; I trust God a lot. But they wanted me to be a bit more level-headed about it."
Kent sees the opening of the UMC House as a beginning, not an end. So, what's next for Van Buren? Kent has a "small" vision: tiny homes, built in the spacious area behind the church.